Winning Slots has been advertising itself as a great way to win prizes sourced from Amazon, which provides a more unique way to win prizes vs. just earning casino comps. But does the game stand up to the promises made in the app?
Overview of the App
Like many slots-focused apps Winning Slots is largely honed in on slot games as its main feature. There's roughly 75 games available, with many having game math that may seem similar to those you would find in a casino.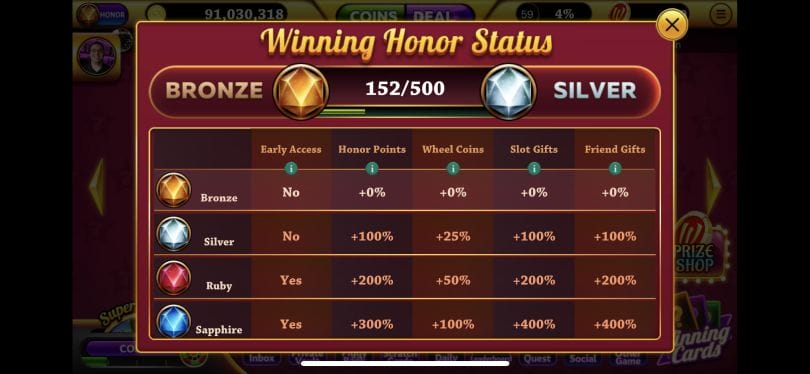 The game features a standard level up feature, and also has an Honor system which is their version of a player ranking. Earn enough Honor points and your level will increase, boosting the prizes of wheel spins and gifts.
The Winning Cards feature lets you collect purses that contain cards of various levels. Collect enough of a given card and you'll level up the card. Get all cards to a certain point and you'll win a substantial coin prize. Each card collection has a time limit, so it requires you put in some energy to make it happen.
There are two types of quests, each which give you things to strive for and earn coins:
Three missions, that reset when you win one or swap one out (which you can only do every so often). The prizes for missions vary based on difficulty.
Achievements can help you earn additional coins based on completing common tasks, winning enough, spinning enough, etc. There are more than 20 achievement categories which offers variety. You also earn achievement points for completing achievements, which is just a scorecard of how much you've done and don't see to have any other value or influence.
I said at the top it's largely honed in on slots. That's because if you want, you can play Video Poker (Jacks or Better) or Roulette (00 version). They hide them under other games, but they're there.
Earning Chip Bonuses
You earn chip bonuses from the following:
Hourly bonuses, which can be collected every three hours by default. Every so often it offers a much more valuable wheel spin; every few wheel spins is an even more valuable super wheel spin.

A daily bonus can be collected in the lobby, which is usually coins but sometimes scratchers. After so many daily collections you can qualify for bonuses that include both coins and scratchers.

Completing missions and achievements will get you a coin prize.

The game has a card collection feature, and earning enough of given cards and leveling up the card will give a bonus.

The game's Jeannie will gift you coins; you can also send and receive gifts to other players.

Leveling up will give you coins.

Watching videos can earn you coins.
Buying Chips
There are a lot of ways to make purchases in the game:
There is a chip store which allows you to purchase ship packages. That works in a pretty standard way. There is usually at least one deal running that is better than what is in the coin store, so it's best to check that too.

There are three piggies, each bigger than the last, and offering increasing amounts of coins for an increasing price to break the piggy. The piggies grow as you spin and will max out at a certain point.

You can buy scratchers, which will award chips when scratched.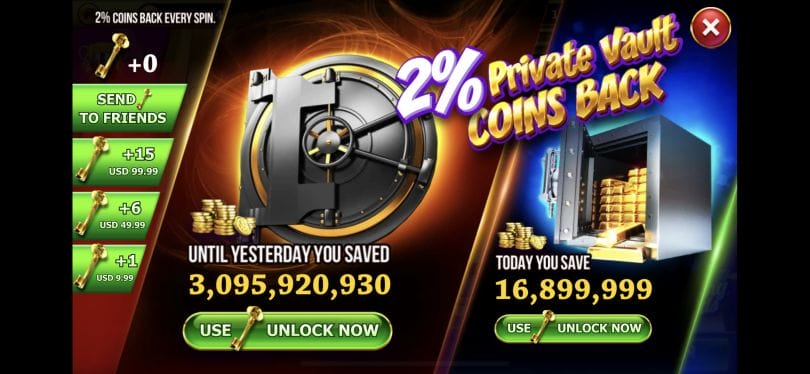 You can also buy keys that open the vault, of which there are two – one that collects coins from recent spinning, and another that aggregates a prize from vaults not broken.

When you get a big enough win, you will be offered the ability to purchase a wheel spin to multiply that prize. The price is usually proportional to the number of coins available to win.
Because of so many ways to buy coins, it helps to shop each out to see what is the best deal for you.
Note that you can also buy boosters, which will allow you to get bigger of whatever you've boosted for a window of time.
Earning Winning Coins
Winning Coins are the comp currency of the game. There's a couple of ways to earn them:
Making purchases is by far where most of them can be earned. You earn 50 coins per dollar. The coins are basically values at 1000 per dollar in the store, so that works out to about a 5% payback on comps. That's not bad compared to some of the games, but it's not as big as some either.

There are three Daily Missions, one spin based, one based on watching three videos, and one based on spend. Spending $10 in a day can get you 500 bonus coins, doubling your earn back, so that should also calculate into your coin buying plans if you do purchase.

There are achievements you can complete such as reaching certain levels that can get you bonus coins.

Inviting friends is another option, and you'll get Winning Coins per successful invite.
With only a handful of coins per day available through the daily missions unless you spend money, if you're looking to play the game for free to earn comps, this will be a slow climb. If you tend to spend money on slot games, you can earn them faster.
Redeeming Winning Coins
There is a Prize Shop in the game that lets you convert your coins for prizes. The prizes reset monthly. Whenever I've visited many of the items have been out of stock, especially the lower priced items, so the other challenge is that since you have to convert for a prize with limited quantities, it can make it even harder to unlock the value of the Winning Coins you've collected.
Summary
The game is decent, with at least a way to potentially earn comps, which beats out many others. But the comp earning is pretty low, and the difficulty of redeeming pretty high, so just keep that in mind if you choose to anchor in with this as one of your main games.