Articles about Lightning Link and its sequels, Dragon Link and Dollar Storm, have been a popular series here on the site. As part of celebrating one year, if you're new to the site and haven't seen all of the write-ups on the game, here's a round-up to help you find it all!
Lightning Cash vs. Lightning Link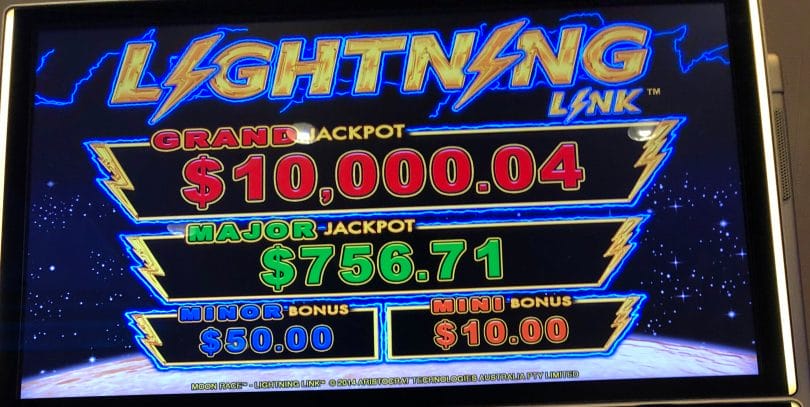 The games look identical, but they have a difference in name so something must be up. What's the difference between Lightning Cash and Lightning Link? It's actually quite simple.
Ways to #landthegrand or a Major
There are actually two ways to win a Grand progressive jackpot on Lightning Link, but it may not be obvious unless you take a look at the pay table. Here's a summary of how you can win the Grand or the Major on Lightning Link.
Does Seeing Balls in All 15 Spaces Guarantee a Grand Jackpot?
This one has come up a lot, and thanks to some recent slot channel uploads, we have a more concrete answer. See if balls spinning in all 15 spaces actually guarantees the Grand.
The Bonuses
With a dozen Lightning Link variations out in the United States, there's a bonus type for every taste. Learn about each of the bonus round types and what each brings to the table.
The Latest Sequel: Dollar Storm
Dollar Storm is the latest direct sequel to Lightning Link, but changes to the game make it tougher than its predecessor. Here's a rundown of what changes to expect when you play the game.
Does Changing Your Bet/Denom Have an Impact on Odds of Winning Progressives?
While not specific to Lightning Link or its sister games, a common question is how changing your bet or denomination impacts the possibility of winning a jackpot, especially the top progressives. Learn how progressive chances are impacted by bet/denomination changes.