Dancing Drums is a popular casino game, which has been around a few years now and continues to get a lot of love from slot players. It follows as a spiritual successor of sorts to 88 Fortunes and 5 Treasures, games that have similar betting options and progressive, but Dancing Drums in some ways was perfecting the model the previous two games developed. In this article we'll look at Dancing Drums, its bonuses and the amazing complexity of the game that makes for different playing options depending on the type of player you are.
Betting Options
Like its predecessors 88 Fortunes and 5 Treasures, Dancing Drums has two betting options. The top row is a "gold symbol" bet. By default, you have 1 gold symbol, which is coins. Any symbols that are not bet as gold symbols have a lower payout. You can bet up to 5 gold symbols, which means all the symbols are at their maximum payout levels.
Betting more than one gold symbol also unlocks the chance to "close the pot" and win a progressive. There are four progressive levels, one tied to each of the gold symbols 2-5. Betting more gold symbols unlocks more progressives:
1 gold symbol (8 credits) – No progressives available
2 gold symbols (18 credits) – Mini unlocked
3 gold symbols (38 credits) – Minor unlocked
4 gold symbols (68 credits) – Major unlocked
5 gold symbols (88 credits) – Grand unlocked
As such, you don't have to bet the max bet to qualify for the grand. But as you would expect, betting higher will give you higher chances at a progressive (although it appears, similar to other games where you can win progressives at any level, it increases your chances at winning A progressive, but not any specific one). More importantly, betting more gold symbols means a portion of your bet is going to feeding the progressive. Betting 88 credits for 5 gold symbols gives you no different of a line pay for many of the symbols than the 8 credits for 1 gold symbol – coins and poker symbols pay exactly the same. Where you get the boosted pay during regular line hits is for the premium gold symbols that have been unlocked, which can of course make a difference.
The second row of bets is your line multiplier. The credits you're betting for the gold symbols is multiplied by 1, 2, 3, 6 or 10 (the general configuration for this game). So if you bet one gold symbol x10, you're betting 80 credits, have no chance at the progressive, but all line hits pay x10. Because the game is an any-ways pay, which means there's no lines but instead pays as long as symbols appear in successive reels, and you can have multiple symbols appear in a reel, coin pays in that scenario can get pretty exciting.
The Bonus
Getting three drums and/or wild symbols in a minimum of the first three reels triggers the bonus. Getting four or five symbols does not offer a bigger bonus opportunity, but instead amplifies the triggering line pay. The bonus is a free spins bonus with a choice from five options:
15 spins with a 3×5 reel set (243 ways to win)
10 spins with a 4×5 reel set (1024 ways to win)
5 spins with a 5×5 reel set (3125 ways to win)
3 spins with a 6×5 reel set (7776 ways to win)
Mystery: any of the 4 spins options, and any of the 4 reel sets.

Worst outcome: 3 spins with a 3×5 reel set
Best outcome: 15 spins with a 6×5 reel set
This is effectively a choice in volatility. The 15 spins / 3×5 gives you more chances at smaller line hits given the limited reel set. The 3 spins / 6×5 option is a swing for the fences; line up a lot of premium symbols at the bet you've chosen, and you could have a massive win. The other two options are understandably somewhere in between. And mystery is potentially even more volatile than that! The true gamblers among us have trouble staying away from it, even when they've seen the worst option happen multiple times.
When you do the less gold symbols option, this voltatilty can be even more important – since you're paying for line hits, getting a large amount of gold coins in a spin could pay extremely well. I once had a 200x bonus at 88 cents (which was all the gold symbols activated at 1x line pays) but virtually all of the pays were from coin symbols, meaning if I had done the same bonus on 80 cents (1 gold symbol activated, the coins, at 10x line pays), it would've been a handpay at that 80 cent bet. (I was still happy with the $200 win, of course!) And this was done with a 15 spin, 3×5 reel set arrangement, so you don't need to go to the more heavily volatile to see a bonus.
Winning a Progressive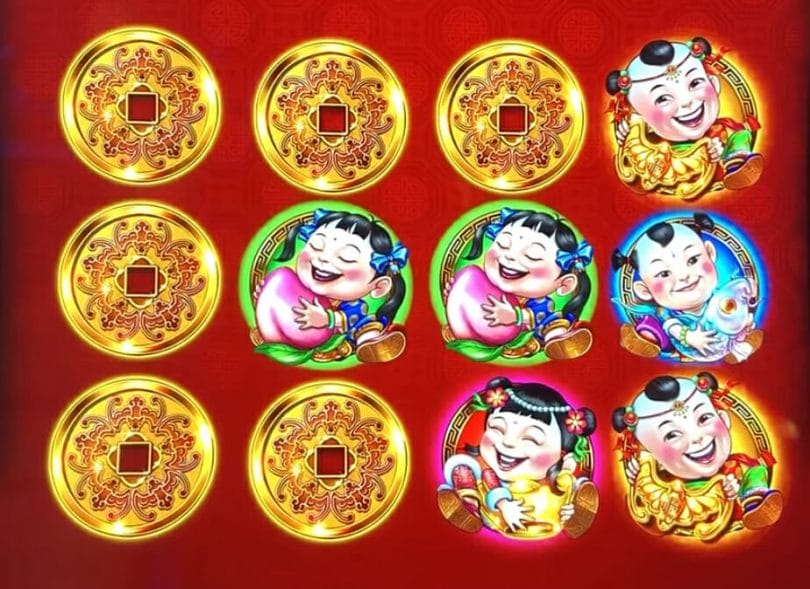 When a wild symbol appears on the reels, you have a chance at closing the pot, which is how you enter the progressive picking screen. This pre-determined bonus has you choose coins until you find three of a kind. The chances of winning any progressive are not determined by your bet; instead, your chances of winning any progressive instead increase with a bet. As such, someone betting 88 credits and triggering the progressive has an equal chance of winning a grand as someone triggering it on 880 credits (the max bet on this machine). But those betting 880 credits will see the pot close more often.
One important thing to realize, like many games in this sort of format, is that the pot is a visualization that shows in rough terms how long it's been since a progressive has been won – the more coins inside, the longer it's been. It is not an indicator of how close the machine is to paying a progressive. Each wild symbol that appears is a chance; players have closed the pot back to back so the pot does not have to be overflowing to close. In fact, the pay table states such, so you don't have to take my word for it!
Takeaways
This game is more complex than it looks on the surface – the two bet options let you choose if you're interested in going after a big progressive, a big line hit, both or somewhere in between. Chasing one or the other can be done with reasonably small bet, starting at under $1. I think that diversity is one of the things that draws people back, as they learn more about it and find other ways to play it.
The success of this game has led to a number of successors, including Double Blessings, Dancing Drums Explosion and Dancing Drums Prosperity. You can see a more complete list of my Dancing Drums articles.
Dancing Drums Slot Machine Videos
Check out this video from The Slot Cats, where they play Dancing Drums, to see the game in action!
Diana Evoni played Dancing Drums and misread her bet, and her handpay win: