Some links in this article include affiliate links, which provide a commission if a purchase is made. Affiliate links have no impact on our recommendations.
As this piece goes live, I've returned from my fifth trip to Las Vegas, Nevada. Each trip has offered a learning experience. The very first time I went to Vegas, I was there for work, and paid about $300 to spend an additional two nights at New York-New York. Since then I've availed myself of increasingly stable comps with each visit that have made my basic accommodation and food costs negligible. In fact, with my just completed trip, I didn't pay a single resort fee for the first time.
One of the areas I've learned a lot about, and have gotten better with, is the coupon books available for purchase from American Casino Guide (ACG), as well as included in the annual Las Vegas Advisor (LVA) membership. Each book features hundreds of dollars in coupon value, including gambling opportunities that come with a +EV (positive expected value), which means if you use the coupons provided you'll have an advantage for those bets, and are expected to have some additional money at the end of using them, on average.
This has the opportunity to stretch or build a bankroll. So if you're going to Vegas on a budget, it can be a way to get more value out of your budget and have some additional fun. A digital membership to LVA only costs $37 a year (and comes with an amazingly informative monthly publication and tons of website content), while the American Casino Guide can be purchased in full for under $20, or for even less with the app/coupon edition that skips most of the printed guide in favor of an app (the coupons are still printed).
But many have not done a coupon run, so I thought I'd share a few thoughts and notes about the viability of a coupon run with each publication's 2019 edition, and how it went for me.
Downtown's Your Best Shot
First off, if you're buying either of these books expecting the ability to use coupons throughout the strip, you'll be disappointed. The vast majority of the offers are not for strip properties. ACG does include some BOGO coupons for certain strip properties at chains such as Nathan's, but there's few real gambling opportunities for the strip in either book (although there are coupons for casinos like Hooters, which is nearby Tropicana, for instance).
Head downtown, however, and you've got access to a lot of offers at properties like Binion's, Golden Gate, Four Queens, Plaza and The D, and all of them are clustered together. Those five properties have been pretty good to me on both coupon runs I had done in my prior visits, and constituted the bulk of my use of the books in the past. So I knew they'd be on my radar.
But there are some coupons for places like El Cortez, Downtown Grand and the Fremont. Previous trips had proven fruitful at Binion's and The D in particular (a major craps run at the former, a handpay at the latter), so I was excited to see what would transpire this time.
I ended up dividing downtown into two halves and doing half each visit – this would ensure I'm not too rushed. With each stop you have to go to the players club booth, claim your offers, complete some sort of gambling session, etc. You could theoretically earmark about a half hour for each, but some reward longer stays so you need to make the best decisions accordingly. Based on previous experiences, I found two downtown evenings sufficient for the run, and I was able to get in more stops than before.
Night One: Lots of New Stops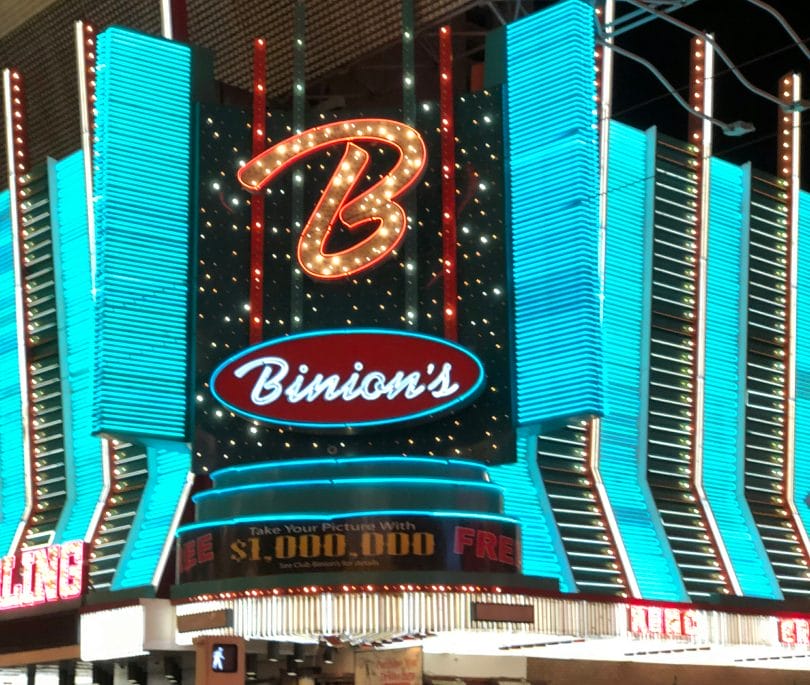 I began my coupon run where the last two began, at Binion's. My first visit to Binion's I turned $20 in freeplay into more than $1,300 within a couple of hours. This stop was not as fruitful; I played the freeplay and an extra few bucks without much to write home about.
My second stop was a bit more useful: I stopped at Downtown Grand, where I signed up for a new player card and got the new player promotion, the free slot play and the table games match play. All of it worked out pretty well, and I picked up about $40 for my trouble. I also got to play an hour of $5 craps while doing so, which was a lot of fun.
Stop number three was another new stop: Fremont Casino. I already had a Boyd card for a previous visit so the coupons in the ACG offering new members a bonus was no good, but I had a $10 table match play, which I lost, with around $75 on the craps table in short order. You get a $10 match play in both books, but you can only use one per day, I'm told, so I redeemed the one I was allowed to use.
I then walked over to El Cortez, which was fun in part because they still have some old coin machines, and it definitely had that downtown vibe I love so much. I signed up for a new card, redeemed my free play offer ($10, but could be as much as $1,000) and played an old school game for a bit. I lost a bit more money there, so for this run I was down.
Next up was a quick pit stop into Four Queens, where I successfully converted my $10 in free play on video poker into about $20.
Then I visited The D. The D has been a good spot for me in the past. Along with the two $25 Match Play coupons (one in ACG and one in LVA) and the two push on 22 in Blackjack cards, I also had a $25 match play offer on my account and $25 in slot play. I also activated the earn 50 points, get $5 offer (up to $100) as I was hosting a group pull and it was just extra freeplay. So in total I had quite a bit of potential at the D: $65 in slot play, $75 in match play, plus those two push in Blackjack hands.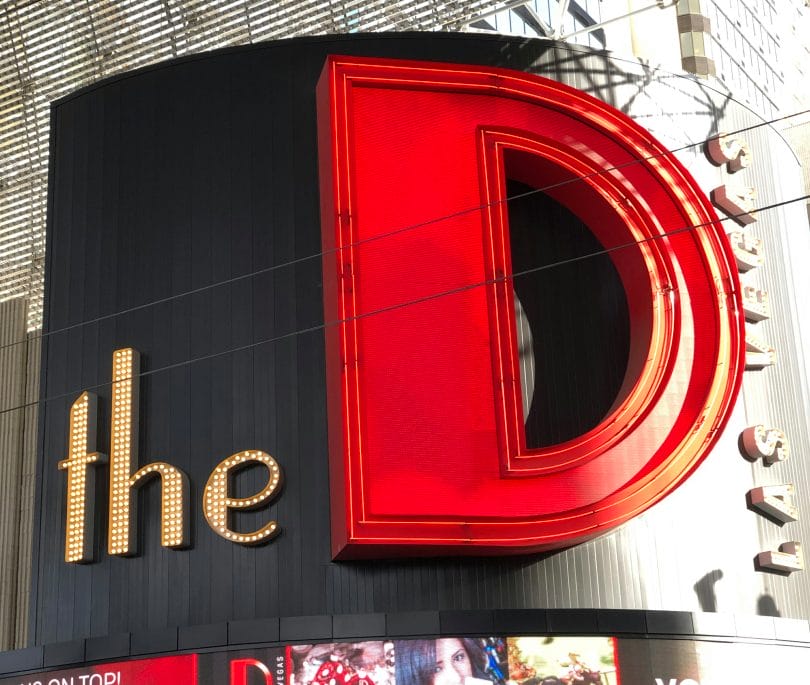 I'm not a big Blackjack player normally, although I do play occasionally and enjoy it when I do. I sat down at an empty table with a fun dealer and started to build. My main goal was to use the push on 22s but I wasn't getting 22s – I was winning more than losing. Eventually I was able to use the first push and I was up about $30. A couple of times other players came in for a couple of hands, I promptly lost, they walked away and we got back to building my bankroll. Eventually I got to the second push on 22 and was up about $50. I decided to test a $25 match play, despite the fact that my original plan was to take them to craps. I successfully converted it. I then did a second one, and converted it again. I did one last one, and converted it a third time!
So I was able to pick up about $200 just on Blackjack, putting me ahead for the day and on the coupon run. I saw some further mileage on the freeplay, although I gave most of that back playing Video Poker.
This day, the coupon run was a success!
Night Two: Some Old Favorites
I met up with a friend a few nights later, who was staying downtown, and resumed the coupon run at Main Street Station, another Boyd property, with another one per day restriction. I played $10 two-deck Blackjack and ended up losing the match play in the process of a $25 total loss.
I then moved on to the Plaza, where I had some freeplay, as well as two match plays, one $10 and one $25. I took the two match plays to craps, and won the $10 but then lost the $25 in the process of losing about $50. I clawed my way back on video poker with the freeplay, gave back a bit on the slots (attempting some advantage play on Scarab but without success), and left Plaza down another $25.
Then there was Golden Gate, where things began to go south. I got my two match plays and also the 2-1 Blackjack voucher. I got the Blackjack early but caught a really poor run, and so I swung for the fences with the two match plays and lost both. I was down $100 pretty fast. After losing another $20 at the bar playing video poker, I put $2 in playing $2 Blackjack and clawed my $20 back. So that was a pretty big hit, and I was now down $150 for this part of the run.
I went back to the D, attempted to use my earned offers (another $25 in Match Play and another $25 in freeplay). The Match Play was another loss in the midst of another $75 spent attempting to make something happen, and once again I clawed back my losses a bit with a good video poker run, turning the $25 in freeplay into $50. So another $25 lost, and about $175 down for the run.
That's one important part about advantage play attempts to remember – you have a chance to win more than you lose, but you can still lose.
Summary
In two nights of playing, taking the coupon offers and mixing in a couple of earned offers from previous play, I was about $50 down after a cumulative eight hours of play. If I hadn't pushed my bets in a couple of situations, perhaps I'd even be a few dollars ahead.
But the most important part is to figure that for the $50 cost of the books and the $50 lost in gambling, I got a huge amount of gambling. And when I return to Vegas in December, I will end up using more coupons from the book between gambling and food, so the books will well more than pay for themselves.
Have you ever done a coupon run? What's been your best success? Share in the comments!