Atlantic City is a competitive gambling market, increased in 2018 by the opening of the Hard Rock Hotel & Casino Atlantic City and Ocean Resort Casino a year ago. Combined with the increasing pressure of competition in other parts of the region, and summer being the busy season, many casinos will roll out a lot of varying promotions to try to draw in gamblers.
One of the most tried and true is tier matching – the thought is by not making you have to work for your core tier perks right away, you might be willing to give them a try, and if you enjoy yourself you'll switch allegiances. As some of the bigger operators falter (see MGM's 2020 profit initiative to cut costs and Caesars being shopped for a sale), it's also not a bad time to start building a bit of recognition elsewhere in case your favorite operator changes drastically.
MGM and Caesars both own properties in Atlantic City, and they too are running programs at the moment, so if you have status with one AC property, you have a good opportunity to pick up some perks at a few others.
Here's the latest run down, as of the time this was posted (we will periodically update, or post an entirely new one when warranted):
Caesars Tier Match
We've previously written about Caesars' tier match, and it's valid at their three Atlantic City properties (Caesars, Bally's and Harrah's) at a Caesars Rewards desk. In a nutshell, have the right level card for a competing property and they'll match you for Diamond through January, 2020. If you earn enough tier credits, they'll extend you to January, 2021. The number required goes down month by month, as you have less time to earn them, but is basically proportional to the percentage of the year you have the status.
If you've tier matched in 2018, you're not allowed to tier match again in 2019. But with the current rules, it does appear if you tier matched in 2017 you can. Hopefully if you were one of those who tier matched in 2017, you earned Diamond through the lowered goal in 2018, etc.
Mlife Tier Match
At the Borgata, a tier match program has been running for some time. One nice thing about their upgrade is it comes with a few extra perks, like $100 in free match play or bonus slot play, and a free room reservation within 90 days of upgrade to encourage another visit. Their tier matching is limited to only other AC casinos, unlike Caesars, which has a nationwide program in place. But if you're able to match to Caesars Diamond, you can then use that card to match at Mlife.
Unlike Caesars, Mlife gives you the status for the remainder of the tier year AND the entire following one, so you don't have to earn it back to get it for a second year. It's uncertain if you can immediately match again after that; I was able to, but at MGM Springfield, which doesn't offer a lot of the bonus perks, but it, too, was a two-tier-year match so although I matched it at opening in 2018, I have Gold through 2020.
Hard Rock Hotel & Casino Tier Match
The Hard Rock Hotel & Casino Atlantic City has a tier match program, and it's an important aspect as they're not officially tied into the programs of any other Hard Rock casinos, like the ones in Florida. But they do offer the ability to tier match if you're a higher tier at those other programs, which makes up for it.
Their tier match list casts a somewhat wider net even beyond other Hard Rock programs, including Parx and Sugarhouse in Pennsylvania. They also appear to match all AC casinos as long as you're at a certain level, unlike Caesars and Mlife. The match lasts through the end of their year, which is in May.
I reached out to Hard Rock's social media team, which confirmed you can tier match again in 2019 if you did so in 2018 – you'll get the perks for the tier itself, such as the lounge access and priority lines where available, but you won't get the bonuses again for matching, such as the free play and the guaranteed free rooms.
Ocean Resort Casino Tier Match
Ocean has been offering a tier match on and off since opening. I got a card on November 29, only to see a tier match program launch December 1 for new customers only (I slowed down play because that irked me). They also launched their original match program without many perks so I didn't bother visiting them the day they opened, unlike Hard Rock, but they quickly adjusted when other competitors were being more generous and drawing more traffic.
Their current program, which kicked off in May, again only works for new customers, so if you have a card for Ocean, you won't benefit from this. But if you are new, it's worth getting matched. The match only lasts through the end of their year, which is September 30.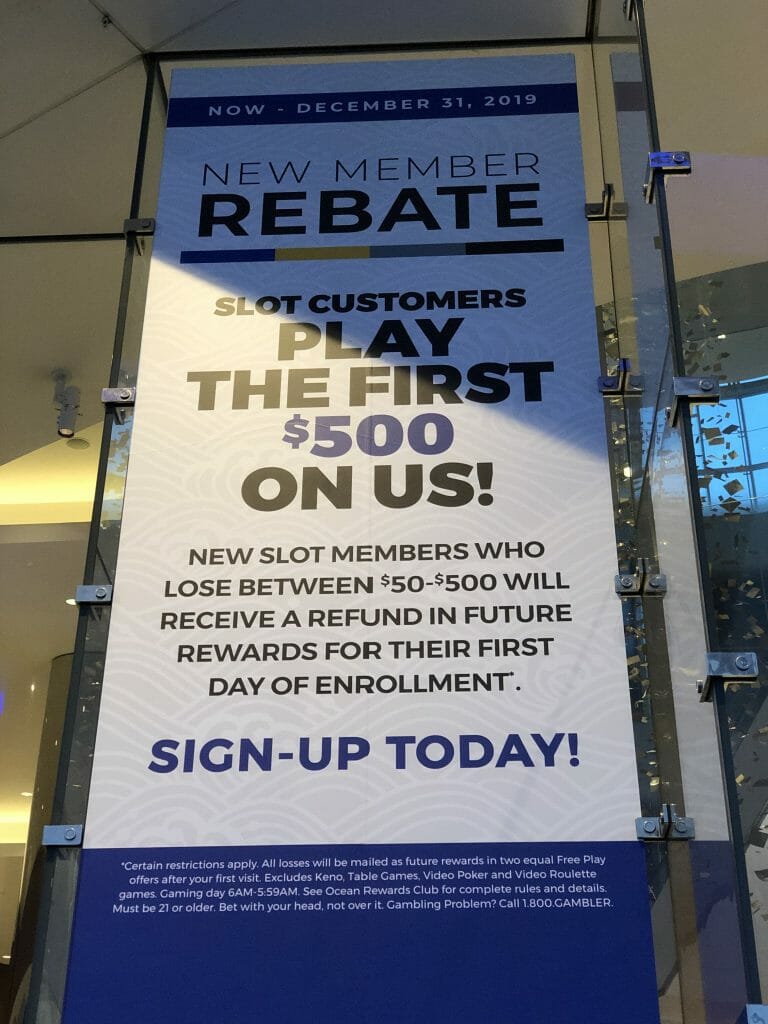 One added benefit for new members is they're running a slot loss rebate program, so if you lose enough during your first day as a member of their players club (lucky you), you can get bounceback offers to come back and get a chance to win that money back. Thank you to Brian Christopher for sharing this with me, along with the image, during his recent AC visit!
Golden Nugget [Updated 7/16/19]
After we wrote this piece, it appears Golden Nugget rolled out a tier matching option of its own. Their tier matches only last 90 days, so you have to earn the point level required to keep the tier within 90 days or forfeit the tier match. Compared to most of the others, it's a shorter window, but if you think you'll be playing a lot at Golden Nugget it can be worth getting a jump start to the higher tier. It expires at the end of the summer season.
Everyone Else
Resorts and Tropicana were not offering a tier match program that we could find. They have certainly done it in the past, and they could always bring it back. And the programs we've listed above may go away, so definitely match if you want it and you have the opportunity!
When You Don't Have a High Status Casino Card
If you're not a high-status player at any of the casinos being matched, you may still have an in. For instance, you can match to Caesars Rewards at the Diamond level if you are at the Diamond level in Wyndham Rewards. And if you're not Platinum at Wyndham Rewards, but are at a high enough level at another hotel chain in the Wyndham match list, you can first match your loyalty from another hotel chain to get Wyndham, and then use Wyndham to get to Caesars.
Confusing? Maybe a bit, but it's about connecting the dots in the right way to get what you're hoping to achieve. Ultimately, Caesars Rewards Diamond is accepted for every other match program, so getting that will get your foot in the door in a lot of other places, and Wyndham Rewards offers the best opportunity to do that from the hotel side.
Have you used status matches to your advantage? Share your experiences in the comments!