It's been awhile since I've reviewed a social casino with the potential for earning comps, and earlier this year I discovered the Hard Rock Casino in Hollywood, Florida had a social casino app that could give you the chance to earn comps. It's made by the same developer as, and is very similar to, the social casino for Foxwoods, which was reviewed early on in the site's history.
So in this review I'll cover the basics of the app, and how you can potentially earn comps.
Overview of the App
There are more than 100 slots in the Hard Rock Social Casino, consisting of nearly 100 in the main slot room (which unlocks by level and will take a couple of hundred levels to fully unlock all the games in the room), and another 20 or so in the High Limit room (which requires higher bets as the name implies).
Many brands are represented here, including Konami, Ainsworth, Everi and Novomatic. So many of the titles you'll find in the Social Casino will be games you can find on actual casino floors. Others are games developed for mobile apps like this and are not clones of casino themes.
Like Foxwoods Online there is a robust table and other games room with a lot of other casino games including Video Poker, Roulette and Blackjack. So if you're looking for a break from the slots, you can find other options here, just like a real casino.
There is a leveling up mechanism which the meter moves based on coins bet. As you level up, coin bonuses collected daily and hourly increase, but so does the amount bet to gain your next level. Unlike Foxwoods Online, you do not earn hearts for leveling up, and that's important when we get to comps later.
Earning Coin Bonuses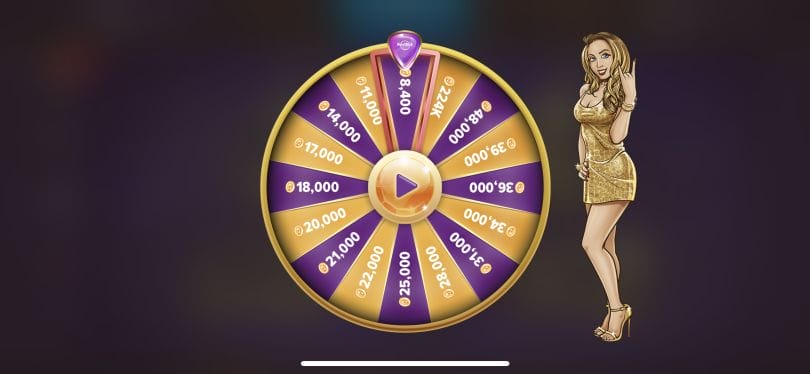 The coin earning options are basically identical to Foxwoods:
Hourly bonus: Every two hours you're able to collect coins in the lobby. As your levels increase, so does your bonus.

Daily bonus: Once a day, a wheel spin is activated that gives you a coin bonus. There is an additional bonus if you return for consecutive days, with the largest bonus once you've maintained a streak for 10 days or longer. These, too, increase periodically as you level.

Level Up bonus: A coin bonus is awarded each time you level up.

Watch & Earn: A series of videos can be watched to earn coins, and that bonus too increases periodically as you level.

Leaderboards: Land in the top ten of the hourly, daily or weekly leaderboards and earn a coin prize.

Complete Quests: Quests are challenges, issued in sets of 4. When you complete one set of quests, another set can be bought, or when the next daily wheel bonus is offered, a new set of quests will also be loaded for free. Quests are either spin-based, bet-based or win-based. The first quest is the easiest, and the last quest is hardest, with the prizes escalating as the quests get harder. They, too, grow proportionally with everything else.
The diversity of ways to earn coins should ensure you don't stay out of coins for long.
Buying Coins
This, too, is like Foxwoods Online – there's a regular coin store purchase that will get you coins as well as hearts. Higher coin purchases tend to give you a better overall deal, including higher multipliers.
There's also usually some sort of deal running that can sometimes even give you a better deal than the coin store.
Any purchase will award you hearts at a rate of 100 per $1. Hearts are your currency to acquire comps, and purchases are the only way you can earn them. This differs from Foxwoods Online, which gives you hearts for playing, too, so that's a bit of a bummer for this particular app.
Redeeming Hearts
Here, too, is a bit of a bummer, as the ratio for redeeming smaller prices is a 2,000 heart/$1 ratio for redemption (the redemption rate gets a bit better for more expensive prizes, but you need a lot more hearts for them). That's a 5% earnback ratio on your spend, half of Foxwoods' 10%.
Obviously that's Hard Rock's choice, but between not earning for just playing, as well as a halved earn rate for spend, it simply makes it harder to accrue comps, and given it's an app for a regional casino and not a national program like MyVegas, I'd presume they'd want to encourage more spend.
But it's still better than nothing, and if you're spending money on social casinos as it is, it may be worth investing your money into this instead to be able to get some real world casino comps.
The rewards are pretty basic: Free play, comp dollars, or coins for the game (which, like Foxwoods, are a horrible deal vs. paying cash for them). There also appears to be a daily redemption limit on the $5 free play option, which is of course the least expensive item in the app, which will further make the comp opportunities a bit tougher.
But both are generally valuable items, so players who are regulars to that Hard Rock location will probably find value there.
Summary
The app is equally as solid as Foxwoods Online, which makes sense given they share a common developer. But the watered down comps makes it less attractive for those who play apps regularly. That said, if you live in Florida and frequent the Hollywood location of the Seminole Hard Rock Casinos, you may find it a smart play to focus your social casino energies at least partially on it.