Borgata is a beautiful property in Atlantic City, has long been the most popular, and is definitely among the more elegant and upscale properties MGM has to offer. Until a couple of years ago, it was a joint venture between MGM and Boyd Gaming, until MGM bought out Boyd's share.
Since then, steps have been taken to merge Borgata into MGM's national Mlife program. But the way it was done was a bit unusual and chunky, and it leads to some quirky things. It also keeps Borgata separate from the rest of the program, so much so I completely forgot to talk about Borgata when mentioning how to check offers.
Borgata's comp-earning structure was so different than the rest of the Mlife program before the merger, that it was set up to operate differently than the rest of the Mlife program to avoid tipping over the apple cart. When more east coast properties opened, they adopted a similar structure. And now, as of October 1, at least one aspect of Mlife, the Express Comps earnings, will take a page directly out of the Borgata playbook.
So today let's remedy that by talking a bit about how Mlife differs at Borgata, and how you can keep up with what Borgata is specifically offering you.
Separate But Connected
The immediate thing to understand about Borgata is even though the signs all say Mlife and you accrue points and comps that can be used at MGM properties nationwide, the Borgata tracking and buckets are technically distinctly separated.
For one, you must get a Borgata-specific Mlife card when you arrive – unlike every other property nationally you cannot bring an Mlife card with you and use it. My card had the same Mlife number but with a leading 0 added, likely to make it distinct in the Borgata's old tracking system.
Second, when you earn Express Comps there, they live in a bucket specific to Borgata, and when you earn elsewhere, they live in your national bucket. To use comps earned at Borgata elsewhere, or to use comps earned elsewhere at Borgata, you'll have to visit the Mlife desk to have them transfer it. It's not a huge hassle, but it's an extra step you must prepare for.
You must log in to Mlife Rewards specifically at Borgata's site using a separate login to access Borgata's offers for you. So, you can't use the national Mlife site to book offers for Borgata, and in turn you can't use the Borgata site to book offers for other resorts.
All that said, you can still earn tier credits towards a universal program, some of the same perks (like bonus earnings based on tier level) exist at Borgata, and so on. You can actually redeem your Express Comps in shops (although at a 2:1 ratio) at Borgata, unlike many other destinations, which is a nice bonus (and likely a carryover from the pre-Mlife days).
Ultimately, while all the wagering goes towards the same program, there's enough differences to acclimate to prior to arrival.
An Extra Bucket of Earnings
In the Mlife overview recently published, I shared that Mlife has a three-bucket system that can be confusing to many:
Tier credits, which track your overall tier progress but have no cash value and reset every October 1,
Points, which can be converted to free play or Express Comps, and
Express Comps, which are your comp dollars for redemption for experiences, hotel, food, etc.
Borgata adds a fourth bucket, which is:
Slot Dollars, effectively another form of free play that is a bounce back offer based on your previous play, and which can be redeemed within 90 days of your previous visit.
In reality, Slot Dollars becomes something above/beyond your standard offer in an effort to bring you back more quickly, and is common in Atlantic City: The Caesars-owned properties offer this, as does Hard Rock, due to the heavier competition in this market.
While Slot Dollars are designed to be used on a future visit, points earned, just like in other markets, are accessible instantly and can be redeemed while there.
Comps Earnings: Generous, But Quirky
One of the things that is different about Borgata was the Express Comps earnings are more generous at Borgata than other Mlife properties.
The old Borgata system used earnings based on comp dollars, and that cascaded to how many points earned and so on. It's basically a similar method now. $50 in coin-in on video poker earns you a base point, which is also $.10 in Express Comps, $.04 in Slot Dollars and 7.5 tier credits.
One important quirk is you must earn $5 in Express Comps earnings to get any at all. You must earn $4 in Slot Dollars to earn any at all, which takes earning $10 in Express Comps. A quick hit and run will not result in any earnings, although this is how the program worked there prior to Mlife. Tier credits are earned regardless of play.
As such, using the same video poker example above, if you don't get to $2,500 in coin in on Video Poker, per the above, you won't get the Express Comps, and if you don't do $5,000 in coin-in on video poker, you won't get the Slot Dollars.
Comparing this to Mlife nationally gets tricky. Here, $50 gets you a base point, which is five times more coin-in on Video Poker than in Vegas. Adjusting for that, it's the equivalent of 1.5 tier credits per base point if it were earned at Vegas rates. But it means point play takes a lot more effort to earn.
Comp dollar earnings, at 10 cents per base point, is effectively twice as generous as the old national Mlife model that's being retired. This helps explain why Mlife comp earnings tend to be easier on the east coast, given MGM Springfield and MGM National Harbor follow a similar strategy. However, they dilute it by requiring 2:1 redemptions in many places.
The earnings bonuses you get as a higher tier with Mlife is maintained here, so you do get the 10% bonus for Pearl, 20% for Gold, etc.
All this is to say it's pretty complicated, but you need to put in a solid amount of play to get more than Tier Credits from them.
Checking Offers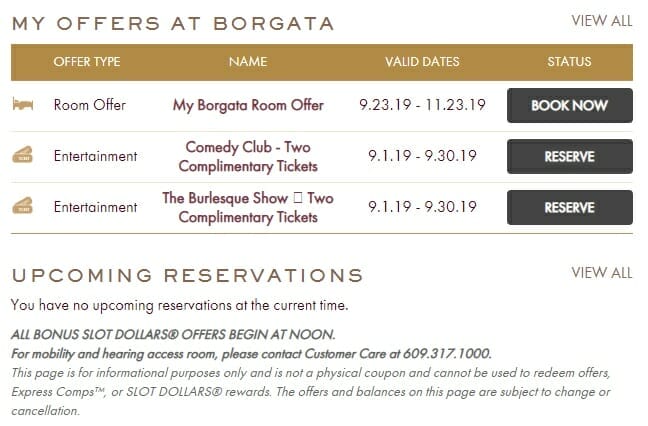 Checking offers is as simple as going to The Borgata's website and logging in to Mlife Rewards. You'll see your balances on the left, and tabs that give you access your offers on the right, along with any bookings you currently have.
Like other MGM regional properties, each piece is a distinct acceptable component, such as a room booking, free play and show tickets. Like other properties, there tends to be various different offers available, including free buffets, that is another Atlantic City competitive step (I personally have buffet offers from four different properties in Atlantic City on my accounts as this is being written).
You can book your room offers directly on the site; just about everything else is either automatically loaded, or available either at the Mlife desk or kiosks.
While there, one nice thing Borgata maintains is their slot finder, which can tell you what games are available and where they're located on the casino floor. It's a nice touch. Borgata's selection of games is quite diverse, given they've been open for more than 15 years, and have maintained some of the earlier games they've had while rolling out newer offerings. It's one of the only casinos I've found to still have Match Game, a WMS game based on the 70s game show that has the voice of many of the original celebrities from the show.
Best Mlife Perks at Borgata
If you're Gold or higher with Mlife, you can get access to the Buffet for $12.50 in Express Comps for you and up to one guest. Similarly, you can access the Amphora Lounge, which is restricted to higher-level card holders, and is similar to the Laurel Lounges offered by Caesars. (Another common thread in Atlantic City is lounges and food options limited to higher-end card holders is common, with most casinos having such an offering.)
Gold also gets you dedicated lines at the hotel front desk, buffet and Mlife desks. Gold even can snag you a room upgrade as long as there's availability, another nice touch.
Summary
Borgata's been a highly successful property in Atlantic City for a reason, and it remains a great place to visit. The ability to earn tier credits and comps that can be used elsewhere, along with gaining perks that can be used in Atlantic City when you're a higher tier, can make it another great reason to visit. That said, the quirky nature of how everything is earned in this unique variant of the Mlife program, which heralds back to its previous days as a co-owned casino, can make it confusing for players used to a national system with a bit more consistency.
Questions about Mlife at Borgata? Do you play there? Share your thoughts in the comments!