Game: Cai Fu Journey
Manufacturer: Ainsworth
Advantage Play Potential: Medium-Low
What Makes it Special: Collect Ultimate Upgrade symbols to upgrade the 10th spin of each cycle with wilds, multipliers, extra lines or even a free spins bonus.
Cai Fu Journey is a spin cycle-driven game where you collect on the way to the 10th spin, similar to other games with a spin cycle like Scarab. But unlike Scarab and others, you're not just collecting wilds as a power-up, but multipliers, additional lines and other upgrades that can increase the payout.
You can also collect the free spins bonus, which links back to the upgrade feature. How does Ainsworth's latest persistent state game stack up? Let's dive in, with a look at a game I found during my latest Vegas trip at the Four Queens in downtown Las Vegas.
Understanding the Game
Cai Fu Journey is a 5×3 reel set with a 30 line base game and 20 credits added for the Ultimate Upgrade feature, which means a 50 credit bet increment. Each bet level has its own persistent state accumulators and spin cycles which matters when it comes to the Ultimate Upgrade.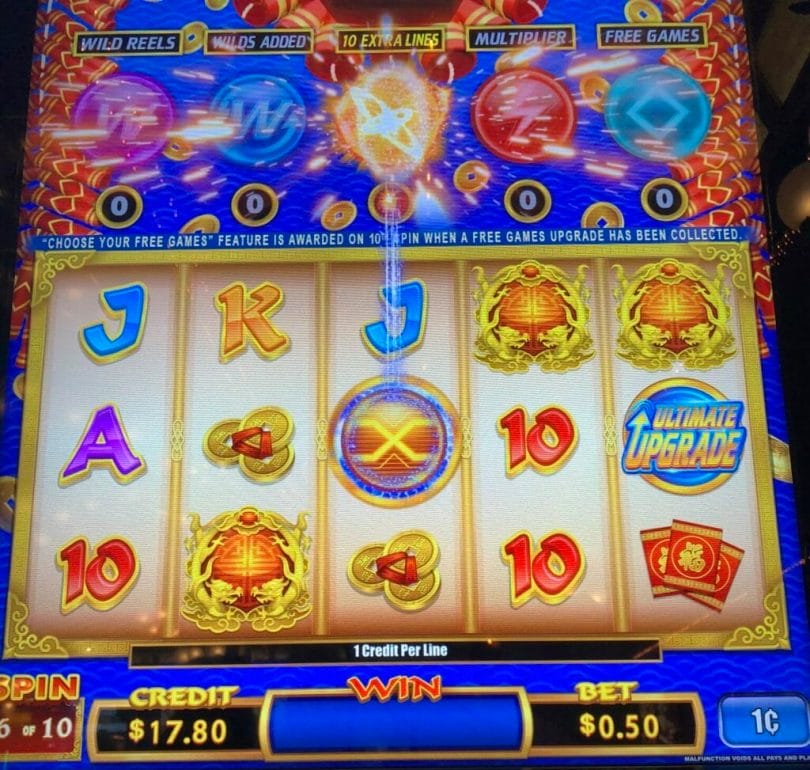 The game works in 10 spin cycles. Spins 1-9 you collect line hits, as well as the Ultimate Upgrade symbols. You can land more than one in a single spin.
Each Ultimate Upgrade symbol can bring one of five upgrades:
Wild Reels: Full wild reels are placed at random.
Wilds Added: Single wild spaces are added at random.
Extra Lines: Additional lines are evaluated within the same 5×3 grid.
Multiplier: The pay multiplier for game 10 is increased.
Free Games: A free games feature is awarded immediately after game 10.
Most of the power-ups can be collected multiple times; the exception is the free games, which can only be collected once. The others progress as follows:
| | | | | |
| --- | --- | --- | --- | --- |
| Symbols Collected | Wild Reels | Wilds Added | Extra Lines | Multiplier |
| 1 | 1 reel | 2 wilds | 10 extra lines | 2x |
| 2 | 2 reels | 3 wilds | 20 extra lines | 3x |
| 3 | 3 reels | 4 wilds | 30 extra lines | 4x |
| 4 | 4 reels | 5 wilds | 40 extra lines | 5x |
| 5 | 5 reels | 6 wilds | 50 extra lines | |
| 6 | | 7 wilds | 60 extra lines | |
| 7 | | 8 wilds | 70 extra lines | |
On spin 10 of 10, whatever is collected will be worked into the reels and pays evaluated once the reels come to a stop.
Free Games Feature
Collecting a Free Games Ultimate Upgrade symbol will trigger the free games feature upon the completion of the 10th spin. You can select from one of the four following options:
Wild Reels Free Games Feature: 6 free games with 1-5 reels turned wild at random on each spin.
Wilds Added Free Games Feature: 6 free games with 2-8 wild spaces added at random each spin.
Extra Lines Free Games Feature: 6 free games with 10-70 extra lines evaluated at random each spin.
Multiplier Free Games Feature: 5 free games with 2x, 3x, 4x, 5x or 10x multiplier activated at random each spin.
As such you can choose your favorite option and play it out accordingly. Each of them have some volatility attached, but in different ways.
Understanding the Advantage
There's a couple of scenarios for this game:
If the free games Ultimate Upgrade has been collected, you're guaranteed free spins at the conclusion of the cycle.
If there's built up enough wild reels on its own or in tandem with the single wilds and/or the lines evaluated, you know the pay will be substantial.
The game is in 500 credit cycles, meaning the minimum bet is $5. During my testing of the game at that level, the pays were in a range but only a couple cleared the $5 cost. Of course, you will likely encounter scenarios with some spins completed, but the amount and spread of the Ultimate Upgrades collected will determine the potential value.
With five bet levels, there's at least a reasonable chance of something being left behind, however. And it does seem like an overall lower volatility game, for those seeking that. But that also limits the advantage.
Watch and Learn
There are few videos on YouTube featuring the game, as it's still relatively new. Here's a video from Can Jiang featuring a solid number of cycles of the game, and also features a number of free games bonuses that shows off the various options that are available: