Everi has been the holder of the Press Your Luck license for awhile now, and their pair of video slots, Whammy Bucks and Whammy Wilds, carry forward from their previous Whammy Riches edition, by offering two new brand extensions.
For this post I'll be focusing on Whammy Bucks, but Whammy Wilds is similar.
The new game takes advantage of their taller cabinet, and manages to keep the theme going with what has made it successful – multiple bonuses and that mischievous Whammy.
There is a lot of symmetry here to the Wicked Wheel series. The Whammy can act as an upgrade mechanism, and the two themes let you choose between credit prizes when a wild is part of a line hit or a multiplier, just like the way the Wicked Wheel series is handled.
The bet panel is pretty clean and straight forward, with 75 credit bet increments with higher bets increasing the progressive chances. The game is an all ways pays game.
The coins on Whammy Bucks' base game can award 25-5000x the bet multiplier, meaning at max bet a coin can award $250 on its own, not counting the line hits it also is a part of in that spin.
There's also a lot of progressives – seven here – that can be won in a couple of ways.
Whammy Wheel Bonus
There are a number of bonuses. The Whammy Wheel Bonus can be awarded when a coin is present, but does not award a line hit, and no other bonuses are awarded. This triggers a progressive wheel spin. Some spaces include a +1 spin, and the Whammy can get involved and upgrade the win to a different space after the wheel comes to a stop.
Up to two wheel spins can be awarded, but you can't get a second wheel spin and win the Grand, Ultra or Epic progressive. You also can't win the same progressive twice, so you will get a different progressive on your second spin. And, of course, clear as day in the pay table, the piggy bank and its size are not an indicator of when a bonus will hit.
The odds of a Whammy Wheel Bonus increase with higher bets, which makes sense because the progressives are proportionally smaller at a higher bet, so winning them more frequently would be a reasonable expectation.
Press Your Luck Bonus
This bonus occurs when you get the Press Your Luck symbols on reels 1, 3 and 5. This most approximates the classic game show, as you get a big board with 16 reels that appear and 5 spins to start.
Each spin, prizes can land on any of the 16 reels. Some will have Whammys on them, which can only be won if you fill the board with prizes. Others will have credit prizes or progressives, and you can also land an Extra Spin space to increase your spin count (up to a maximum of 9 spins) and improve your chances of filling the board.
Like the Whammy Wheel Bonus, you can only win up to two progressives, and if you win the Grand, Ultra or Epic you can't win any other progressive. You also can't win the same progressive twice within the bonus.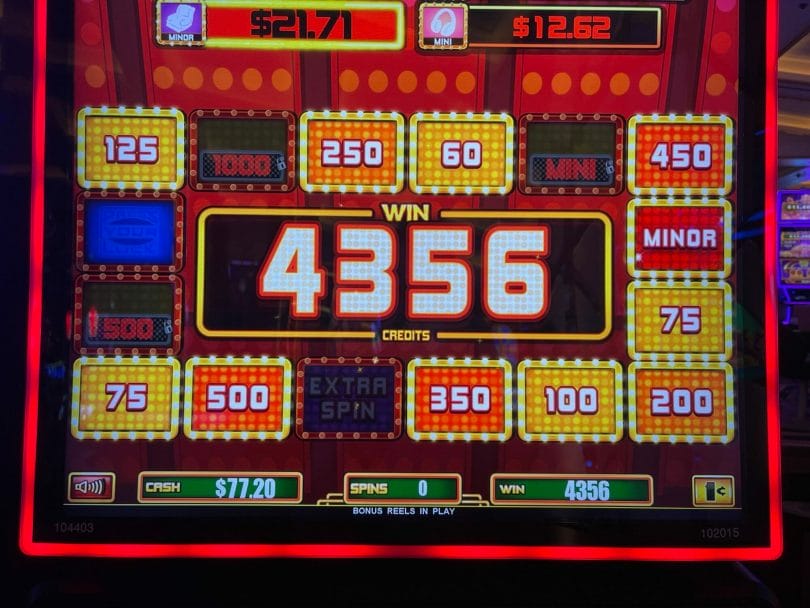 This bonus can certainly be lucrative in the right circumstances – it's a hard bonus to get, but I managed an over 50x bonus on my shot at it.
Big Bucks Bonus
The final bonus is the Big Bucks Bonus, which is triggered when reels 1 and 3 get a Press Your Luck symbol and reel 5 gets a Big Bucks symbol.
This is another wheel bonus, this time located at the top of the screen, and spins among prize values. Like the Whammy Wheel Bonus, a nudge to a better wedge can take place before the final prize is awarded. It's as simple as that.
The game is fun, has a lot of things going on, and for fans of the Wicked Wheel series, there's some parallels that will likely be recognizable for those players too.
Press Your Luck Whammy Bucks Slot Videos
Here is Everi's promotional video for the game series:
RandomSlots has a video which features game play, the Whammy Wheel Bonus and Press Your Luck Bonus, and the pay tables: