Aristocrat has introduced a variety of formats that have stood the test of time and proven popular with players. Its Hold and Spin has been copied by everyone and has evolved within Aristocrat itself, starting with games like Lightning Link. And its three upgrade bonus structure was popularized on Fu Dai Lian Lian and has been too copied by others.
But Aristocrat is also comfortable mixing and matching formats in ways that push things forward, and Coin Trio takes a different tack from other three upgrade bonus models by attaching it to the Hold and Spin format instead of free games.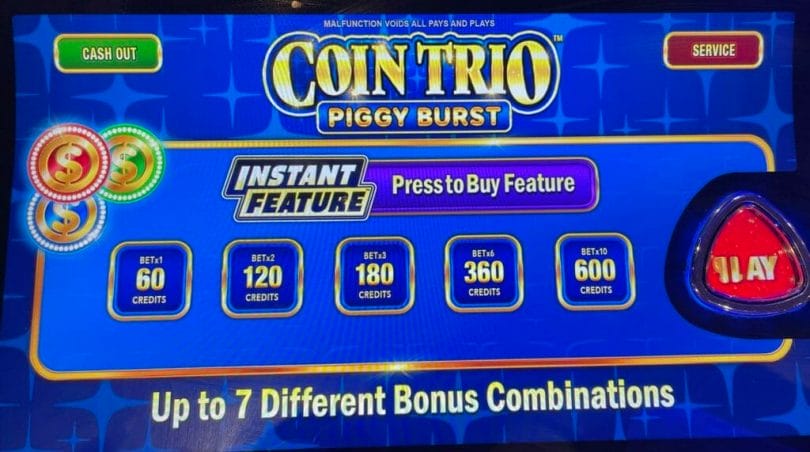 The game features lines, which is a bit different for Aristocrat from the norm as many of their games are all ways pays games, but it's a generous 60 paylines and 60 credit bet increments. There are stacked wilds that can help deliver some pays.
With Coin Trio Piggy Burst, breaking one or more piggies open will yield a Hold and Spin bonus with five coin prizes to start and at least one upgrade, depending on what you break open:
Blue piggy (Piggy Feature): The piggy will show progressively higher prizes until it selects one that will be applied to the coin.
Red piggy (Wiggly Feature): This piggy will multiply everything on the board by 2.
Green piggy (Squeak Feature): This will collect all the coins on the board.
Like other three upgrade bonus models you can combine the features or even get all three, which means a blue piggy would award credits, the red piggy would multiply that and all the other prizes by 2, and then the green piggy would collect them all, effectively doubling what's on the board again.
As you can imagine, that can get pretty hot fast. I managed a Piggy Wiggly Squeak feature (their term for getting all three on this game) during a session recently that was on a $1.20 bet. The blue pig put out a $70 coin, which then got doubled and collected, so before I even spun for more coins I was more than $300 on the board.
Of course, the bonuses can be a dud too, so it's definitely a game with some volatility behind it, standard for Aristocrat.
Another unique feature of this game is it's one of Aristocrat's games with a Buy a Bonus feature, which lets you buy a Hold and Spin bonus. They start at $35 for a 1x bonus, and you get at least one upgrade, but potentially more.
I bought a $70 bonus at a 2x bet multiplier and got almost nothing, but did better on a few $35 attempts. If you just want to get to the good stuff, this could be for you, but expect some wide arrays of outcomes.
I had a good time on my sessions with the game – it puts together a variety of things I find fun on a slot, so I expect to seek this one out more in casinos.
Coin Trio Piggy Burst Slot Videos
TheBigPayback checks out the Buy a Bonus feature after doing some more traditional spins on the game:
KURI Slot did a free play session on the game: