Some links in this article include affiliate links, which provide a commission if a purchase is made. Affiliate links have no impact on our recommendations.
The Cosmopolitan of Las Vegas is one of the strip's newer casinos, one of the upscale choices whose operations were recently acquired by MGM Resorts. It makes for an interesting scenario because the property tends to favor somewhat higher rollers in terms of their offers, but most players can see some value out of it, especially as it transitions into ownership by one of the two main casino owners on the strip.
They operate a bit differently than the bigger chains in some ways, something which may change as they slowly integrate into MGM, but some of the uniqueness is more about the property than the operations at any rate. So let's take a look at the Cosmopolitan of Las Vegas in today's casino review.
Casino Floor
The Cosmopolitan has a pretty sizable casino floor, with multiple sections of slots across a lengthy casino floor that runs from the front of the building to towards the back, stopping before the hotel lobby. They have a lot of newer slot machines, along with a specifically curated set of older machines that are player favorites, purposefully purchased and kept on the floor for that purpose.
A pretty good high limit room exists for higher limit players, but also a solid selection of penny slots and lower limit games abound on the floor. Video Poker is there with some decent options throughout the casino floor.
Table games players will find limits on the higher end for the strip, so expect to have a larger budget if you wish to play tables there.
Hotel Rooms
Cosmopolitan of Las Vegas has relatively recently renovated their room stock, so the rooms, always in good from, are up to date. Many of their rooms have a balcony, and regardless of location the rooms have stunning views, whether it be the strip, the city and the mountains.
Their rooms are all sizable, so regardless of choice you'll have ample space to relax and rewind after a busy day in Las Vegas.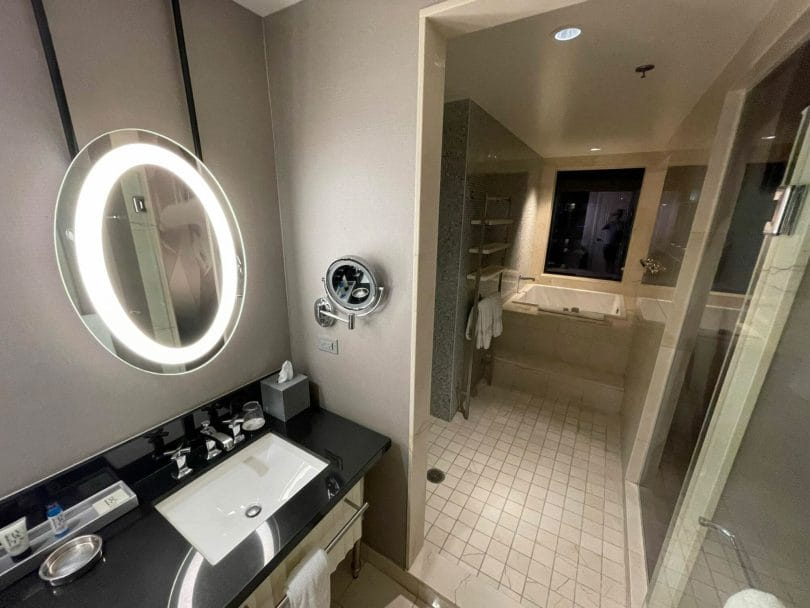 I stayed at the Cosmopolitan for the first time in the summer of 2022 and got although my offer only included a Terrace Studio, the front desk clerk saw it was my birthday week and bumped be up a category to the Terrace One Bedroom Suite, which has a nicer bathroom and doors that separate the bedroom from the living area.
The living room area itself was pretty spacious and had a bar area, along with a mini fridge for storing your own beverages that was separate from the mini bar. The bathroom also had a tub with a window that looked out, a unique touch that also brought some natural light into the bathroom area during the day.
And of course the balcony was available, and even though I didn't have a fountain view of the Bellagio, I certainly had a cool perspective of Vegas, and I wasn't even particularly high up relative to what was available. All in all it was a great room and a great stay.
Players Club
It is expected to move into the MGM Rewards system over time, but for now, Identity is Cosmo's players club. The program favors slot players in that comp points are earned on slots, and not on tables (although you still can tier up, giving you benefits). You earn a tier credit, as well as a point, for every $2.50 on slots or $6 on video poker. 100 points is worth $1 of free play or comp dollars. As you tier up, you can earn 2x or 3x points on slots.
Higher tiers earn guaranteed benefits. Earning Sterling (which requires $10,000 of coin-in on slots) gets you a guaranteed free night, for instance, on top of any offers earned. Gold gets you 2 nights per year and 2 companion room nights per year. Platinum gets you the same. 2 for 1 buffet entry at Wicked Spoon and Opium tickets are available at higher levels, although more frequently as you further tier up.
The Cosmo is the only strip casino where I ever got bounceback offers for my play, earned a day or two after showing up, which had to be used within 48 hours. Normally bounceback offers are found in locals markets to get return visits, but is a clever use by Cosmo to get players to spend more time on site during a Las Vegas visit.
It's harder to get fully comped nights at Cosmo than many of the other Las Vegas trip resorts, as you can imagine, but they do run pretty fair free play offers as well. If you're a lower budget player, you might find better value playing at other casinos when it comes to comps, but it doesn't take a particularly high amount of play to get some offers from Cosmo.
Other Observations
Wicked Spoon is the Cosmopolitan's buffet, and is one of the rare buffets that's been open during the COVID-19 pandemic, and to actually reopen at all. During the height of the restrictions capacity limits were in place, as was them serving you the portions instead of grabbing your own, but those have slowly been backed off as Vegas returned to normal. The buffet was quite enjoyable even with the restrictions, and was still all you can eat.
Their food hall Block 16 (don't call it a food court) is a really good one, with some great food choices at reasonable prices that aren't standard fast food chains. I'm particularly fond of Hattie B's Hot Chicken, which I've partaken in multiple times and have enjoyed each time.
They've got a strong restaurant collection, including The Henry, as well as popular grab and go places like Eggslut and Milk Bar.
They've also got a unique set of shops to check out, also unique to Cosmo and well curated to be differentiated from many of the other strip properties.
The Chandelier Bar is a great place to get a drink and play video poker, and is a unique multi-level attraction. In fact, the casino's front end is set up to take advantage of the natural light from outside and the multi-level structure inside to have one of the more unique experiences on the strip.
Book Now
You can book rooms at the Cosmopolitan of Las Vegas through vegas.com, which offers a Best Price Guarantee. If you find a lower price while booking or within 24 hours, contact them and they'll match it! Vegas.com routinely runs promotions on hotel rooms as well, making them a good place to check.
Cosmopolitan of Las Vegas Videos
Travel Ruby calls the Cosmopolitan the Best Hotel in Las Vegas for 2022:
J&K StayinVegas did a tour in the summer of 2022: