Game: Electromax
Manufacturer: IGT
Advantage play potential: Medium-High
What Makes it Special: Charge up three vials at the top of the machine for special spins. Vials can be triggered together at the same time. Recharges give you an immediate second (or more) chance to win. Vial spins tend to have high potential for big wins.
IGT has certainly been active in the persistent state reel category in recent years. Many fall into a predictable series of game types, but Electromax is a bit unusual in unique in terms of its gameplay. But it also has the possibility of some fun, along with some solid Advantage Play potential.
Today I'll walk you through how Electromax is setup, and what the Advantage Play opportunities can be.
Understanding the Game
Like many of IGT's persistent state reel games, Electromax is a 5×4 reel slots format. This game has 30 lines that are evaluated. There are five bets, and each bet has its own set of chargeable vials, we'll call them, which IGT calls the Pure Charge feature. So in this case it's not persistent state reels, but vials, that are where the advantage will derive. But we'll get to that later.
The vials each have their own super power when fully charged:
Green/Ultra Reels: The green vial will give you a super-sized symbol that lands somewhere on the reel. It makes for much easier five of a kinds when matched with other symbols and/or wilds. The less lines nature of this game means the pays haven't been watered down, so you can get some solid line hits if things connect.
Blue/Multiplier: The blue vial will give you a multiplier that spins that starts at 2x and goes up from there. It does appear to be weighted in favor of the lower multipliers but if you get a good line-up it will still work out well.
Pink/Wilds: The pink vial will give you wilds in some random number on the reels, which will certainly help setup a good scenario.
When a lightning bolt symbol appears on the reels, it will add a unit to at least one of the vials, however it does have the potential to add to all the vials when you're lucky. In a short session this happened to me a couple of times, so I don't believe it's too rare.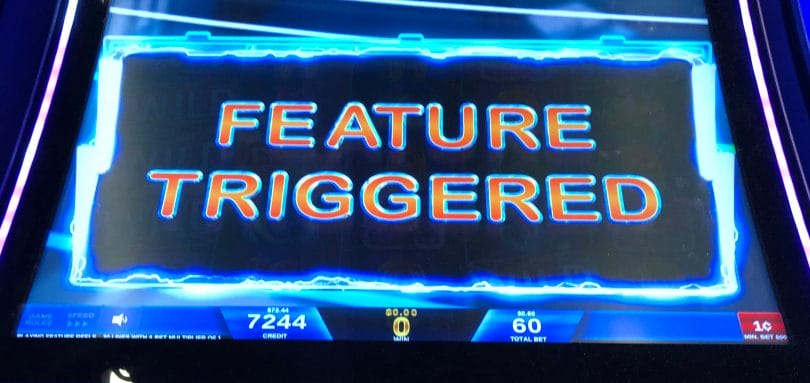 When you fill the vial, you'll instantly get another bonus spin that delivers the feature. If you fill more than one vial, the bonus features will combine into one spin. So if you land both the multiplier and the wild feature, for instance, you'll get both on a single spin.
Finally, one interesting twist is the Recharge feature. If a unit is added to a vial that is gold, when you do fill the vial, you will get your bonus spin, and then the vial will recharge and you'll get another bonus spin with that feature. You can get multiple recharges in a single vial, and therefore multiple recharges.
Understanding the Advantage
How full each vial is will help you understand whether a game is due to offer one or multiple bonus spins. The lightning bolt doesn't come out too often, but it does come out often enough that if you have multiple vials near the top, it might be worth a go. It's definitely worth a go if there's one or multiple recharges.
I found a machine with one vial 3/4 full and two recharges in it – it was higher than my traditional bet level but I more than made it up once I got my three spins thanks to the two recharges.
And again, the game's pays are pretty strong so it doesn't take an amazing hit to get a big win. I was able to get a couple of hits above 15x with mediocre line-ups, so a strong line-up would likely pay much better.
Free Spins Bonus
Get three or more Bonus symbols to trigger the free spins bonus. There isn't a persistent state carried in from a previous bonus here, but you do start with each vial half full. You get 8 spins to get lightning bolts that not only fill the vials, but give you extra spins, so a lot of lightning bolts can yield some pretty active and potent bonuses.
If you fill a vial, you get the bonus spin and the vial then returns to half full. Recharges are possible in the bonus, so the bonus can be pretty exciting. Unfortunately during my review session, I didn't manage to fill a single vial during my bonus, but it still showed me the potential of what this could offer. (You can see in my screenshot above I managed a 6x bonus.)
Watch and Learn
IGT put out a promotional video for the game:
Meanwhile, here's Diana Evoni playing Electromax to see how a live game goes:
Have you had any luck with Electromax? Share your feedback in the comments!