Game: Fortune Rooster
Manufacturer: IGT
Advantage play potential: Medium-Low
What Makes it Special: Fill the symbols above the reel to get a wild reel for that spin and the following spin.
If I'm being honest, Fortune Rooster was very high on my initial list of games to feature here. Then I actually tried to play it. Multiple times I couldn't make much happen, and with more than $100 through betting at 60 cents, I never once triggered a bonus or even got some of the special features that makes more wilds happen.
I spoke with another player who has experience with the game, who told me that they similarly found the game to be tough, and many AP players near him don't watch the machine either. So this isn't as high on the list for me, but there's still the occasional scenario that may make it worth checking out, and so let's discuss accordingly.
Understanding the Game
Fortune Rooster is another of the 5×4 reel games with a persistent state element by IGT. The game evaluates 50 lines for payment, a solid amount for that reel size. The game has a stacked symbol element, with the symbol randomly chosen each spin, which adds to the volatility of the game, along with the wild reels element. This game can be tough, but when the right things line up, it can also be amazing.
There are five bet levels in 60 cent increments – as usual each bet level has its own set of persistent state reels. This avoids someone charging up the reels at 60 cents and then betting $3 for bigger hits with wilds, for instance.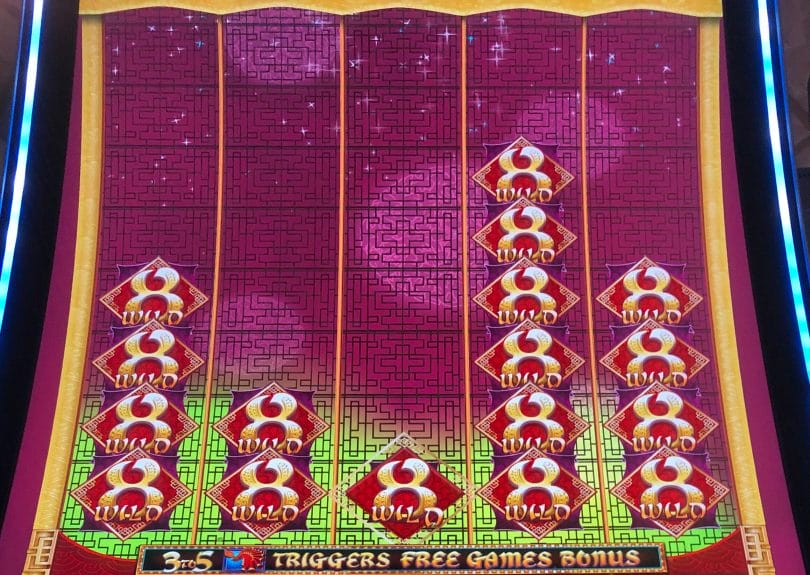 On any random spin wilds can be added to the section above the reels. Landing the firecracker on a reel will also add wilds to the section above the reels. One wild or multiple wilds can be added, potentially to filling the entire space above the reel.
There are eight spaces, and when the eighth space is filled, four wilds immediately drop down to mark that reel wild for that spin. The other four come down on the following spin. You can have wilds appear on more than one reel if the timing works out.
You can also get two full reels of wilds if the Golden Rooster appears. In that scenario it will instantly fill up the spaces above two randomly selected reels, and they'll be wild for that spin and the following spin. If you managed to fill a reel (or more) at the same time a Golden Rooster appears, it will pick two other reels, increasing the odds of a solid win for those next two spins.
Free Spins Bonus
If you land three firecracker symbols in a single spin, not only will you accumulate wilds above the reels, but you'll also trigger the free spin bonus.
The game comes with a volatility bonus choice that includes the ability to do more spins with a lower multiplier, or fewer spinners with a higher multiplier.
Each spin in the free spins bonus, at least one reel will turn wild, and a multiplier within the range of the choice you selected will come out. If you get wilds in the right places, and a solid multiplier, you can have a strong bonus pretty quickly.
Understanding the Advantage
There are some similarities to Golden Egypt in the ability to gain wild reels for two spins. But unlike Golden Egypt, which requires two symbols to collect, the stack of eight above the reels creates a bit more of a challenge in knowing where the advantage lies. If six out of eight spaces are filled, it could take one or two firecracker symbols to fill them, depending on what you get the first time.
So aside from the obvious advantage of someone leaving behind a spin with wild reels available, the next best thing is more wilds to the front, particularly the first three reels. There's a higher chance of landing one or more reel of wilds if you've got enough symbols in multiple reels.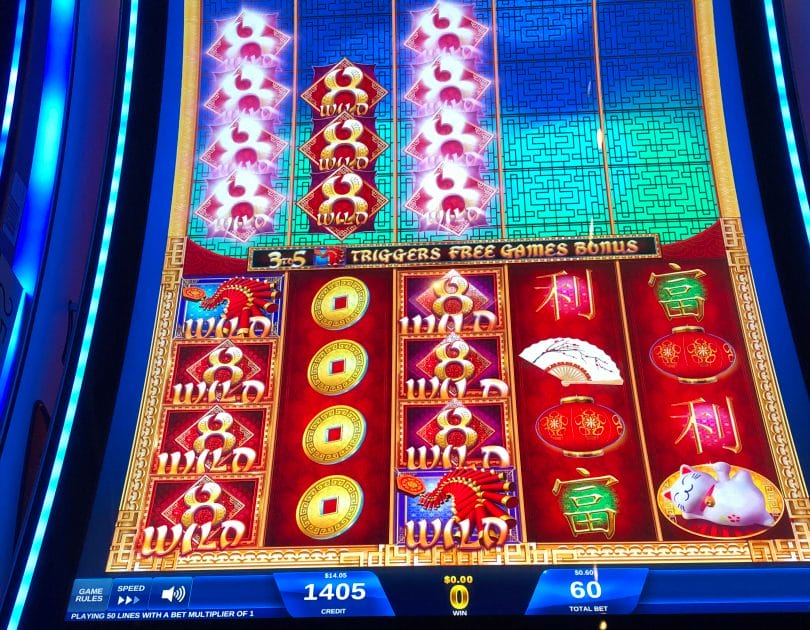 If you can land two wild reels within the first three, you are guaranteed a solid line hit, and if you an cna get some of those stacked symbols in one or more of the remaining reels, it's likely a big win (IGT's mark of 10x or more), which is good, and you can get it twice given the two spin scenario for the wilds.
It's tough, but not impossible, to have a setup where three or more reels are ready to go, and some combination of getting multiple firecrackers and/or Golden Rooster happens. It's really rare, but the pay would be strong because of that. In that same $100 plus through I mentioned earlier in the review, I didn't get a single Golden Rooster, so I can't really say what could be expected there.
This is why many advantage players don't have this high on their list – it feels like more has to happen for this game to pay. But if you see enough symbols, and other games are tapped out, it may be worth the attempt.
Watch and Learn
Here's IGT's promotional video for the game:
And as usual RandomSlots has a great overview, which includes paytable screenshots and a live bonus captured for the game. Since I couldn't get one, his video helped me get a better sense of what the bonus was like: