The success of Aristocrat's Lightning Link and its siblings, along with its unique math model, has drawn a number of competing game designs from a variety of manufacturers, including Aristocrat itself with games like Gold Gold Nugget.
However, one of the earliest and most popular lines is the Lock it Link line by Shuffle Master (part of Scientific Games). The early games had a design that would feel familiar to Lightning Link fans, but that familiarity has the tendency to cause confusion. For instance, many players get excited when they get a full screen, because they think they've successfully landed the Grand Progressive Jackpot.
STATUS: You can't win the Grand jackpot on Lock it Link just by locking all the spaces. In fact, there's multiple game models, each with their own way of landing that top progressive.
In this article we'll cover the main game types that are out as of this writing, the core differences from Lightning Link, and how you can win those jackpots.
Nightlife, Diamonds, More Cats, Hats and Bats, and their Loteria Clones
Nightlife and Diamonds launched the series. Both have the same way of triggering the Lock it Link bonus: Unlike Lightning Link, where you have to collect six symbols anywhere across the 5×3 reel set, these games only require you to collect three heart lockets (or bats in the case of More Cats, Hats and Bats, but we'll use lockets for simplicity in this discussion), but they must be on the same row of a reel set.
There are other core differences between these versions and Lightning Link:
If you land more than 3 lockets in a row at the time of trigger, you get more spins with each reset – 4 for four lockets, and 5 for five. This can help provide more opportunities to fill in the remaining blank spaces.
The values of the lockets evolve. The original ones that land come with values, but they increase as each locket lands. New lockets start at 1x and can increase as the bonus continues.
Whenever a locket lands anywhere on the screen it locks it in place. However, it must connect to at least two other lockets to reset the spin count, and to increase the value of the lockets on the screen.
Whenever that locket connects to two or more other lockets, each locket gains 1x your base game bet per locket in value. For instance, if you have four connected lockets, you'll gain 1x for each, a total of 4x your bet.
If you get a full screen of lockets, you'll win a bonus prize, which varies a bit based on the base game. On Nightlife and Diamonds, all the lockets will grow in value by 3x per locket, a boost of 45x… but vastly short of the Grand progressive jackpot you get on Lightning Link. On More Cats, Hats and Bats, you pick a value that pays an additional bonus based on what's selected.
As you can discern from the above, there's no way to win the progressives during once the Lock It Link bonus is underway. So how do you get to win the progressives?
How to #landthegrand and Other Progressives
Like Lightning Link, any and all progressives can be won at any bet level, but unlike Lightning LInk it must be on the initial line-up of 3 or more lockets on the same row. Once you enter the actual bonus, as seen above, you only win more credits based on your bet level. So it's in the initial Lock it Link trigger that you have the opportunity to secure the progressives.
Clones of This Version
This version has a number of clones that exist. First off, three of the Loteria series of Lock it Link games are rethemed versions of the three games above:
La Sirena follows the math model of Diamonds
El Diabolito follows the math model of Nightlife
El Mundo follows the math model of More Cats, Hats and Bats
Shi Shi Shun and Lu Lu Tong
More recently, two new Lock it Link versions that herald back to this original series of games were introduced, offering the same Lock it Link mechanic.
Lu Lu Tong has the symbols on the reels and require the normal three in a row. A full screen pays an additional payout, but not in the same way as the original games. As with the originals, you have to trigger the progressive as part of the original landing of the symbols, and you win a prize for filling the screen.
In this way it appears to be a clone or near clone of More Cats, Hats and Bats, but themed to an Asian theme, to offer a companion to a more original version, Shi Shi Shun.
Shi Shi Shun offers the Lock it Link mechanic only as a bonus games feature, selectable, like Nightlife, between free games and the Lock it Link bonus.
This game borrows from its Shuffle Master sisters such as Dancing Drums in that whenever a wild lands, you'll hear a drum sound, and at any time a wild symbol can double as the trigger for a progressive pick, which works exactly as it does on any of 88 Fortunes-style games (match three to get a predetermined progressive).
In that way it's a bit of a blending of the Lock it Link and 88 Fortunes game styles.
Eureka Reel Blast and Piggy Bankin'
Both of these share a Lock it Link collection model. These revert to the six symbols collected, as with Lightning Link. The difference is you don't know what they'll be worth until the spins occur.
On Eureka Reel Blast, you only can play the Lock it Link feature when you land it naturally, either in the base spins or during the free spins bonus. Once you collect the six or more dynamite symbols required, you're given an additional five spins to fill in as many of the spaces as you can.
Piggy Bankin' has the same overall model, and if you land the piggies naturally, the same five spins. Where things differ is the bonus trigger. You can choose to do the Piggy bonus instead of free spins in this version. If you get more bonus symbols, you also get additional respins, which can increase your chances of filling more of the board.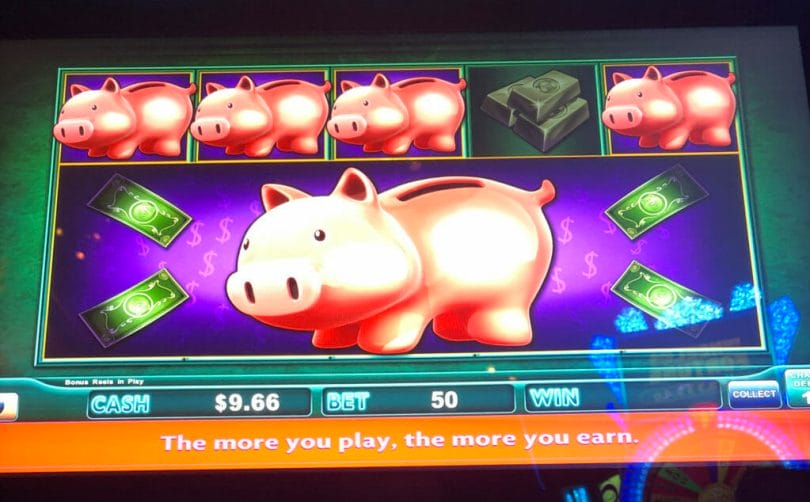 Once the number of spins allocated has been completed, the following payouts occur:
Single square: 1x your bet
1×2 segment: 3x your bet
1×3 segment: 5x your bet
2×2 or larger segments: A reel will spin inside the larger squares to determine your prize. This is also where the progressives come into play for these games. The more interconnected squares, the higher the minimum and maximum prizes are.
How to #landthegrand and Other Progressives
Collecting blocks of dynamite (or piggy) symbols in 2×2 or larger sections of the board will have them transform into larger symbols. As they grow, they will incorporate larger numbers, including progressives:
2×2 and higher: Mini and Minor
4×3 or 5×2 and higher: Major
Full screen (5×3): Grand
So, it's not actually revealed until the end of the bonus if you've landed a progressive, but any bonus can lead to the potential for one, instead of it being off the table the moment you get into the bonus.
Clones of This Version
Another Loteria version, El Barril De Fiesta, clones the Eureka Reel Blast version with the Loteria theming, but otherwise shares the same math model.
Hold On to Your Hat and Huff n' Puff
A third Lock it Link scenario was introduced by Hold On to Your Hat, as well as with Huff n' Puff. Notably, these versions increase the minimum bet from 50 cents as seen in the other games noted above.
First off, what they have in common:
The Lock it Link bonus is integrated into the free spins. You aren't capturing monetary values, which is also true of Eureka Reel Blast and Piggy Bankin', but unlike those, the Lock it Link component is a critical aspect of the free spins bonus. You can collect both line hits and Lock it Link locks in the free spins.
You can upgrade the spaces where you've locked prizes by landing a bonus symbol in the same space repeatedly. On Hold On to Your Hat you start with a bronze border and upgrade to silver, then gold. For Huff n' Puff, it follows the Three Little Pigs model of straw, sticks and bricks.
If you get a bonus symbol in the top (gold) bordered symbol on Hold On to Your Hat, you're paid 10x your total bet. On Huff n' Puff, a hat symbol where a brick border exists will yield 750x the bet multiplier (which equates to the same thing given 75 credit increments on the game, but since the pay table addresses it differently, noting it here).
The main difference is in the trigger/retrigger element of the bonus, as well as the spin count and a few other elements of the bonus. There's also a difference in wagers.
Hold On to Your Hat has 60 credit bet intervals; Huff n' Puff has 75 credit intervals.
Hold On to Your Hat can be triggered with three or more bonus symbols, which yields 10 free games. Three or more scattered hats will retrigger and award an additional 3 games. On Huff n' Puff, it takes the more traditional 6 hat symbols to land a 6 spin bonus, and three or more hats add one spin.
It does seem the main reason for the differential is that with Hold On to Your Hat, the bonus is hard to build up with less hat symbols in the mix. With Huff n' Puff, you get twice as many borders to start, and the hats are in larger supply, so it's offset by smaller prizes per square and less of a chance to get a big prize unless you get more brick houses.
This is reinforced by the spin counts for triggers and retriggers – you get more shots on Hold On to Your Hat, but the chances of getting 3 hats is harder than on Huff n' Puff.
That said, Huff n' Puff also comes with a 25 percent premium on the bet panel, so my guess is they also made the bonus a touch more frequent as well to trigger and retrigger, as a way to smooth out the volatility of the game a bit.
How to #landthegrand and Other Progressives
On both games you need to reach the second border level to begin to unlock progressives. All progressives are unlocked on the top border, so like Eureka Reel Blast and Piggy Bankin' it's about upgrading your starting position to reach a chance for progressives.
The major differences are to which progressives are available at each level, and what happens if you win a big prize:
On Hold On to Your Hat, the Mini, Minor and Major are available on the middle (silver) level. On Huff n' Puff, only the Mini and Minor are available.
Both paytables say if a Grand or Major are awarded, than you can't win the other. But Huff n' Puff says if ANY progressive or the top numerical prize (7500x the bet multiplier) is awarded, The Grand and Major jackpot cannot be awarded for the remainder of the bonus. And if a Grand or Major is awarded, none of the progressives, as well as that top 7500x the line bet prize, is available for the remainder of the bonus.
An Extra Wrinkle: Superlock Versions
With the introduction of the Superlock feature on Lock it Link, an additional way to win the progressives was introduced for these games, with the addition of an extra wager that allows for wheel spins when won during the Lock it Link bonus.
The wheel spin allows for the progressives to be won among other values on the wheel. They also introduce a new Superlock progressive jackpot that stacks above the Grand jackpot.
Many of the above Lock it Link games are featured in this series, and the bet minimums increase to cover these additional payouts. There are also different wheels; better wheels are unlocked with higher wager amounts, further encouraging higher bets.
Watch and Learn
Slot channel NewEnglander82 Slot Videos has a video dedicated to the full screens, so you can see how various full screen scenarios can play out. Given the difference in how many of the various Lock it Link games play out, it can be a good starting point for those still new to the series: