WMS was an innovator in slot machines, not only popularizing video slots and participation games, but also showed the power of licensed themes to make fun and immersive slot machines.
An example of their early prowess is a game I've only found in two casinos, many years after the game's first release, but I still get a kick out of playing each time I encounter it: Match Game, featuring a number of the 1970s panelists from the game show from which its based.
To date, I've only seen it in Atlantic City, originally at the Trump Taj Mahal before it closed, and more recently at Borgata, which has maintained a bank of classic games by WMS which also includes The Love Boat, another fun one. They've done a great job of lovingly maintaining machines nearly 20 years old at this point. But I digress.
Match Game is 20 lines with a 5×3 reel set and has beautiful graphics for its day. Considering WMS' heritage as a video arcade game and pinball company before transitioning to slot machines, they knew the benefits of graphics-rich games and took advantage of their knowledge accordingly.
Match Game had the likeness of host Gene Rayburn, classic panelists Brett Somers and Charles Nelson Reilly, as well as other popular celebrities from the era such as Rip Taylor and Vicki Lawrence.
The game features two bonuses: Super Match and the Match Game bonus round. Both are picking bonuses that don't pay a ton, but are at least fun to enjoy and are very much in line with Match Game as a theme
Super Match Feature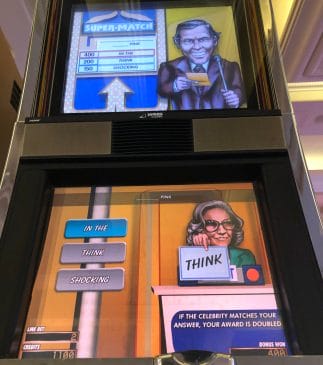 The Super Match Feature has you attempting to match with a celebrity. You'll be shown a fill in the blank with three options. You'll pick your favorite option and see where it appears on the board. The higher it places on the board, the more credits you earn.
Then you attempt to match with the celebrity, and if their answer matches yours, the prize is doubled.
As you can see in the screenshot, the top prize for this particular round for me is 20x my 40 cent bet, as I can win 400 credits ($4) by selecting the top answer, which would be doubled if I matched the celebrity. It's a quick feature but it gets the job done.
Match Game Bonus
The Match Game bonus in some ways plays like a round of the classic game, with six celebrities attempting to match you as the contestant for the chance to win cash.
This bonus also begins by picking an answer. This one you have two choices to pick from. The picking of an answer doesn't have any specific value attached to it, but it does come with a multiplier that is carried into the Big Money Bonus at the end of the bonus round.
Instead, it's designed to be an anchor to lead you into the second half of the bonus, which has you attempting to match each celebrity one by one, just like on the show.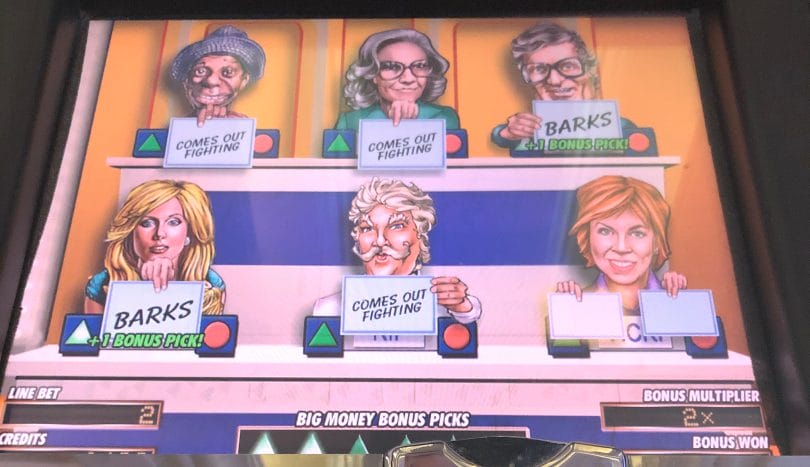 Each celebrity holds up two cards, each relating to one of the two answers. Each celebrity you match gives you a Big Money Bonus pick at the end of the round. There's one Award All, but the rest are credit values.
There are nine choices and you can pick up to six, one for each celebrity matched. Just like the other bonus, you're not going to get a huge amount of cash from the bonus round – the game is much lower volatility than what players are used to today. But you can get a helpful boost to your bankroll.
Extra Video Stuff
Here's a bonus I had awhile back, filmed by Brian Christopher on my behalf while we were in Atlantic City (thank you Brian!). You can also hear Slot Queen in the background. As you can see, the top prize for a $1 bet would be something like $30 (since a 5x multiplier was available upfront), which would be about 30x.
And if you're not familiar with the classic show, here's a clip that I think well exemplifies what the show was all about in its day: