For whatever reason, slot manufacturers love to use the Chilli spelling, but when it's on a game as fun as More Chilli by Aristocrat, I'll look the other way. This game features a sufficiently volatile game with some fun features along the way, and was popular enough to generate a sequel.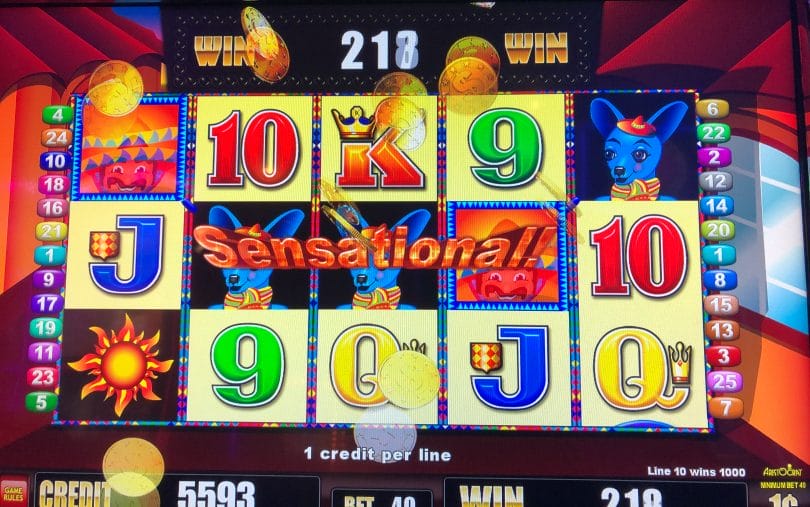 For starters, the game's base game is sufficiently exciting, thanks to the premium symbols paying well. The chihuahua symbol, for instance, pays a remarkable 25x for five of a kind. That's what many average bonuses pay, so to be able to pick it up in a line hit is quite nice, and hints at the volatility of the game.
The rooster, another premium symbol, pays 15x for a five of a kind. This sets up a reasonable amount of scenarios where you can get some solid line hits and keep going to reach a bonus, which is where things get really exciting.
There's two ways to trigger a bonus:
Collect three or more Money Bag symbols on a single spin
There's a random free feature that can trigger on any base game spin
Both methods lead you to a 15 free spin bonus. There's no retriggers. You enter the bonus with two reel sets, but the free spin bonus has a way to upgrade itself during the bonus.
The main thrust is to collect chili peppers (oops, CHILLI peppers), hence the More Chilli name. If you reach certain amounts during the bonus, your bonus will be upgraded for the remaining spins:
Getting 9 will add a third reel set, and the fifth reel of all three becomes wild.
Getting 14 will add a fourth reel set, and the fourth and fifth reels of all four sets become wild.
Getting 30 will turn the third reel wild as well.
Getting to 9 usually isn't too tough; 14 doesn't happen every time but happens enough that you'll see it if you have a decent session on the game. I've never seen 30 but imagine it's astronomical.
As mentioned, the five of a kind line hits on most of the premium symbols are strong, so getting the fourth and fifth reel wild ups the chances of it happening by quite a bit (and if you got the third reel wild too, would probably guarantee good pays every spin from that point on).
You can see the volatility, but the potential, of the bonus – not getting 9 chili peppers will likely lead to a very poor bonus, barring a lucky line hit, while getting 14+ starts to boost it quite quickly. On a recent session I had with the game I had a nearly 100x bonus thanks to the four reel sets being reached. I recall this being pretty normal if you get them early enough.
As I mentioned, there's a sequel, More More Chilli, which amps up the number of reel sets you can get (but also doubles the minimum bet in the process). It, too, can get quite juicy quickly if you manage to get enough peppers during the bonus. With this version you can get up to 24 reel sets.
Obviously the volatility gets amped up thanks to the sequel logic many manufacturers follow. So I recommend seeking out the original first if you can, as it is still around in many casinos, and give it a go.
Watch and Learn
Here is a video from TheBigPayback showing a solid session on the game:
And here's a video from Brian Christopher featuring the game: