This week we take a look at one of the apps that make up part of the MyVegas-linked set of apps, which offers comps for a variety of casinos and experiences. MyKonami stands out for a few reasons, however, and as such it's a great app to dip our toe into this group of apps and talk about what you can get.
As the name implies, MyKonami has its roots in games made by Konami, and so for those who are not only looking to earn comps, but also have the ability to play games just like the ones you'll find at a casino, it's hard to find a better starting point than MyKonami.
Overview of the App
MyKonami is all about the slots – there's no table games or anything else here, and all the slots are real-life Konami themes that you'll find in casinos. There's more than 50 games in the app, although there's some games that are similar theming but variations, such as multi-game play options of the same games.
The game has a leveling up mechanism that awards tickets for each level achieved. Tickets are able to be redeemed on special slots and can award a few different prizes: tickets, XP or coins.
The game has a high limit room where you can bet at higher levels as long as you have a balance to allow for it. The high limit games are a subset of the games in the main lobby.
There is a tournaments feature that lets you play against other players with the goal of winning the most coins. The tournament lobby shows you which game is active and which are coming up.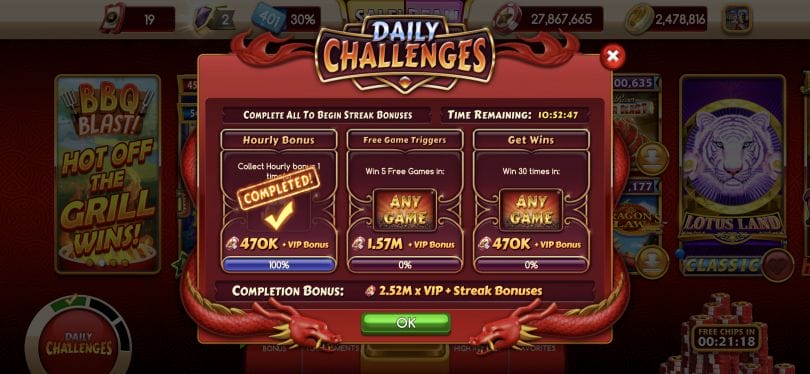 Finally, there are three daily challenges that load daily; completing each challenge, as well as completing all three challenges, earns you bonuses.
One other feature is a VIP level; each time you collect your daily bonus, your hourly bonus or buy coins, you earn VIP points, which can lead you to higher VIP levels. Higher levels lead to coin bonuses when you collect bonuses or buy coins.
Earning Coin Bonuses
You can earn coin bonuses in a variety of ways:
Daily wheel spin: Once a day you can spin a wheel for coins. If you maintain a five or more day streak to get the top multiplier of 3x. Get additional coins for higher VIP levels as well.

Hourly bonuses: Click button, receive coins. Simple as that!

Daily challenges: The three daily challenges each come with a coin prize for completion; completing all three daily challenges yields another, larger completion bonus.

Tournaments: Winning tournaments can give you additional coins.

Ticket slot spins: Redeeming tickets on their special slots can lead to sizable coin bonuses.

Daily Email: They will email you once a day with coin bonuses, and some can be pretty substantial.
There's enough variety for getting coins that should get you back in the game fast if you run out at any point.
Buying Coins
There's a coin store with a variety of purchase levels and options. There is generally always some kind of deal running as well, which will give you something a bit above and beyond the basic coin store deals. The longer it's been since your last visit and/or purchase, the better the deals seem to get.
Sales also run regularly with the chance to get more coins for the same price (making it not so much a sale, but a bonus amount of coins on top of what you would normally get at that price.
Earning Loyalty Points
Across the MyVegas system, Loyalty Points (signified by gold coins) is the currency that lets you acquire comps. You can earn LPs by spinning the wheels, and based on how much you're betting they will accrue. There is a daily earning limit in the app, so if you hit that you'll have to return the next day for more.
The earning pace on MyKonami increases as you level up, but also takes longer to fill the meter to get the points. Loyalty Points are not awarded for leveling up or purchasing coins, so on this game you have to do the work the hard way.
Redeeming Loyalty Points
This is where it gets a bit insane (in the best possible way). When you get enough Loyalty Points, you have the ability to redeem for rewards for a variety of different partners:
MGM-Owned Properties: Pretty much every Las Vegas property owned by MGM (all mLife properties plus the red-headed stepchild Circus Circus are present. Also present are the Borgata, Beau Rivage, MGM National Harbor and other MGM-owned properties. Room comps, free play, food credits, buffet vouchers, show tickets – there's a massive variety of options. There are two tiers of rewards:


Premium Rewards: Generally items that are completely free, there is a limit to how many premium rewards are awarded in a 30-day period. All players are allowed three, but as you purchase coins in the game your limit may be increased to as many as 6. The amount of spend you must complete is not quite clear, but if you go to Vegas or other MGM-owned properties regularly, spending enough on coins to get that 4th or 5th item may be worth it.

Regular Rewards: These are generally BOGOs or rewards that require some spend, and there's no limit on how many regular rewards you redeem.


Other Vegas-centric partners: The Las Vegas Monorail, Madame Tussaud's (not just Vegas but other locations too), The Smith Center, Maverick Helicopters – there's a variety of Vegas experiences that have discounted or free vouchers available for Loyalty Points.

Non-MGM casinos: A number of non-MGM casinos are also present in the app, such as a number of Resorts World casinos, Grand Villa Casinos, and so on.

Cruise lines: Discounts and credits are avialble for Royal Caribbean and MSC cruise lines.
The list goes on, and the variety of options means there's truly something for everyone.
There's one additional perk that's unusual for this game, and for its flexibility in redeeming:
MyKonami Freeplay: As part of their partnership, there are MyKonami-branded banks of slot machines in some of the mLife casinos in Las Vegas. You can redeem Loyalty Points for $25 in free slot play that can be played on one of these banks. Unlike the other free slot play options on MyVegas as of this writing, this slot play can be redeemed even if you're staying on a complimentary stay. So this offer is well worth looking for and redeeming.

I have been told by someone I was speaking to about the app that they could not see this offer; I do not know if only certain players can see it, or if you can use it once ever and it never reappears (and they just forgot), but please note not all offers are available to all players; as you get access to more redemption allowances from buying coins, you also sometimes get access to better comps. It makes sense; they want to take care of those buying more coins.
Let's Get Social
The biggest challenge is given the popularity of the comps available in the MyVegas program, and the limited stock of many of the daily rewards, it can be hard to catch the offers when they're reloaded and secure what you want to have for your trip.
Thankfully, there are Facebook groups such as MyVegas Friends Rocks, which among the active threads available is one that can alert you when the vouchers have been reloaded. You have to act quickly – the most popular ones can be gone within a few moments – but it at least gives you a fighting chance.
I also recommend that group just to talk with others about the program, and to learn more about to maximize your Loyalty Points earnings and redemptions.
Summary
I find MyKonami to be a fun app, with games that I love to play in the casino available at home as well. I also find the comps available to be worth the effort to earn those Loyalty Points – they add additional value to what is already going to be a great trip to Las Vegas.
If you are going to be going to a property covered in the MyKonami/MyVegas sphere of offers, you should look at what it will take to earn comps and you might find yourself pleasantly surprised with the level of effort it takes to earn them. You'll have to time things right for some of the more valuable offers, but there's enough options and variety that you can take something away for your trip.
Are you a MyKonami player? Share your experiences and favorite comps earned in the comments!