Unlike the new Quick Spin with persistent state reels I reviewed recently, Quick Spin Super Wheel 7s is a straight ahead sequel to the classic Quick Spin series that I've shared my lover for previously. That said, there's a couple of changes that may not be obvious when you first sit down, so in today's post I'm going to go into them.
Bet Level and Pay Table Differences
Both games are 5×3 reel sets with 40 lines evaluated. But if you look at the bet panel, you'll see 60 credit bet steps vs. the 50 credits on the classic Quick Spin editions.
Despite the increase in credits wagered, the base game pay table is virtually identical, barring the change in the free spins scatter to account for the slightly higher pay – it remains a 3x payout for triggering the free spins on both versions.
Certainly the graphics have been updated (although the win music, thankfully, has not – it's throwback vibe is one of the fun parts of the game).
So what gives? Why are you paying 20 percent more for the same thing? The secret is in the wheel.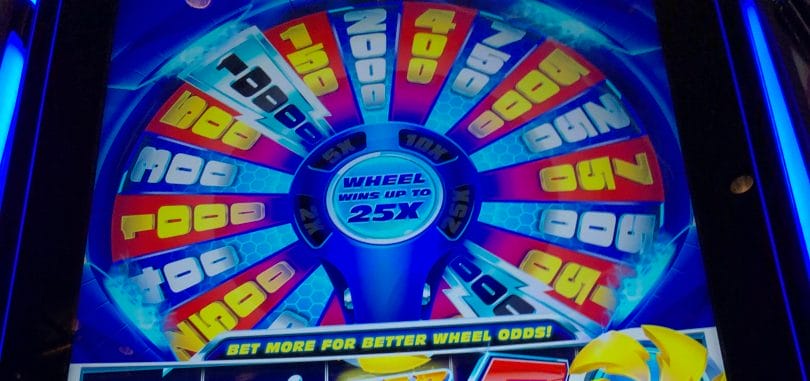 It's not the wedges, which appear to be the same and even in the same order as the previous iterations. Instead, it's all about the multiplier. The earlier Quick Spins capped out at a 5x multiplier; this one goes up to a whopping 25x. The multiplier increase, like other Quick Spin versions, increased based on the number of Wheel spins you land:
6 wheel symbols: 1x
7 wheel symbols: 2x
8 wheel symbols: 5x
9 wheel symbols: 10x
10 wheel symbols: 25x
On the earlier Quick Spins, it wasn't impossible to get the additional wheel symbols, but it didn't happen all too often. The fact that both 6 and 7 stay the same as a multiplier means you're spending 20 percent more to amp up the more rare 8+ wheel symbol opportunities.
The earlier Quick Spin games had a relatively low top prize of 1000x the wager, compared to many games today. This helps fix that with a 5000x top prize possibility if the stars align. For those looking for a bit more volatility in their games this certainly fits the bill.
Ultimately, this bears out to be another example of a slot sequel with a higher bet requirement and higher volatility. Fortunately for those fans of the earlier Quick Spins, they don't seem to be going anywhere anytime soon, given their popularity and being a staple in modern casinos.