Game: Rock Around the Clock (mechanical 3-reel version)
Manufacturer: Konami
Advantage Play Potential: Medium
What Makes it Special: The closer the clock is to 12, the closer you are to a bonus.
One of the earlier persistent state reel games to exist is Konami's Rock Around the Clock. The game is still pretty prevalent in Las Vegas, but I don't see it in too many other places.
With a unique clock feature that slowly fills as you place wagers, it has the ability to tell you how close you are to a guaranteed bonus, something most games can't promise.
There are multiple variations of this mechanic, but today will focus on the mechanical 3-reel version. However, the mechanical 5-reel version has a similar persistent state mechanic to get to the bonus, so that information should be helpful to players with those machines around.
Understanding the Game
This is a mechanical reel game with a 3×3 reel set. The bet increments I found consistently are 50 credits, with a 27-line game. The game notes the bet level is 2, so I'm not sure if this was just configured this way by the Vegas casinos or if that's the norm for them, but there may be a less expensive version lurking out there somewhere.
Each edition has its premium symbol with a clear background, so that each spin the machine can light it up either red, blue or green. Each color has a different payout level, so that's a bit of a volatility aspect to this game that if you line up the premium symbol (whether a car, or a 7, based on the versions I've played), the color will determine the payouts.
Above the reels is a monitor that shows a clock with a red border, which is the percentage the clock has advanced, and the white section which is what needs to be traversed to reach 12 and trigger a bonus. This clock is a persistent state element that persists between players and bet levels, so it's a single clock. A multiplier may also be present.
Every five spins, by default, the arrow will move a step closer to 12, which once reached will automatically trigger the bonus. On any base spin the arrow can be spun closer to home above/beyond the 5 bets per increment, getting you to 12 faster. Your bet level can help you accumulate a higher bonus multiplier.
Once you fill the meter to 12, you can either win the Jackpot feature or a spins feature. Classy Wheels, the version I played most in my Las Vegas visit, has a variety of different bonus options. The two earlier versions, Shakes 'n Spins and Rhythm 'n Riches, only has one.
I will not be getting in to each of the bonus features due to the variety of games available in this series, and none of them have too big an impact on the Advantage Play scenario of the game. However, once the bonus is completed, the clock will spin to some starting point, and begin to increment with base spins once more.
Jukebox Riches/Jackpot Feature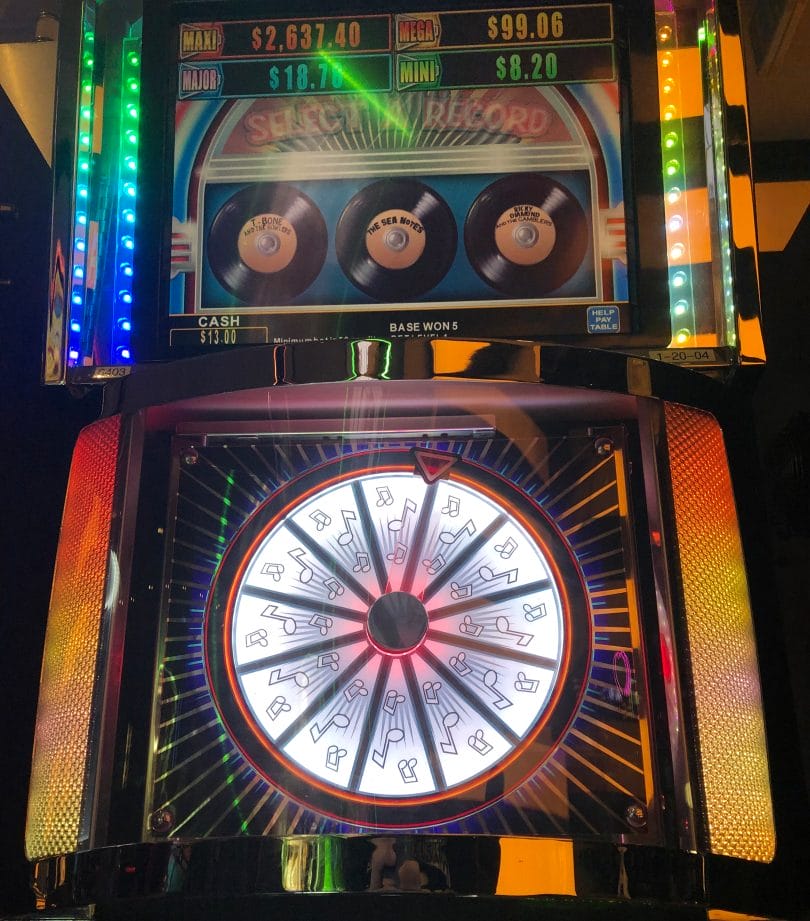 All versions feature the Jukebox Riches or Jukebox Jackpot feature. Both work the same way. The mechanical reels spins around to show a wheel of blank wedges. A record is selected to determine what the pattern of the wedges will be for the jackpot potential. Then the wheel is spun to see what prize is won.
Understanding the Advantage
This game, like a couple of others, have a very clear maximum you have to spend to get a bonus. Since your spend is during regular base game spins, you can get line hits and so on that will reduce the cost. Being able to have the clock potentially move forward on any spin further reduces the cost.
Once you get a bonus, you generally can expect something, even if it's a $5 mini. Higher bets may incorporate a multiplier to the wins. All of this can be reviewed to determine if the game is in an Advantage Play state. Generally speaking, the closer to 12, especially if a multiplier is present, the higher an advantage.
RandomSlots, in videos below, says 9 o'clock or later is his indicator. I've had success with a 5 or 6 o'clock start, but obviously more wagers means a higher risk you can't come out ahead.
Watch and Learn
Here is a Konami promotional video from the game back when it was released:
RandomSlots comes through, as always, with some pay table screenshots of the Shakes 'n Spins version:
Here's another progressive feature showing the similar Rhythm 'n Riches version: