I noticed something unusual while watching The Slot Cats play on a live stream recently. They were at El Cortez and they were playing a game called the U1, which is a multi-game machine with a variety of different options to enjoy, including video poker, keno and some slot machines.
While they were playing, I noticed something unusual – there was a payback percentage visibly marked on the machine, something you virtually never see while playing slots. Furthermore, for a $1.25 wager, I was surprised to see a payback above 96%, which also seemed high.
So while I was in Las Vegas, I joined them for a Sunday Coffee with the Cats livestream, and afterwards asked them to show me the U1 machine so I could take a closer look.
This is a very unusual machine with more information for the player than normal, regardless of the game being played, and I think it's quite a positive development.
U1 is currently only offering machines in Nevada and Montana. Along with El Cortez I saw their machines in Dotty's, which has a pretty extensive deal with them. The machines are actually pretty nice, as you can raise/lower the screen and adjust the tilt for ergonomic preference, more than you can say for most slots.
The U1 machines' diversity of games makes them fun for those who like to play a variety of games such as keno or video poker. All have adjustable bet levels, and the payback grows based on your bet level.
The payback on games like video poker did not seem to be good comparable to most IGT standard bar tops in casinos for a similar bet level when I did a check, but the slots seemed to be where things got interesting. As mentioned, a $1.25 bet had a more than 96% payback level displayed.
Most casinos have 95% as the upper end of their payback levels, and you usually see those paybacks at $1 or even above that. So to get 96% on a $1.25 bet is a pretty nice scenario. The game indicates a payback that could go as high as 98% with a high enough bet. And in another example, Rock Candy, an 80 cent bet had a payback over 95%.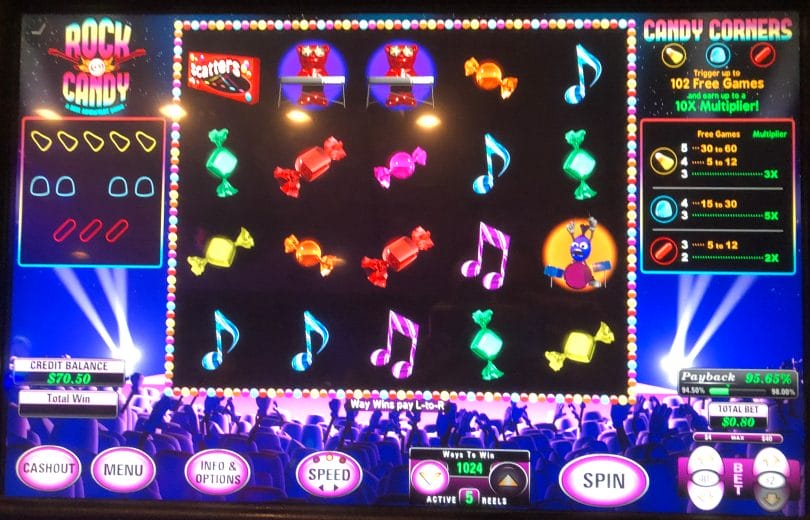 The company discusses payback within the machine, as this Wizard of Odds write-up dives deeper into – they call exposing the payback, how they calculate it, and why they do it, Fair Play, and it definitely is one of the more unique scenarios around. But the fact that it's only available in Montana and Nevada also probably speaks to why the paybacks are high – most corporate casinos are going to eschew it because they prefer lower paybacks.
I didn't do any extensive play on the machines while in Las Vegas, so I can't speak to comps and how the games are configured at various casinos; you might get reduced comps being a multi-game style cabinet with video poker and keno represented; that is usually the case with Game Kings unless the system is somehow able to delineate between games (and many players club systems can't get that granular).
If you're just looking for better games in the casino, getting that high a payback on that low a bet is certainly a better chance than most other machine options in the casino, as long as you like the games on offer.