To kick off our look at mobile apps that help you earn comps for casinos, we're going to look at one that's relatively simple to understand , Wynn Slots.
Wynn Slots is connected to the Wynn Las Vegas, and as such for many the main reason to play this app, other than the games themselves, is to earn room comps for Wynn. Wynn Las Vegas is a beautiful resort, with a lot to offer and among one of the most lavish options in Vegas, so to get a shot at free nights there is an exciting prospect, and this app doesn't make it too difficult.
Let's dive in and discuss the app, the games, and how you earn comps.
Overview of the App
Wynn Las Vegas is a pretty simple app. The app has been slowly rolling out games over time, with 23 at the time this review was written. Most of the games appear to be unique concepts to the app; there are a few, like Wynn Jackpots, which look to be inspired by other games (in this case, it has the Quick Hit-style model of jackpots). But for the most part the concepts are unique enough to keep things interesting for those who have played a lot of other slot apps.
All games come with four basic bet levels. Some of the games have ways to bump up your bets by selecting the number of gold symbols (not unlike a Dancing Drums) or selecting a multplier (which can appear on wilds or on the reels, depending on the games).
There is a high limit room with a subset of the games in the main lobby, and an additional four bet levels to play if you have a lot of coins.
A Battle Mode option gives you the ability to play against another player for 20 spins at a bet level that's identical for both players. Whoever wins the most coins collects the earnings both players accumulated during their 20 spins each.
Four times a day, events run which are time-limited and allow for earning scratchers (values in the next section below). Scratchers can help players earn additional coins, keeping them going as they work to earn other scratchers or collect gems, the currency that awards comps in the game.
Finally, some games have what's called a Hyper Bonus – you can jump right to the bonus round by buying a bonus. For those who wish to avoid standard slot spins and take their chances on winning in a bonus, that's available on a number of the games.
Earning Coin Bonuses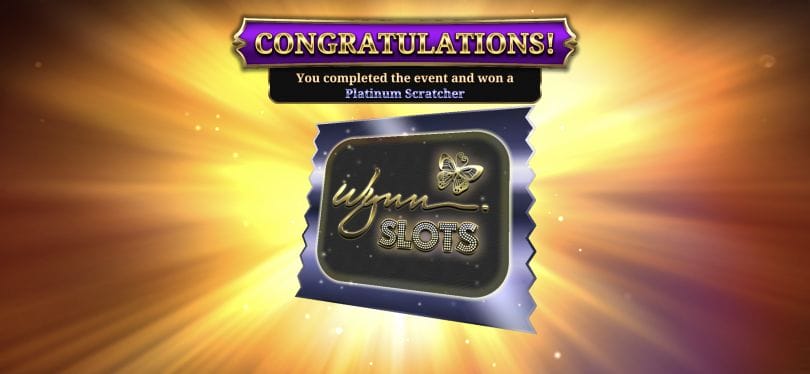 Coin bonuses are prolific and give you a variety of ways to get into the game when you've run out, or are running low. There are a variety of ways to earn bonuses:
Standard bonuses: The game has three tiers of what it calls daily rewards, all of which can be earned more than once a day. If you collect at least once every 24 hours, you can earn over the course of a few days up to a 3x multiplier that is maintained for all three bonuses as long as you keep the visit streak alive. The bonuses are:

Silver chest: You can collect his bonus every 15 minutes. The range is generally between 15 and 35k, but could be a bit higher or lower.
Gold chest: You can collect this bonus every three hours. The range is higher than the silver chest, and rewards closer to 100k, give or take, each time you collect.
Wheel spin: This can be collected every 12 hours. The wheel wedges range from 100k to 1 million.

Scratchers: Scratchers are awarded when completing a task during an event in the game. Higher scratchers are awarded for more difficult tasks, or for completing an event. The four scratcher levels are:

Bronze: The lowest level scratcher awards a prize that's either 50k, 100k, 500k or 1m coins.
Silver: The next level scratcher awards or 500k, 1m, 2m or 4m coins.
Gold: Gold scratchers are the most common prize for completing an event. The possible outcomes are 3m, 5m, 8m and 12 m coins.
Platinum: The Platinum scratcher is generally available once a day, as a prize for completing the third event of the day, which is also the toughest to complete. Prize options are 12m, 18m, 24m and 40m coins.
Many Wynn Slots players will focus their energy on playing during times where a reasonable amount of play with their coin count can achieve some scratcher bonuses.
Buying Coins and Acclerators
There are a few ways to buy coins or speed up your coin earning.
Coin packages: There are standard coin packages you can buy, which sometimes go on sale or get multiplied.
Piggy bank: The piggy bank grows based on your betting on standard spins. You don't earn piggy bank growth on buying a Hyper Bonus, so if you're trying to pad out the piggy you have to do it the hard way. 1 percent of your bet is put into the piggy, so if you're betting 10,000 coins a spin, 100 coins will be added to the piggy for each spin. The piggy maxes out at 100 million coins; it must be bought to begin the collection process again.
Bonus multiplier: Next to the three bonus collection options are multipliers you can buy for a 3-day window of time. Whenever you collect the bonus and the multipliers are active, you can collect the bonus times the multiplier, which can be up to 100x (although that 100x is a $99.99 purchase). For those who are diligent about collecting coins, this can be a less expensive way of building a coin balance faster.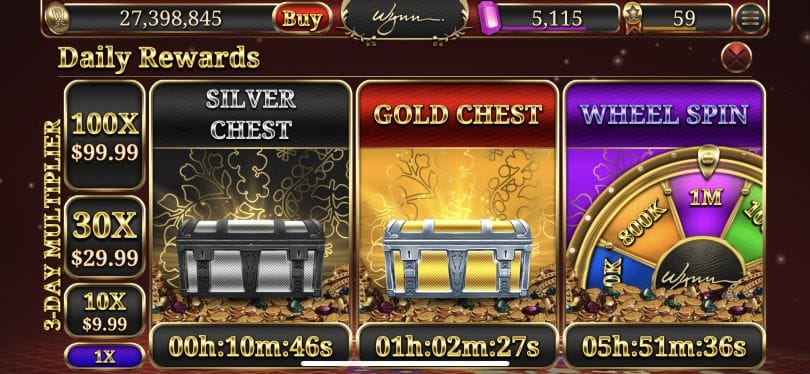 Leveling up in the game also provides small coin awards – but they certainly help.
Earning Gems
As mentioned earlier on, gems are the important aspect of earnings for building comps with Wynn. That's because to book nights you redeem gems. Gem earning is relatively straightforward – it's based completely on your cumulative betting and nothing more. You don't get gems for purchases and you can't buy gems. So the more you spin, and the more you bet, the more gems you'll earn.
Gem earning is on a progressive scale – when you start playing the game you earn one gem for every 3 million coins you bet. Once you reach earning a certain number of gems, the amount per gem increases slowly, until you eventually reach a point where you earn one gem for every 20 million coins bet. While it sounds like a lot, there's a variety of ways to earn or buy coins to keep betting and keep earning gems.
In recent weeks the game has placed a limit on the number of unredeemed gems before you must put in a reservation. The number is in excess of 25,000 gems, which is a big amount given the cost to redeem a night, so most will find it unlikely to hit unless they're seeing massive success in the game and are racking up gems faster than they can use them.
Redeeming Gems for Rooms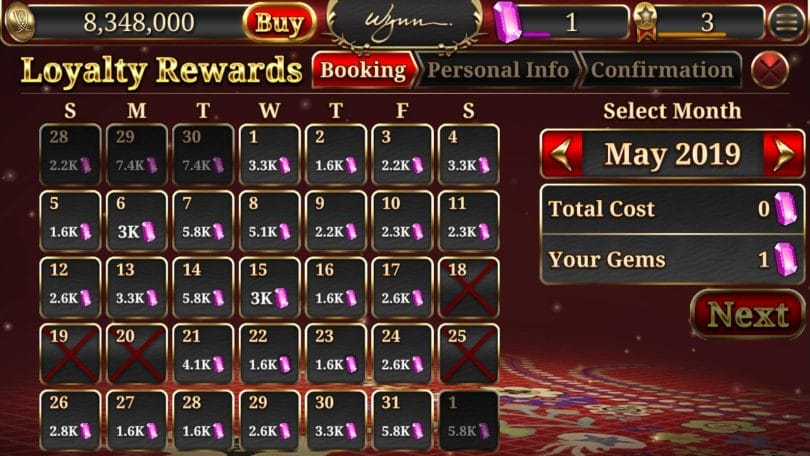 [UPDATE 9/17/19]: Since this review was originally posted, major changes to how rooms are redeemed have been implemented. Additional perks, such as buffets, have also been implemented. Click here to read about the latest changes.
[UPDATE 11/14/19]: Buffet redemptions officially launched. Learn more about that process here.
[UPDATE 2/26/20]: Further changes in February increased the level of difficulty to be able to redeem room nights. It's likely money will now have to be spent to achieve room reservations. Click here to learn more.
At the moment, gems can be redeemed for one thing only: Complimentary rooms at Wynn Las Vegas. Rooms start at around 1,500 gems per night and grow from there. Generally speaking, the more expensive a given night when paying in cash, the more expensive in gems a room will be. You're able to view a calendar going months ahead to see what the cost for a given night will be.
You can reserve up to four consecutive nights for a reservation. You can only have one reservation at a time; around the time you check in for your reserved stay, the app opens back up your ability to set up your next reservation.
Resort fees with this reservation are optional at the time of writing this, so you can have a truly free room if you wish. But to get access to Wi-Fi or other features normally included in the resort fee, you must pay separately for it.
Staying at the Wynn is an excellent reward. The property has long been considered one of Las Vegas's most luxurious resorts. I've stayed there three times, and it was also the very first room I stayed in when visiting Vegas. I'm not a hotel snob by any means but I was very, very happy with the quality of the rooms and the comfort they provided.
Some have reported receiving upgrades as well, or being offered the ability to buy an upgrade, so there's still some flexibility if you're looking for something different. The default reservation is a single king room, so if you're seeking two doubles, or wish to stay in the Encore tower, there may be some flexibility but it depends on availability and may come with a cost.
Get Social
A lot of Wynn Slots fans have congregated to discuss the game and share tips on how to best earn gems on Facebook. It's a closed group, so you'll have to request access, but the well-maintained FAQ alone is worth checking out. Click here to join the group.
Summary
The games are fun, the gem earning relatively easy to understand and accomplish, and you get rooms that are among the best in Las Vegas – it's hard not to like Wynn Slots. If you go to Vegas on any regular basis, it's definitely worth a look and perhaps some time invested.
To get the app, which is available for iOS or Android, click here to visit the Wynn Slots site.
Do you play Wynn Slots? Have you redeemed a reward? Share your experiences in the comments!