Two of the most popular pieces on my site are about the Wynn Slots App. While the app has gone through growing pains in an effort to figure out how to best position itself and its rewards, it continues to grow in popularity.
A couple of months ago, a major update was introduced, which I also covered here. Among the things dangled was the opportunity to redeem gems for buffets. While it took awhile, that update finally pushed out this week. Here's a summary of what that addition brings.
One Date at a Time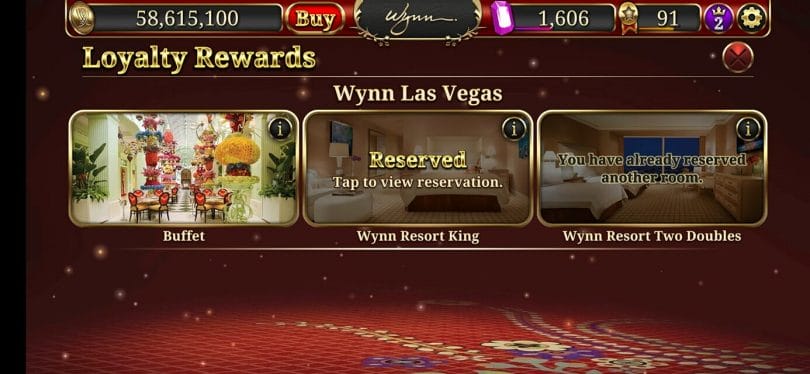 The booking of buffets has a lot in common with the hotel booking system already available in the app. If you haven't booked a buffet yet, are VIP level 1 (which is a requirement to book), and have the latest version of the app (4.4), you will see the Buffet Option now available.
Clicking on it will present a calendar of options to book your buffet. At launch the price was the same for all dates, 1,200 gems per buffet. You can book up to 2 buffets, which allows you to book you and a guest for 2,400 gems.
You can only book a buffet for a single date at a time, like a hotel room. Once booked, you'll see it blacked out that there's a reservation. You can cancel a reservation for the buffet, and at this time there is no cancellation fee for cancelling a buffet, unless you attempt to cancel the day of – at that point it's too late, based on reports seen in the Wynn Slots Tips and Tricks group on Facebook.
What is yet to be known is if there will be limits on how many buffets can be booked in a given day, or if the prices will rise based on demand and/or availability. I expect this will evolve over time as this is a somewhat new idea. Similar to the rooms, there do seem to be the possibility of blackout dates based on popularity of a given date.
Higher VIP Level, More Buffets
The other big addition, and it was a pleasant surprise, was that based on your VIP level, you may be able to book more buffets than just 2 in a given month. You can actually book up to 10 (although you have to use the first reservation before you can make another). For those players who were questioning if the higher VIP levels were worth it for anything beyond gem discounts on rooms, you now have your answer.
VIP Level 2 is needed to book rooms, but comes with it the ability to book 2 more buffets as well. And it grows from there.
This feels pretty generous, compared to what's available in other apps. For instance, you can only use one of each voucher in MyVegas, so you can't keep buying two free buffets at the same place repeatedly.
That Facebook Group Again…
Mentioned in every article about Wynn Slots, including above in this one, is the Wynn Slots Tips and Tricks group. It's a well moderated, well informed group that helps you maximize your earnings potential, and can even help show you things like reservation calendars when you have a booking and can't get in there as a result.
I have a buffet reservation for my upcoming trip to Vegas, and will share as part of my thoughts of that trip how it went.