One of my favorite casino games in recent years is a classic Aristocrat theme amped up in volatility: 5 Frogs. It's part of the Super Feature series of games they released a number of years ago, taking some of their classic formats and adding a Super Feature that amps up the volatility, but could lead to something spectactular.
Good Line Pays
5 Frogs is derived from the 5 Dragons mechanic that remains a popular theme within casino floors and has multiple derivations. 5 Frogs has a 25 cent base game bet plus a 15 cent super feature bet, for a total of 40 cents minimum bet and bet intervals. You can choose to not bet the super feature, and the game plays more like 5 Dragons in its classic form with the same 25 cent bet.
Like any good Aristocrat game, the pays get pretty strong quickly on 5 of a kinds. 5 Aces pay 10x your base game bet; 5 flowers pay 40x. This can make for some good line hits quickly. Frog symbols act as wilds, which can help amplify things.
It's also an all ways pays game, so you can multiply your line hits if you manage to get additional symbols within the line-up.
Free Spins Bonus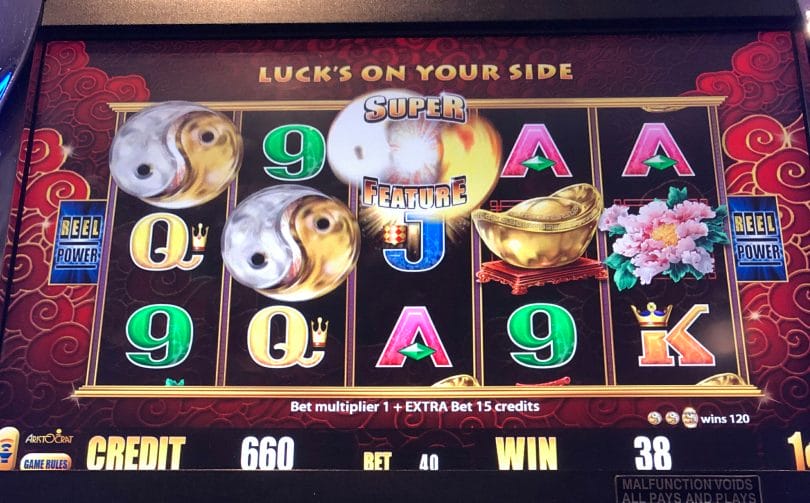 Where a lot of the magic can happen is in the free spins bonus. To trigger the bonus, you need at least three yin yang symbols in consecutive reels starting from the first reel to the left. If the third yin yang symbol has the Super Feature mark, you'll get a Super Feature bonus.
Like 5 Dragons, you can make a choice of free games and multiplier. You can also choose mystery and it will select a random spin number in the range and a set of multipliers.
During the free spins, when one or more frog symbols appears in a paying combination, one of the three multipliers in your awarded bonus will be selected, and your pay multiplied by that amount. Get this on one of those nice 5 of a kind pays and they can be enormous.
Super Feature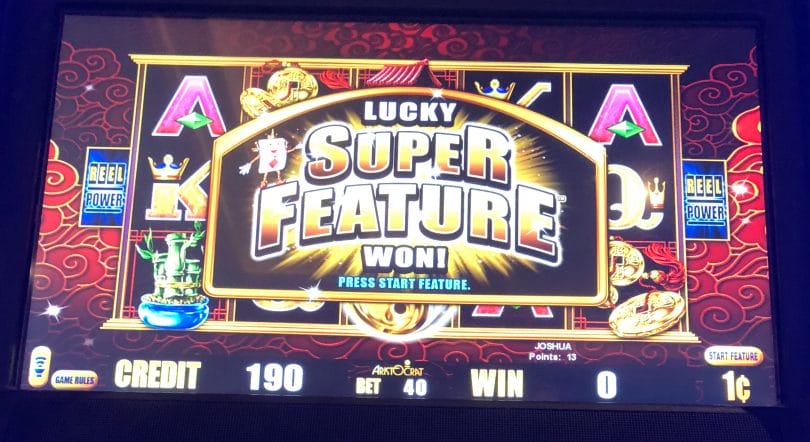 So what does that 15 cent upcharge get you with the Super Feature? A few things:
Random bonus: You can be awarded a Super Feature bonus at any time.
More spins: On Super Feature bonuses, after you make your selection the game will add more spins to each of the feature options.
Better multiplier odds: On Super Feature bonuses, after you make your selection the game will on some feature choices eliminate some of the lower multipliers.
In short, the Super Feature takes a volatile game and amps it up, but not unreasonably so – the game can be awfully fun, with super features delivering truly exciting moments. Of course, like any Aristocrat games it can also be a dead spin bonanza, but the game feels quite balanced for a sequel that's amped up its bonus with a 60% bet increase.
Part of a Series
5 Frogs is one of three games in the Super Feature series, each borrowing from a popular Aristocrat title:
Sunset King expands on the Buffalo mechanic; the Super Feature gives you additional wilds on the reels to improve the chances of a big line hit with lions in the bonus. The 2x/3x multiplier, two symbol retriggers and so forth all remain.
Fortunes of Atlantis builds upon the Pompeii mechanic, with multiplier wilds in the bonus. The Super Feature adds wilds and increases the reels to a 5×4 reel set for the duration of the bonus. A picking feature can randomly appear giving you a chance to win a Super Feature instantly.
All three give some classic gameplay while offering a new twist on the old games. Fortunes of Atlantis is the hardest of the three, but all three can deliver some great wins and at times be stubborn.
Do you play any of the Super Feature games? Which is your favorite? Share in the comments!