Every once in awhile a game or game series comes along that tests just how much players will put up with when it comes to volatility. Mega Vault is an example of this, but another is the Awesome Reels series of slots from WMS.
They're so volatile that, like Mega Vault, there's second-hand stories of casinos pulling them after massive jackpot pays were made on lower bets. Yet some casinos still keep them out on their floor – in Las Vegas Bellagio still has two, which I played on my most recent trip (as I do each trip, at least for a bit).
The rules below come from the Lone Wolf version, but basically operate the same for the series.
There's a number of features that sets up the roller coaster. First off is a 6×4 reel set with all ways pays – 4,096 ways to win in all, with the feature bet for the features below included in the 40 credit increments as well – with such a low bet and high payout potential, you can expect the game to be tough.
Next up are multipliers that can appear on the sixth reel, multiplying any wins that come along. The multiplier acts as a wild space and only appears on reel 6.
Actual wilds only appear on reels 2, 3 and 4, so to get a full 6 across you need get a matching symbol on reel 5, another way that the volatility amps up.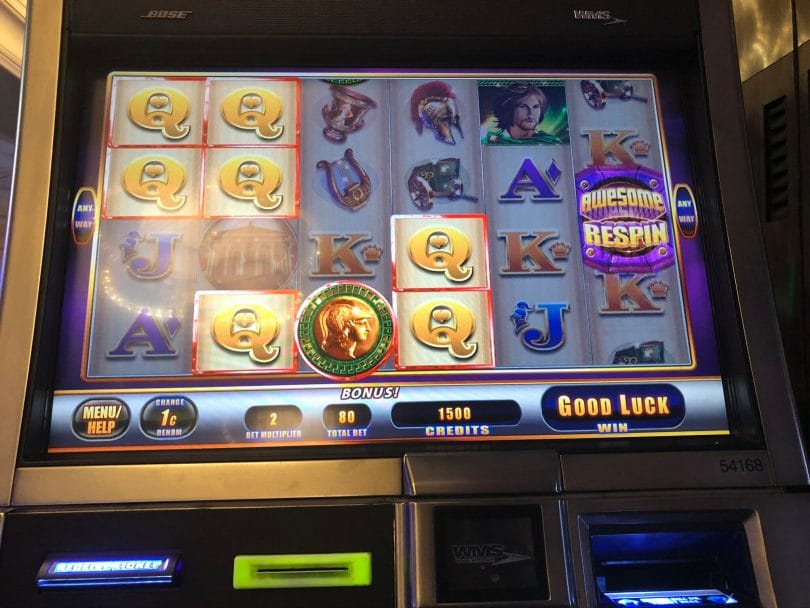 But the kicker are two features that can amp up wins. The first is the Awesome Respin feature, which on a winning spin will hold any winning symbols and respin the reels in an effort to collect more. It is possible to get multiple respins (up to 11 are possible in all), although this is quite rare.
Finally there is the Awesome Burst feature – this is the crown jewel. This works like the Cascading Wild/Radiating Wild feature on certain G+ Deluxe games – on a winning spin it will take the best paying winning symbol and replicate it out on the reels. If it goes long enough to stack up the winning combinations, it can be massive.
It's that last feature where most often the biggest wins happen, as it's the most likely way for such crazy combinations of pays to result.
The game also features a free spin opportunity. Depending on how many consecutive reels the bonus symbol appears, you can get between 7 and 100 free games. The free games can be just as tough as the main games, but the potential is there.
While these games, like many classic WMS game series, are fading from casinos as the hardware they run on get older, they're still out there and for those who like a tough game with real opportunity for something huge, these are a great series to check out.
Watch and Learn
Here's a video from RandomSlots featuring Lone Wolf, including a free spins bonus and an Awesome Burst feature:
And here's another: