Some links in this article include affiliate links, which provide a commission if a purchase is made. Affiliate links have no impact on our recommendations.
Binion's has a fabled history in Las Vegas, once the Horseshoe owned by Benny Binion, but still a centrally located casino on the Fremont Street Experience.
It's been through quite an evolution over the years, from sawdust flooring through the latest Hotel Apache and Whiskey Licker Up additions. Binion's was the first casino I ever visited downtown, and had one of my best craps runs ever, so it holds a special place in my heart, but there's more to the casino than meets the eye.
Let's take a look at what the property has to offer today and what you can get out of it.
Casino Floor
The casino floor is deceptive, not huge but there's more there as you poke around. There is a table pit that has a decent amount of options including all the expected favorites, and minimums that are relatively decent.
There's a good mix of slot machines, both old and new, focused mostly on lower denomination options. When I was last there they were in a floor remodel process that was bringing in some new equipment and carpeting; recent online videos show a reorganization of the floor to be more spaced out, a sign of the times with COVID but casino floors more generally as well.
They have some video poker, and while not the best pay tables I've seen, they weren't bad, either. VPFree2 lists a few options.
Hotel Rooms
For a long time all of Binion's hotel rooms were closed to the public; a tower renovation never got off the ground and so the tower continues to sit unused. Sister property Four Queens was the option for Binion's players.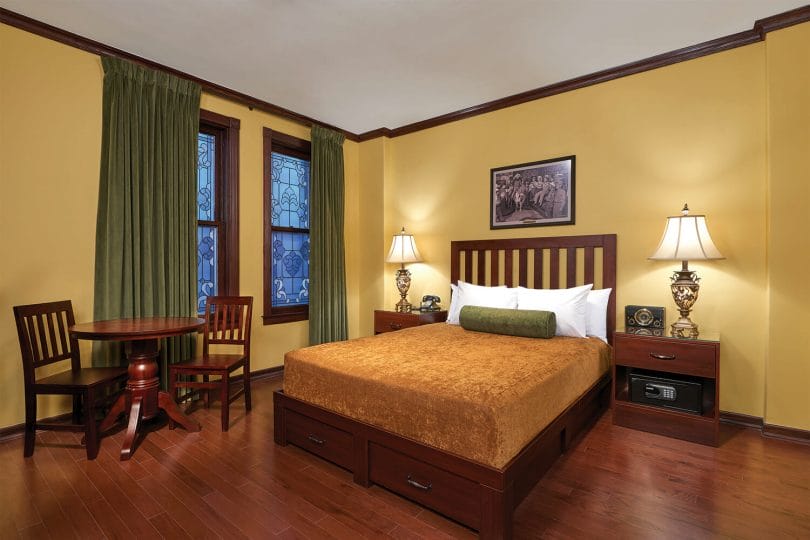 However, recently Hotel Apache re-opened as a boutique hotel, with less than 100 rooms available but designed to invoke what it would be like when the hotel first opened almost 100 years ago. So there are now a handful of rooms available for those most loyal players staying there.
Comp Program
Club Binion's is its own, self-contained program, but the structure will look familiar to those who read my Four Queens article earlier on:
One point per $5 on slots
One point per $8 on video poker
40 points is worth $1 in cashback AND $2 in comps, which takes $200 coin-in on slots or $320 on video poker.
Table game players earn comp dollars based on game, average bet and length of play, like most casinos.
Live poker players receive $2 in comps for every hour of rated play.
Your comp dollars can now be used at either property, either as a hotel guest (billing to the room) or in the form of vouchers you can, for instance, bring to restaurants.
Other Thoughts
Binion's traditionally has had a million dollar photo opportunity, which was removed during the pandemic and there's been no word around the timing of its return. It has come and gone a couple of times over the years, so it remains to be seen if it comes back.
Binion's has one of those free spin slot machines at front that give you a chance at free play; they'll also give you a sheet of coupons that have the most value to new players. They used to have a kiosk game and some slots that were connected to a giveaway to get people in the door, but last time I was there those all seemed to be gone. Given all these draws require staffing, it wouldn't surprise me if part of the reason was just to cut down on some costs.
Binion's has some interesting venues for those who like a unique view, such as the rotating Whiskey Licker Up Saloon and the Top of Binion's Steakhouse. The former is a second story location that looks out on one of the busiest sections of Fremont Street, while the latter is at the top of the hotel.
Binion's Café and Binion's Deli offer some affordable options with the former being open 24 hours.
Binion's has coupons in the coupon books, good for those looking for a bit of extra value while gambling downtown.
Book Now
You can book rooms at the Hotel Apache through vegas.com, which offers a Best Price Guarantee. If you find a lower price while booking or within 24 hours, contact them and they'll match it! Vegas.com routinely runs promotions on hotel rooms as well, making them a good place to check.