Scientific Games has been following two trends as of late:
Reactivating old titles on new hardware, such as the G+ Deluxe line of games
Developing titles with four reel sets, like the Reel Boost series of games
The two collide with the Power 4 line, and one of the more intriguing new titles to me is the Power 4 G+ Elite title. This brings in four games from the G+ lines of games (three are G+ Deluxe, one is an earlier G+ 5×4) and allows Scientific Games to take their own take on Aristocrat's Wonder 4 series.
Like that series, you have four reel sets, and four games to choose from. You can place all the same game, or mix and match however you want.
The four games and credits per reel set are:
Jungle Wild III, 30 credits per reel set
Zeus II, 40 credits per reel set
Mystical Unicorn, 40 credits per reel set
Bier Haus, 50 credits per reel set
The total bet will vary based on the games selected; you can get a value bet in at 120 credit bet levels with Jungle Wild III on all four reel sets, and it tops out at 200 credit bet levels with four boards of Bier Haus.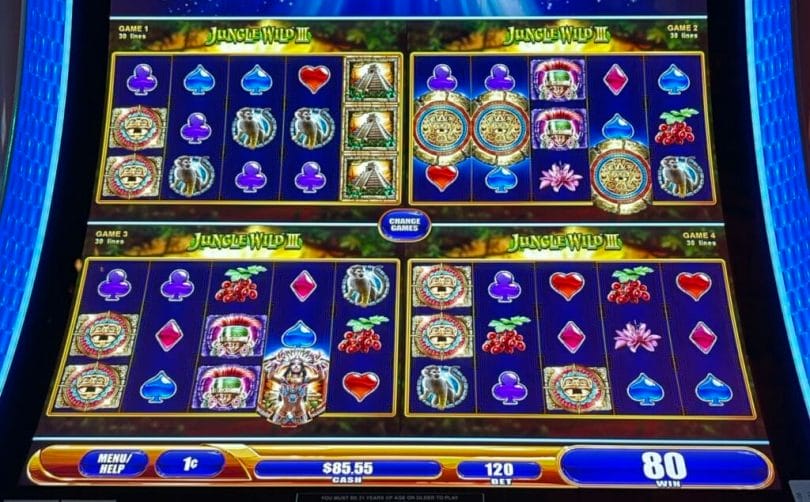 All the games operate as they did originally, in terms of features and bonus triggers. Zeus II has the Zeus respin feature, for instance. Jungle Wild's bonus features two wild reels. The number of spins you get, and wilds placed, on Bier Haus follows the original game's rules. You can retrigger in the various bonuses as well.
A couple of differences here though can be found over the old games. First off, the progressives are no longer "Must Hit Bys" and do not increment when you win. They're more traditional progressives.
The chance to win them, as well as one new feature for this game, comes from the picking screen when you trigger a bonus. This predetermined pick screen determines both how many reel sets you'll get for the duration of the bonus, but also whether you win the Major or Minor (your chances of winning either increase with bet).
Fans of Wonder 4 will recognize this as being similar to the ability to win a progressive and/or Super Free Games when a bonus is triggered. But SG's twist on it allows the chance to get 6 or even 10 reel sets (which I think are the same increments you can achieve on Reel Boost), and the Minor and Major are the same for all games (vs. each game on Wonder 4 having it's own game progressives).
And of course, like that game I got mostly one board bonuses, but did get a couple of four board ones towards the end of my lengthy session.
I give Scientific Games a lot of credit for successfully replicating the look, sound and feel of the old WMS-era games and interfaces for this new iteration, while bringing them up to date. Despite these being tough games selected for this format, I got a lot of bonuses overall. None were massive; I got a good number of 10x-20x wins to keep me in the hunt for quite some time.
It's helpful to remember that these games pre-date the WMS Bonus Guarantee, and were very difficult bonuses to win on at times (it sure stinks to get skunked but that would certainly happen on occasion).
Meanwhile, the four board format seemed to help out regarding making bonuses come more often. I think because you're betting four games vs. 4x on one game, it's a similar smoothing out of some of that volatility. I saw the most features on Jungle Wild III, but did manage one Mystical Unicorn bonus as well.
One of my bigger wins on the game was a Zeus II respin where I filled much of the reel set, but it was still under 20x my total bet.
I still had a lot of fun playing this – the nostalgia is there, the potential is there, and I got good mileage given the bet size. I'll definitely give these another go when I see them.
Watch and Learn
Here's the promotional video from Scientific Games: