On the site I've written about some classic slot machines that have stood the test of time. One of the games that has a persistent fan base is Blazing 7s, a Bally game that has a very simple pay table, but rewards those playing the three credit max bet.
First off, without playing all three credits, you don't qualify for the best payout on the 7s; in fact, if you don't play at least two credits, you don't get paid for the 7s at all. But the payouts double on the third credit, except for the three Blazing 7s, which pays a progressive jackpot.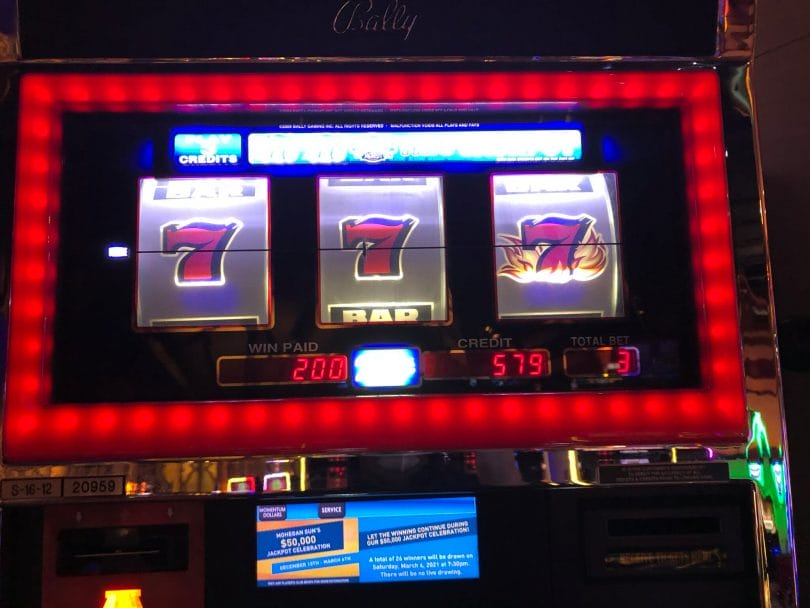 The game pays for mixed bars, and mixed 7s, both of which are helpful in getting hits a bit more often. You also get paid 2 credits for three blanks, not quite a full wager back when max betting, but it helps keep you in the game.
Three matching 7s pay more than mixed, of course, although less than three matching Blazing 7s.
The game's designed for higher denomination play, but like many mechanical three reel machines, three credits could mean 75 cents at quarter denomination, $1.50 at 50 cent denomination or $3 at $1 denomination.
None of these bets are particularly crazy on today's casino floor, but the game is popular enough that it continues to see the game revived on newer cabinets.
Of course, having a chance to win a progressive is itself a fun aspect of the game, and the way it's designed on a $3 wager the progressive can be close to, but not over, a handpay, since it starts at $1,000 and builds from there. And with a top prize starting at a bit over 300x, it's not impossible to get either.
Watch and Learn
Diana Evoni played the $1 denomination Blazing 7s in this classic video:
Here's AKAFUJI Slot with a video on the game on a $2 denomination: