Many times, among the more exciting moments on a slot machine is when you get into a bonus round. The chances for wins increase, they tend to break out of the reels into something more interesting, and so on.
But what happens if you just want to play the bonuses? A growing number of slot machines include the ability to buy a bonus and just dive right in, or drastically improve your chances of getting one within a few spins. This is different from a More/Better bet, which is using the standard reels to hopefully land a bonus.
While this is not meant to be an exhaustive list, you'll get a number of examples of games that offer the feature. As it happens, all of the below relate to games made by the various divisions of Scientific Games, although they're not the only company who offers them.
But first, a quick thanks to Brian Christopher for permission to screencap videos to illustrate this article.
Bally Buy a Bonus Games
A number of years ago, Bally released two games, Acorn Pixie and Butterfly Fairy, which offered a buy a bonus feature. They offer three buy levels, from $20-$100. Acorn Pixie adds sticky wilds to the reels each spin; Butterfly Fairy adds more wilds to the reels.
The larger bonus buys offer more spins, and with more wilds going into each spin, the pays begin to creep up as the bonuses proceed. Both bonuses are pretty engaging and offer a solid opportunity to win.
The Mega Play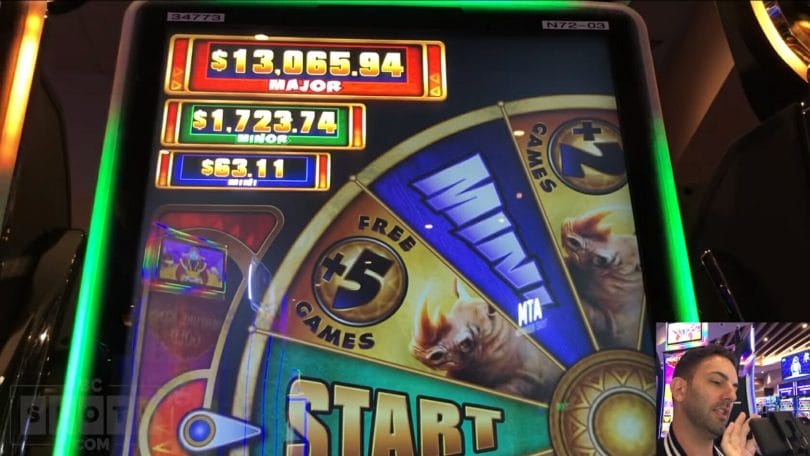 Two newer games from Scientific Games based on WMS themes, Raging Rhino Rampage and Fortune Ruler Da Shen Do, offers the ability to buy three bonus spins for the chance to win a free spins bonus. The odds of getting a bonus are 1 in 4.
The bets are $10, $20 and $50, which relates to line pay multipliers of 1x, 2x and 5x. So unlike the Bally's game, you're not guaranteed a bonus. But if you do get into the bonus, you get to spin a wheel for progressives or more spins before entering the actual free spin bonus.
Flintstones At the Races
With the newer Flintstones game, you can buy the At the Races bonus (one of the bonus game types it offers) for $20, $40 or $100. You can then choose from a series of volatility options, from a 3 out of 4 chance of winning on the easiest option all the way to 1/16 on the hardest option. The player gets to choose from six options, so there's a bit of diversity here even within a single bonus.
Interestingly the payouts are shown, and if those payouts correlate to the machine's overall math it may be a tell of the machine's payback setting. It's also possible the pays for this feature are not linked to the overall payout of the reels.
Christmas Vacation Light 'Em Up Bonus
On Christmas Vacation you also get the ability to buy one of the bonuses, just like Flintstones, which in this case is the Light 'Em Up bonus. Also just like Flintstones, you're able to choose from a set of volatility choices, with huge rewards and smaller odds (in this case 1/8) for the highest volatility, down to a smaller reward but a 50/50 chance on the least volatile option.
Unlike the Flintstones, you get four volatility options to choose from. But it's probably enough in this version to have four vs. six on Flintstones, which were linked to racing wager types.
Watch and Learn
RandomSlots has a video on Acorn Pixie where the Buy a Bonus feature is demonstrated:
Brian Christopher demonstrates the Mega Play feature on Raging Rhino Rampage starting at 13:46:
TheBigPayback did only $50 Mega Play bets on Raging Rhino Rampage during one session: