Coin Combo carries forward the legacy of games like Dancing Drums, but takes on the three pot format proliferating everywhere nowadays.
While the pay table talks about gold symbols and pays, the bet panel I most often see doesn't extend the option of betting less than 5 gold symbols. In some ways you need the gold symbols active as those line pays are pretty anemic.
All five premium symbols pay the same, so no escalation for different symbols. I've seen some think the horse is somehow not the top symbol, but in fact it is… at least in pays it's the same as any of the others.
Wilds can appear on reels 3-5 on any spin, and then move up one space for each successive spin until they fall off the reel set. In that way there's a true persistence element, albeit a very short term one.
There are also red, green and blue coins, linked to the representative pots. Landing one gives you the chance to close that particular pot; getting multiple colors could close multiple pots, and all three can close if all three show up on a single spin.
Jackpot Feature
The red pot remains the Jackpot Feature pot, so if you close that on any spin you are taken to a predetermined pick field, but this time there's 15 space. If you get three of the prize upgrade symbols, the mini will be knocked off and your options become the minor, major, grand or double grand. Given the jump between the mini and the minor on this game, that can be very helpful indeed.
Free Games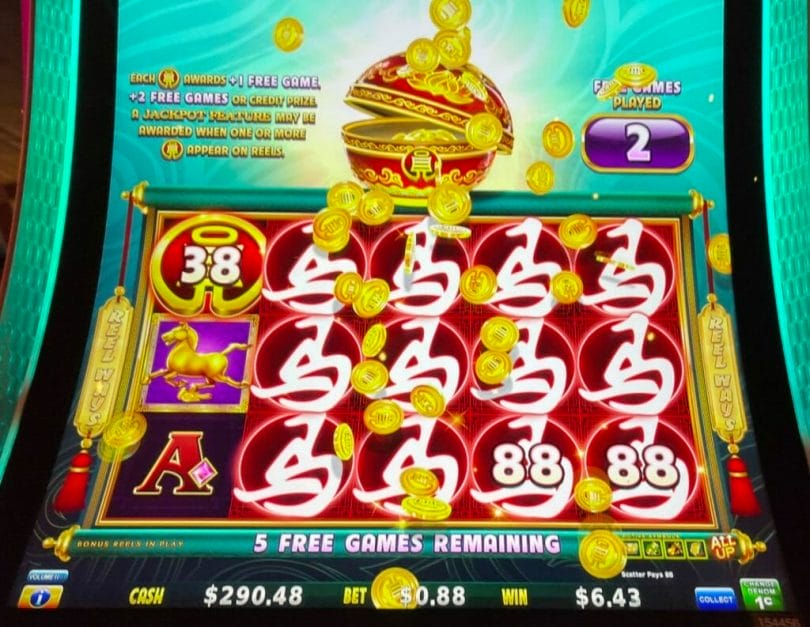 The blue and green pots both link to the free games, which award six free spins to start regardless of the pot closing. However, the number of wilds that will be added for each spin depends on which pot or pots close:
Blue pot: 3-6 wilds per spin
Green pot: 5-8 wilds per spin
Blue and green pot: 7-12 wilds per spin
The wilds reset each spin, unlike the base game. Also, because the wilds are more consistently around, they also have watered down the pay tables during the free games.
Red coins can land during the free games and award more spins, credit prizes, or close the pot for the Jackpot Feature. This can extend the bonus in ways that are helpful.
Other Coin Combo versions take things in different directions without the wilds being added so heavily, which means this one is probably a bit less tough because of that element, but line up enough symbols and the game can still get you paid.
Coin Combo Hurricane Horse Slot Videos
RandomSlots featured the game, and its pay tables, in this video:
TheBigPayback had a major turnaround on this slot: