The CityCenter project was a massive undertaking, and yielded a variety of new options in Las Vegas. It came together despite an economic downturn that ran the risk of sidetracking or even completely halting the project. One building, the Harmon, had to be taken apart because of construction mistakes.
Vdara is a condo-hotel hybrid that opened in that environment and context. It doesn't have a casino, instead relying on Aria's next door to be enough for players who stay there. But it offers something different, and my first stay there was an enlightening one.
Casino Floor
There is none – this is a hotel property only, but there's an external walkway that takes just moments to get you from Vdara to Aria. There's also a stairway that gets you on your way to now-sister property Cosmopolitan of Las Vegas as well. Between the two of them, there's plenty of gambling nearby to enjoy.
Hotel Rooms
I had booked a pretty basic room for my weeknight stay during my last Las Vegas trip. I've maintained Gold at MGM Resorts, and despite checking in via the mobile app, I was somewhat surprised at what I ended up with.
Initially I was a bit blase about the fact that I noticed they put me on the 8th floor, but I missed that they assigned me room 1 on that floor, which turned out to be an Executive Corner Suite.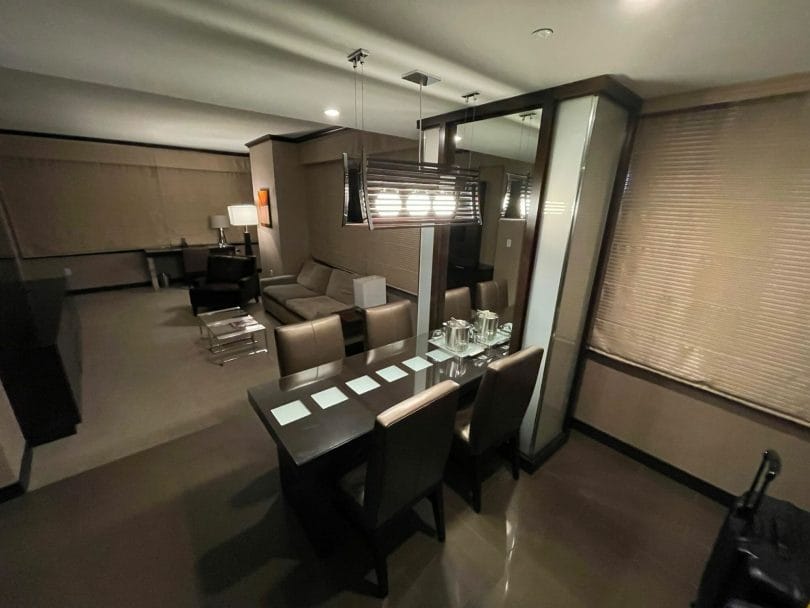 This was definitely one of the nicest offerings I've ever had in Las Vegas, which makes sense because regular readers see my bet sizes normally – I'm not a massive gambler, so when these sorts of things come along it's rare but much appreciated.
This suite had a dining area, living room area, desk space right in front of the window (great for me as I had brought work with me). A full kitchen with a full size refrigerator was also available, and there was even a washer and dryer open to me.
There's a separate bathroom from the bedroom near the front door, and the blinds open on two sides to bring in a ton of natural light during the day, which I very much appreciated.
The bedroom was in a separate space, with the bed facing out to the windows, which was great for natural light or evening looking out. The bedroom had separate temperature controls, great for those like me who need the bedroom a certain way at night but don't necessarily want the whole room like that the next morning.
Finally, a full bathroom with both a tub and a shower offered a spacious area to get ready for the day.
This was far beyond what I was expecting given my booking of the basic room, and I absolutely loved it. The 8th floor meant my view was primarily the Aria Express monorail, but that didn't bother me much because it was still a great room full of natural light during the day, and easily made private and dark with the shade curtains.
The bed was incredibly comfortable, and I slept quite well here.
Comp Program
Vdara is an MGM property, so it's part of MGM Rewards. Even though there's no casino, you still earn tier credits and MGM Reward Points for your stay on property, which counts towards your tier status. And if you play in Las Vegas, your offers will include the option to stay at Vdara.
I booked using my standard monthly offer and got a great result, and I only gave up a small portion of my resort credit for the opportunity to stay there.
Restaurants/Food Options
Vdara itself doesn't have much – it helpfully has its own Starbucks, so you can get things like coffees and breakfast sandwiches on site. The Market Cafe has a lot of grab and go options, and Vice Versa Patio & Lounge has some additional options.
But the reality is the proximity to Aria and the Cosmopolitan means you're not far away from properties that have a lot more options, and can bill back to your room at Vdara (Cosmopolitan was integrated to do room charges with its neighbors as one of its first steps to being fully integrated).
Other Observations
Despite being in a busy hotel that had some sort of convention going on either inside or nearby, the hotel never felt overly busy to me. I was able to get Starbucks in less than five minutes each morning, which was lovely. I never waited long for an elevator and never had a full elevator to contend with.
This is in comparison to other Vegas hotels during my trip where that wasn't unusual to happen, so sometimes staying a step outside the busyness of Vegas can work to your advantage.
Vdara Videos
Up Up & Our Way offers a tour of the property:
Here is Turn It Up World's take: