The Jackpot Streams feature on Konami is a popular add-on to many of their games, which provides a chance to win a jackpot by betting for the jackpot feature (which is an example of a more/better bet explained here earlier this week).
Some believe that when a crown is near the front of the coin pusher animation, that means that the game is more likely to pay the top progressive soon.
Status: The odds of winning a progressive are the same very time it's triggered.
Playing to Our Gambling Instincts
Like the pot visually overflowing and other visual clues, game designers use these tricks to try to encourage us to presume they should sit down and play, because something's about to happen. However, the games are carefully designed to ensure the odds of winning a jackpot are the same in every instance. The trick is in the initiation of the Jackpot Streams feature and it labeling each drop slot with either a blank, Bonus Prize or Jackpot symbol.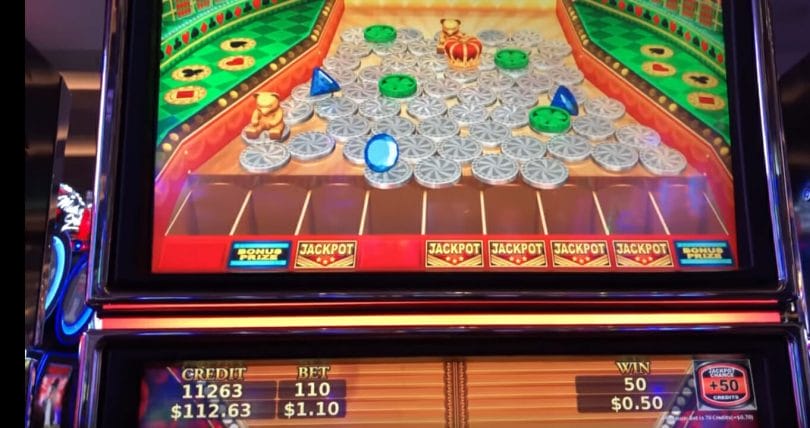 Since the slots are labeled at the initiation of the bonus, that is a sign that, like many progressive wins, the win is predetermined at the start of the bonus, and you're just watching a fun animation showing you the outcome. There's even a chance you don't win a progressive at all, but actually a Bonus Prize, if a Crown (or any other symbol) falls into a drop slot that has Bonus Prize instead of Jackpot.
The Jackpot Chance bet allows you to bet on how much you want to try for the Jackpot Streams feature, but like many other games where betting up give you more chances at a progressive, it does not appear to change your chances for any given progressive, just the chances you can play the top screen game.
Watch and Learn
Check out this video of The Slot Cats playing a Konami game where the Jackpot Streams feature was hitting fast and furious: