Mechanical reels slots, also called steppers, are games I've come to appreciate over the years, and they're a mainstay on casino floors, especially at higher denominations. Some of the machines on casino floors are quickly approaching 20-25 years old now, and so it stands to reason that more modern versions are beginning to get a look.
An interesting pattern has been emerging over the past year. Multiple key manufacturers that have popular mechanical reel games have been releasing new cabinets, but the consistent emphasis is on continuity. These machines are designed to invoke positive connections to previous hardware, with a goal of feeling familiar as opposed to radically new.
Some lessons are likely coming from IGT, who had a massive success with their S2000 line of mechanical reels slots, but then when they released its successor, the S3000, they found they had to make tweaks to make it more familiar feeling to players. A variation, the S3000 Classic, was introduced specifically to cater to players who liked the feel of the older S2000 cabinets.
So what's next? Here's what three manufacturers are offering as their next generation mechanical reels cabinet.
International Gaming Technology (IGT)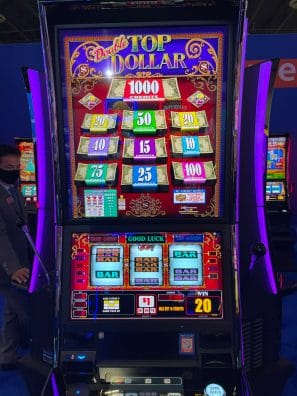 IGT's latest offering is called the DiamondRS, which I got to see at G2E last fall. This cabinet replicates the look and feel of their classic machines, including the giant top box, bringing back games such as Double Top Dollar and Pinball.
What this and the S3000 series have in common is a top box that's a monitor, but are often times made to look like glass. The DiamondRS definitely takes this further, with a top box monitor and art that really looks and feels like backlit glass, all while in a modern day cabinet.
The end result is really quite glamorous looking, while still feeling wonderfully retro. For players of the classics, you'll feel right at home on this machine, despite it being an all new setup. These will allow casinos to maintain popular games for another 25 years to come. And the library of games will allow for use of the machine in both low denomination and high denomination formats.
IGT DiamondRS Promo Video
Everi
Everi has had quite a bit of success with their own mechanical reel slots, which they've put on floors on actual mechanical reel formats as well as virtual reels.
Despite that success, the company understands the benefit of moving things forward, so they too introduced a new cabinet at G2E. After all, their popular Player Classic cabinet was introduced in 2007!
Called the Player Classic Signature, it complements the existing Player Classic cabinet, and brings it forward to a more modern era. Aside from obvious improvements like better processing power, the machine also features lightning that will perform better when recorded by YouTubers, for instance. A bigger pay table space and updated button panel flesh out the updates.
Everi Player Classic Signature Promo Video
Light and Wonder (formerly Scientific Games)
More recently, Light and Wonder announced a new stepper cabinet as they continue to roll out refreshed cabinet options. Theirs is called Landmark 7000.
This machine is targeting higher denomination players, and as part of the rollout they're launching new games that herald back to some of their most successful mechanical reel themes over the years. Light and Wonder has been leveraging their history for all of their cabinet launches, with at least some of the games being updates or extensions to popular themes from their history.
Their marketing video emphasizes tradition as well, and they similarly have 4k monitor graphics that emulates the glass look. It clearly reaches back into the history of their stepper games, Bally in particular, from the look and feel of the setup that they're going to market with this cabinet.
Light and Wonder Landmark 7000 Promo Video