Game: Golden Jungle
Manufacturer: IGT
Advantage play potential: Medium
What Makes it Special: Four spins with a wild reel when four gold buddhas are collected; persistent state on each bet level and denomination
Golden Jungle is another IGT persistent state game with reels that turn wild when enough symbols are collected. In this case, collecting four symbols give you wild reels for four turns. The four symbol collection can make lining up multiple wild reels at the same time a bit harder, but make it more lucrative when it does.
The game is a clone of Aladdin's Fortune 3D, but Golden Jungle works on standard cabinets so they're popping up more and staying around longer. Let's check out the game and how to spot Advantage Play opportunities.
Understanding the Game
Golden Jungle is another 5×4 reel game but this one has 60 lines. Whenever you land a golden buddha symbol it adds a mark above the reel. Once you hit 4 of them, that spin, and the three that follow, will feature the reel as a wild reel.
You can accumulate multiple wild reels and have them active concurrently. That's generally where a lot of the benefit from the game will derive.
There are five bet levels on the game, and the game can have multiple denominations. The state of the reels are persistent for each bet level, meaning that the buddhas and wilds collected will remain, even if someone cashes out.
Free Spins Bonus
Finding three arches will trigger the free spins bonus. The bonus gives you three options, with varying levels of volatility:
15 free games with reel 3 wild

6 free games with reels 2 and 4 wilds

2 free games with reels 1, 3 and 5 wild
As you can see it's a bit similar to Golden Egypt in the volatility choice from least to most volatile. But unlike wilds in random locations, the wilds are locked in place for the bonus you choose. That means the most volatile option, the 2 free games, is at least an option with guaranteed wins of 3 of a kind on every line each spin; that doesn't necessarily happen in Golden Egypt, which is why it gives you more spins.
Understanding the Advantage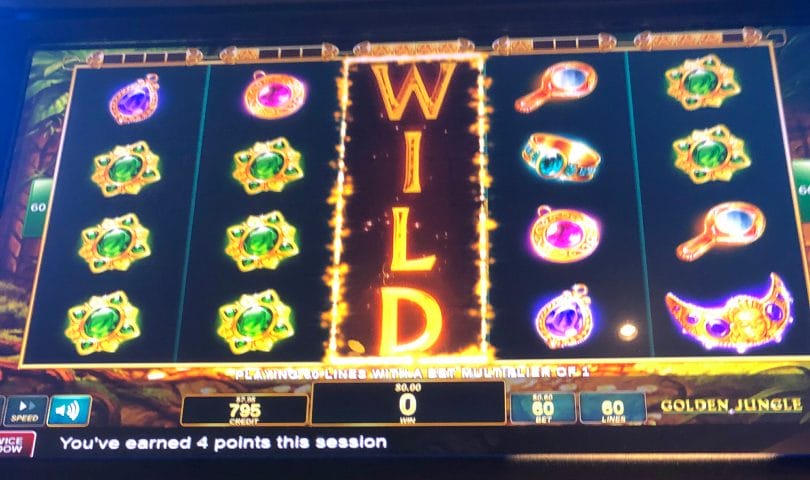 Like Golden Egypt, the core advantage is in the potential for multiple wild reels. If a previous player leaves behind one or more wilds, you can be guaranteed those reel(s) wild for however many spins indicated above. In the above image, which is an actual example I discovered at a casino recently, I was guaranteed the third reel wild for three more spins. That's not a horrible pick-up.
After those three spins, unless I picked up a lot of buddhas, the advantage play goes way down because the 5th reel is far from guaranteed to offer anything.
So the advantage play potential goes:
Active wild reels that get you a set number of spins with the reel already wild

2-3 gold symbols on multiple reels, preferably towards the front where they have a larger impact.
Watch and Learn
RandomSlots has a nice video that features the paytables information as well as a bonus on it:
Have you played Golden Jungle or it's clone? Share your thoughts in the comments!