Game: It's Magic: Ruby
Manufacturer: IGT
Advantage play potential: Medium
What Makes it Special: Land a reel with a sparkling border, and the next two spins will turn that reel wild. Top symbol pays two of a kind, making for big pays when wilds and/or Ruby connects.
It's Magic is a series of persistent state games by IGT that offered a somewhat unified brands around three similar games, each drawing from another persistent state game in the IGT library. While IGT states they're all inspired by Icy Wilds, in the case of It's Magic: Ruby, it even moreso shares a lot in common with Golden Egypt. But it has its own special features that make it fun to play in its own right, while offering some Advantage Play opportunities.
Understanding the Game
It's Magic: Ruby is a 5×4 reel set with 50 lines evaluated. There's five bet levels, each with their own set of persistent state reels. In overall mechanic it shares a lot of DNA with Golden Egypt, although the coins collecting up top is not present in this game.
On any given spin, one or more reels will land surrounded with a sparkling border. When that happens, the reel will turn wild for the next two spins.
Multiple reels can be wild concurrently, and you can trigger new wild reels while other ones are active. Line pays can grow quickly because of the way the pays are structured on this game.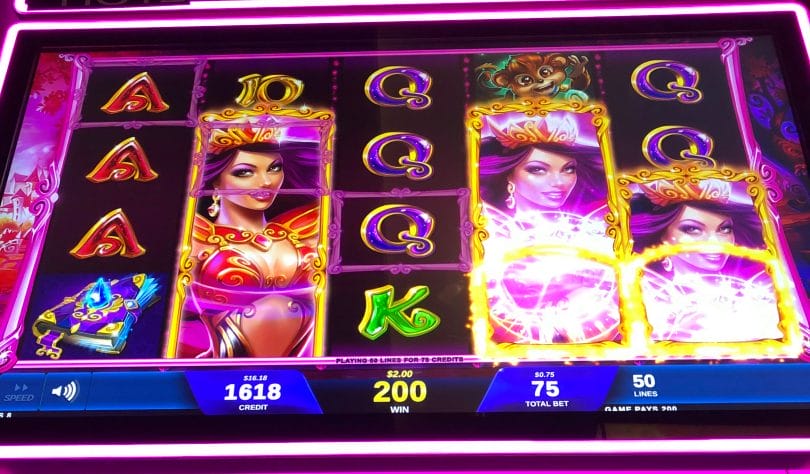 Another unique feature is the top symbol, Ruby, is stacked and pays when any two or more adjacent reels connects Ruby and lands on one or more paylines.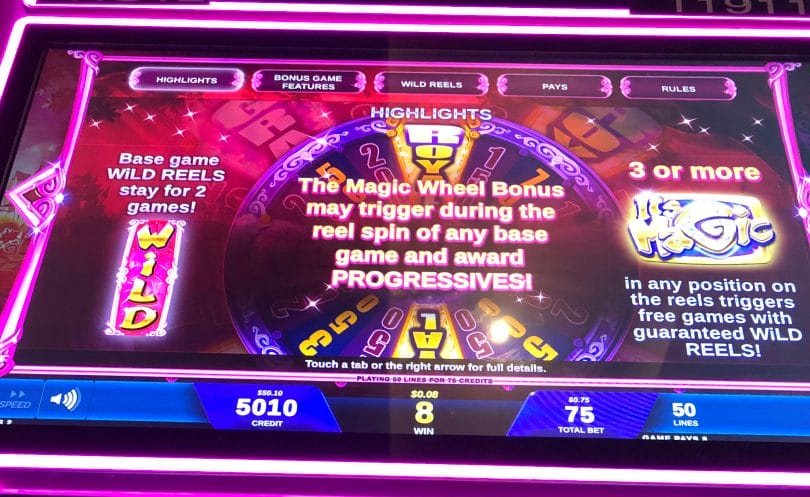 There is a number of special features with the game, including the Magic Wheel bonus with progressives, wild reels and free spins. The wild reels and bonus has a lot in common with Golden Egypt, while the wheel spin is a feature specific to this game.
Understanding the Advantage
Similar to Golden Egypt, it's all about the wild reels. You don't have the benefit of seeing the symbols above the reels since they simply land as part of a given spin.
If you find left behind wilds, that's the advantage. The more of them, whether you get them for one or two spins, and the closer to the left they are, the better the advantage. Because the wilds only survive for two spins, it's a quick play that can be taken care of and you can move on fast.
Five bet levels mean five chances to find wild reels and Advantage Plays accordingly.
Free Spins Bonus
Land at least three It's Magic symbols on the reels will yield a free spins bonus. More symbols will give you more spins. The player is given three choices:
1 wild reel for 20 spins
2 wild reels for 10 spins
3 wild reels for 5 spins
The position of the wild reel(s) is random per spin. This is effectively a volatility decision; three wild reels are likely going to give a lot more chances for winning potential than one.
You'll notice that unlike Golden Egypt, you have less free spins on this game. That's because as I mentioned earlier, Ruby pays when you line up two reels or more, in any position, which is one of the unique features of this game. So it's possible to win more often if two wilds touch each other, or Ruby lands in an adjacent reel to the wild.
In fact, this arrangement means that the 5 free games becomes 5 guaranteed winning spins, because the only arrangement where wild reels don't touch – reels 1, 3, and 5 – is still a winning combination because you're guaranteed to get three of a kinds with symbols landing in reel 2.
As you would expect, and like many IGT games with persistent reels, the bonus isn't that easy to get, but when you do, it's strong.
Magic Wheel Spin Bonus
On any spin, Ruby can come out and potentially trigger a wheel spin. (Above, she tricked me, and didn't trigger one.) On the wheel are dollar amounts as well as the chance of winning one of the two progressives shown in the top box.
The wheel spin bonus is a common feature of all the It's Magic games, and along with the progressives is one point of separation from their sister games outside the series.
Watch and Learn
Here's IGT's promotional video for the game: