Game: Jungle Riches
Manufacturer: IGT
Advantage play potential: Medium
What Makes it Special: Shatter all the Trigger Tiles to get the bonus. Persistent state reels at each bet level may leave multiple opportunities to chase a bonus when multiple bet levels have few Trigger Tiles left.
Jungle Riches is the first in a series of games by IGT I'm reviewing that has the Shatter Tiles feature. In fact, I only encountered one of these for the first time right before writing this, even though I'd been seeing videos of them in various places for years. As it turns out, one of my locals had them in a section of the casino I rarely ventured, and so I simply didn't know they were around.
Fortunately, I got some time on this machine and there's a lot of interesting aspects around this, just like many of the persistent state IGT games.
Understanding the Game
Like many IGT persistent reel games, Jungle Riches features a 5×4 reel format. It's a 50-line game, which matters as line evaluations tie directly into the Trigger Tiles feature.
There are five bet levels, each with their own persistent state of reels. The numbers under the bet levels indicate the number of tiles that have not been shattered yet. When these numbers reach zero, you trigger the bonus.
Because each bonus ends with a starter tile break, most of the time you end up with 19 tiles to start. Tiles can then be shattered in one of the following three ways:
Line hit: Whenever a symbol in a winning pay line is in a space that hasn't been shattered, it will shatter those files.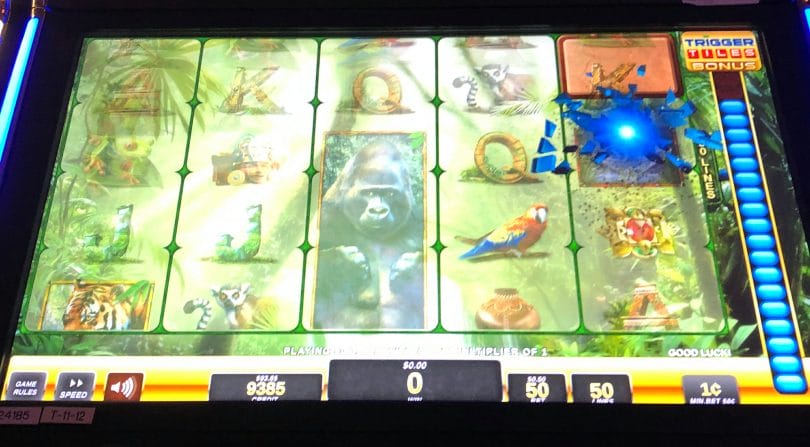 Random shatter: Randomly on occasion, the reels will fade out during a spin and shatter a tile.
Scatter pay: The Diamond symbol pays as a scatter pay when at least two are present on the reels. Having 2 doesn't pay much; on the other hand, like the random shatter, can help with some of the harder to reach spaces.
It can be sometimes difficult to line symbols up, but with the stacked wilds, you can get some pretty solid line hits – the game is decently volatile so big wins are possible just from a regular line hit.
Free Spin Bonus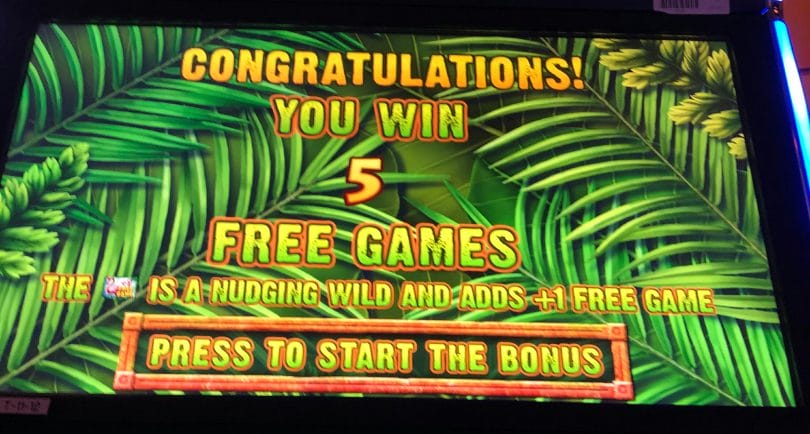 Shattering the last of the 20 tiles will go right into a free spin bonus. To start, you get 5 free spins. Along with the super tall gorillas, which remain in the bonus and are wild, flamingos can also appear.
Flamingos do double duty – each time one initially lands on a reel, you get a free spin. They then serve as semi-sticky wilds, moving down one space per spin (not unlike how games like Ocean Magic work where the bubbles persist, and each spin move one space). If flamingos and gorillas line up at the right time, pays can be very good indeed.
Flamingos also frequently clump in columns of four – if you get the first flamingo and it keeps adding one each spin, not only does the reel slowly fill with a wild symbol, but it keeps giving you back free games too!
At the end of the bonus, you choose an orchid, which will shatter one or more spaces (there's one choice that will retrigger the bonus and restart you with five free spins). Most let you choose one tile, but some let you clear a reel of tiles, for instance. If it clears reel 5, you may want to stick around until you trigger the next bonus.
Understanding the Advantage
The game effectively tells you how much is left to win a free games. With five persistent state reel sets, you have multiple opportunities to clear the Trigger Tiles and get a bonus. In the machine I found, the lowest bet was 3/4 clear and the second lowest bet half clear, so I ended up choosing to play through them both.
The less Trigger Tiles remaining, and the closer to the left they are, the better the opportunity. Having a lot of reel 5 tiles can take awhile to clear, as getting five of a kind is not easy. The scatters and random shatters help, but they can take awhile. The fact that the game is volatile also means you need to bankroll yourself accordingly for it.
Not knowing when you'll actually break a tile means that the amount of investment will vary – this is definitely a case where you aren't always guaranteed a winning result, but walking away before completing the job is difficult. And when you do complete it, free spins can be feast or famine – my first free spin effort yielded less than 5x my bet, while the second attempt on another reel set yielded a more respectable 41x.
Watch and Learn
Here is RandomSlots with a bonus on the game; his video also features paytable information for those curious: