If you're going to take a longer trip to Las Vegas, it's generally expected that you'll need to move hotels at some point. This is because most casino offers will range somewhere between 3 and 5 days in length. For the casino, going much beyond that is likely to yield diminishing returns, so their goal is to wring out as much as possible.
That means, as a player, you'll generally need at least two different properties where you've built up offers, and can therefore hopefully alternate between the two of them.
But things also constantly evolve in Las Vegas. A few years ago it wasn't difficult to tick tock between an MGM Rewards property and a Caesars Rewards property. But as Caesars sells off a strip property and comes to the end of managing the Rio, their room count will be well below what it was, despite having a larger customer base after the Eldorado merger.
Meanwhile, Mirage is being sold to Hard Rock and the Cosmopolitan of Las Vegas was just acquired by MGM, which ultimately means players that alternated between Cosmo and MGM will need a new solution. Fortunately for MGM players, the room count will more or less stay the same after the acquisition, although one mid-range property is being swapped for a higher-end one, which could have an impact for players at a certain level.
So why is all of this important? Sometimes, room rates spike for events or availability is tight, meaning it helps to have some alternatives up your sleeve. There are some properties that structure their offers in a favorable way for players to take advantage of them. Here I'll share three of the properties I leverage for times like this, where offers tend to be set up monthly or bimonthly but without a weekday/weekend restriction.
It should be noted that none of the rooms I'm listing here charge a resort fee for comped stays as of the time of writing; this is not always the case, depending on the company and the comp.
Virgin Las Vegas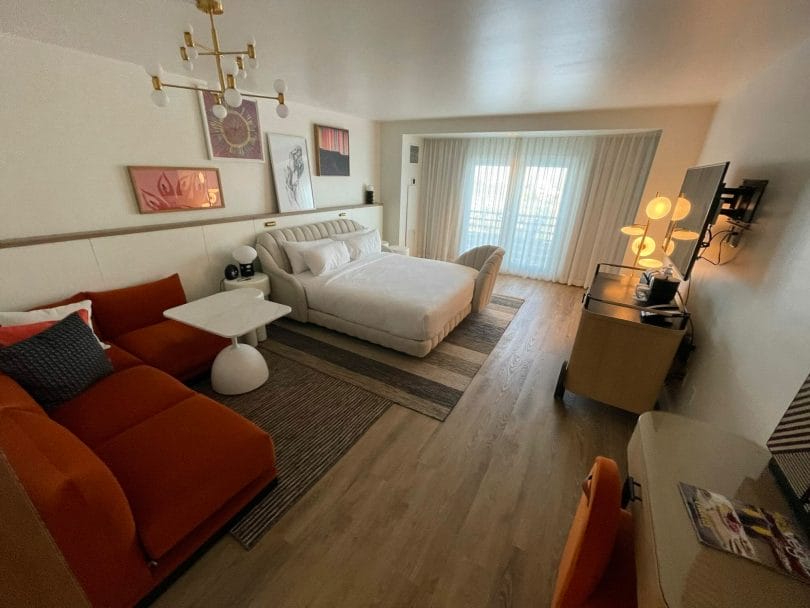 While the Mohegan Sun Casino at Virgin Las Vegas has needed some work (and fortunately has been seeing some of it as the property progresses), the hotel rooms for me are a slam dunk benefit to the property. The beds are crazy comfortable and the room types I've had were all spacious and set up well.
Qualifying for an initial three-night offer from previous play at Mohegan Sun in Connecticut, I've maintained that offer, along with a bit of free play, for approximately 25 tier credits, which coincides with the first tier up to Ignite on their players card setup. Even for a player at my level, 25 tier credits aren't particularly hard to secure at the casino, and the monthly offers that I get rarely have restrictions on dates.
The offers arrive for me quarterly, and have a code once for each month. So if your trip straddles months, two stays could be possible. Free play follows the same monthly cadence so you can redeem free play basically with each visit. It's located strip-adjacent so it's not particularly tough to get over to the strip via a walk or Uber.
Plaza Las Vegas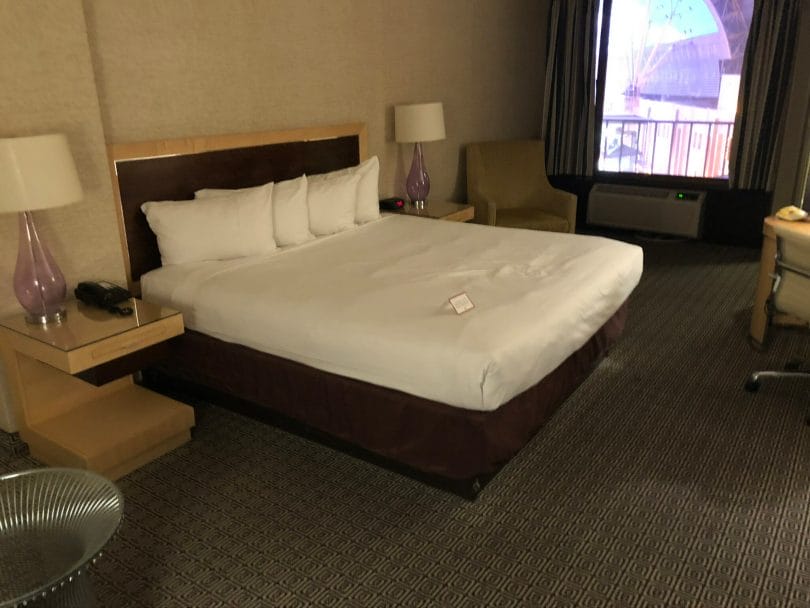 One of the nice things about the Plaza is it's right at one end of the Fremont Street Experience, putting you right in the midst of downtown and a bunch of other casinos. It's also a bigger property so they tend to have availability more often than not.
The first time I stayed I had the room above, while the second time I took a room in the tower back towards the parking garage and had a nicer room on a higher floor. In both cases the rooms were comfortable and had enough room.
Plaza's offers work in two-month cycles; the comps I get only have one room available per two months. But they don't have weekday/weekend restrictions, and the amount of play required isn't very high – my average daily coin-in at the Plaza is something like $1,000-$1,500 a day. (Coin-in is not the same as losses, as a reminder.) And Plaza's casino floor has always seemed pretty loose to me, given the game selection and how my money tends to last there.
My offers here are inclusive of free play (spread across three days, a bit different than most casinos, but likely to encourage a full stay) and a food credit, and that has been the norm from what I hear from others. You also build up comp dollars quicker than many other Vegas-based casinos, which can help with providing more food, or free play if you prefer.
Tropicana Las Vegas
Of the three, Tropicana Las Vegas is the only one on the strip, at a strong corner next to MGM Grand, Excalibur and New York-New York. I get inconsistent offers from them and haven't actually played at their casino in a few years, nor the local casino they're currently affiliated with in New England, Plainridge Park Casino.
Tropicana is in the process of being acquired by Bally's, so things could change in time, but for now, the offers made available didn't have any weekday/weekend restrictions, and were inclusive of free play and resort credit, always a nice thing. My offer was a "come back offer" with a once a quarter usage, but I've seen as frequently as monthly from them in the past.
The location is certainly helpful if you're transferring over from an MGM property in particular, but being on the strip certainly has its advantages from an accessibility standpoint. The monorail is across the way at MGM Grand, making it easy access from other casinos on that side of the strip as well.
Do you have a back-up casino you use for bridging the gap between stays? Share your experiences in the comments!