Over the past year, I've spent a couple days each Vegas trip at Virgin Las Vegas. Because of their ties to Mohegan Sun in Connecticut, I was initially given an offer to stay here (Mohegan manages the casino, called the Mohegan Sun Casino at Virgin Las Vegas), and since then I've received offers directly from them.
Although it was off the strip, I was curious to see what it had to offer. And I found there were some things I liked a lot – and other things not so much.
The Casino Floor
They advertise as having about 650 machines, which looks about right. This is going to feel smaller for those used to most of the strip casino floors, or even many of the downtown casinos.
The slot selection is well balanced, though, with older machines and newer mixed and spread out along the floor. I notice some machines with identical configurations to their Mohegan Sun Connecticut setups, such as the max bets on certain games. This tends to be lower than what many of the strip casinos would set them at, and to me that's a good thing.
The flip side is this lets them on some machines do multi-denomination where it might not always be present elsewhere, and that too is nice to see.
The floor has a generous collection of video poker/keno machines, many with slots in the multi-game mix as well. They have both older machines as well as newer ones with the more progressive variations. The pay tables are better than the major companies on the strip, and roughly in line with how they would be configured in Connecticut, which is not too bad (but I have not seen full pay).
There are two general areas for table games. Early in the morning the table minimums were at $10 for most games, but rose as the day progressed, even if they weren't in use – I saw two craps tables open on a Saturday afternoon, with one player between the two of them, but they were both set to a $15 minimum. I will never understand why casinos hold to the minimums instead of trying to woo players with a lower minimum for awhile. Wynn does this quite well from my recollection, but many other places simply don't do it.
One thing that I noticed playing at various times of the day, despite a busy hotel, was that the casino wasn't all that busy. I saw players, but many slots were open much of the time, and tables weren't full for the most part.
On more recent visits I saw some game updates that brought some more current titles to the floor while still maintaining that balance, and I think it's a stronger mix – but it was still just as dead as my first visit. The hotel seemed to be doing better than the casino, for better or worse.
Hotel Rooms
My first visit, I stayed in the Ruby Tower in an accessible King room near the top floor. I had an amazing view of the strip, with my room facing the pool.
I was impressed with the setup of the room – an entryway for clothes and a safe for valuables, a living room/bedroom main room that had a TV station basically dividing the two sides (and a TV facing each direction), and a generously sized bathroom with both a shower and a tub.
The bed was incredibly comfortable – one of the better beds I've slept on in Vegas. The first night I slept incredibly well, not surprising given the schedule I kept getting out west, but I continued to sleep well throughout the stay.
One thing that may be obvious for some Vegas regulars, but definitely worth noting for those less savvy about these things, is if you have a pool facing room, you will hear the music playing at the pool. The bass is propelling me through this write-up as I put it together.
If you want a quieter room during the day, be sure to request one not facing the pool. In a nice twist, the music stopped at 6 p.m. both weekend days I was there, – quite a relief for those concerned about noise, but not great for a mid-day nap.
Unfortunately for me, I had a very noisy neighbor overnight my second night, which also indicates a potential issue here, moreso than I've encountered at other hotels. I could hear their conversations quite clearly (although they were being quite loud) through my connecting door far on the opposite side of where the bed was. I was so overtired that night that I activated a noise machine app and put one of the very fluffy pillows over my ear, and that managed to work out quite well.
I arrived after 11 on a Friday night and there was a line at check-in; it was a busy weekend. Despite that, the people on the desk were efficient at keeping things moving – that's not something I always experience at a Vegas resort, so that was good to see and speaks to their ability to stay organized during a crunch.
The only major disappointment for a recently remodeled hotel is that the only fridge I found in the room was for a minibar and no space to put your own things. I feel like that's a pretty fair ask nowadays, and I presume some places in Vegas still do it to try to get you to spend money on property. No dice in my case – I walked across the street to 7-Eleven to get what I needed.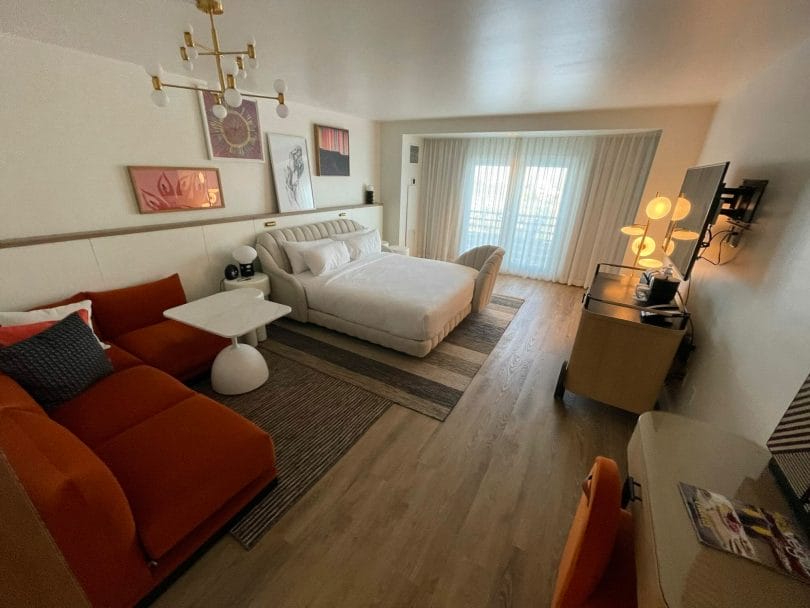 For my more recent stays, I had a standard Canyon Tower room. That comfortable bed was still there, but the room was arranged more traditionally and wasn't as big, but it still had that unique entryway and had a nice room layout. I certainly wouldn't be disappointed to stay in this room type again.
Comp Program
Being that the casino is run by Mohegan Sun, the comp program will look familiar to Connecticut players. It shares the name and tier levels as its sister casino in Connecticut, but that's where the main similarities end.
It is much easier to tier up in Las Vegas vs. Connecticut. The tier requirements are lower, and it's easier to earn tier points, than in Connecticut. It shares the same six month tier cycles as Connecticut, however, so if you only go to Vegas once a year you'll likely see your tier wiped out before your next trip – not helpful.
Comp dollars accrue much more slowly than in Connecticut. They seem to accrue about 20% as fast as they do at home, given the amount of play I've been doing here. At the beginning, comp dollars can be redeemed for free play at a $2 free play/$1 comp dollar ratio, but that appears to have changed since opening.
They have been offering tier match opportunities to players coming in from Connecticut; they matched me to my Leap tier from back home. I arrived in mid-September, and their tier reset was October 1 – I was originally told I would only be given those two weeks with the tier. However, my tier did hang on for another cycle, giving me a full six month cycle to earn whatever tier I would at Virgin. Since then, given my limited play there, I've managed to maintain Ignite, their second tier.
You are able to use your comp dollars from Mohegan Sun Connecticut here (as well as other properties they manage) and conversely comp dollars here (whatever few you can scrounge up) can be spent at their other properties in return.
Restaurants and Shops
They have a variety of restaurant concepts, like many resorts. One is a 24 hour diner setup that is quite helpful to have, given most everything else shuts down pretty early, even on weekends.
They have a Hudson shop like the ones you'd find at the airport, and even more exorbitant pricing than their airport counterparts ($6 for a 20 oz Diet Dr. Pepper – I wish I was kidding). I get that it might be easier to farm out the essentials shops, but there's a point where it's more of a hinderance than a help, especially if it's not going to be available 24 hours.
Keeping to their potentially catering to east coasters, there is a Dunkin' on site, with surprisingly similar pricing to what I see back home. So that was an unusually nice surprise. It opened at 6 am, decently early, although like the essentials shops it would be great for something other than the diner to be open 24 hours a day.
There's not a ton of shopping, although given the property size I can understand why more of the energy would be put into a good restaurant line-up.
Other Observations
Their pool area is unique in that there's a sandy beach set-up, offering a different style pool arrangement for those seeking it. As mentioned, there's pool party type music playing quite loudly, so if that's not your thing this may not be the pool for you, but I think it keeps with the Virgin branding.
The property is located sufficiently far from the strip that if your goal is to stay here and play on the strip, it's going to cost you some taxis or Lyfts (presuming no rental car) if you don't want to get wiped out hoofing it to the strip. Location wise it's a few blocks away from Planet Hollywood. Ellis Island is "around the corner" but a good half mile plus walk away itself.
Overall, the property is gorgeous, and the rooms are very nice – but the casino was for me a bit underwhelming. I think the issues with the casino can be fixed up, but if people aren't playing here I'm not sure how changes would really make a difference, sad to say. But I would highly recommend the hotel for those looking for something different, and who are comfortable driving around either on their own or with the help of ride shares and taxis.