When I first published this article in the fall of 2020, I didn't have a handpay of my own to speak of. The picture above was my largest win overall, but it was shared with another player, so we split a $2,000 jackpot 50/50 – $1,000 each.
Since then, I've now managed four handpays, including three on our newly legalized online casinos, but also one in a physical casino. This has changed the complexion of this list quite a lot.
So here, revised for spring 2022, are the biggest wins I've had as a solo player, and a few honorable mentions in terms of wins as a multiplier of my bet.
Video Poker
Many of my biggest solo wins happen to be on Jacks or Better Video Poker, although that tends to be the minority of my casino play. I've now had four royal flushes that have paid at least $1,000.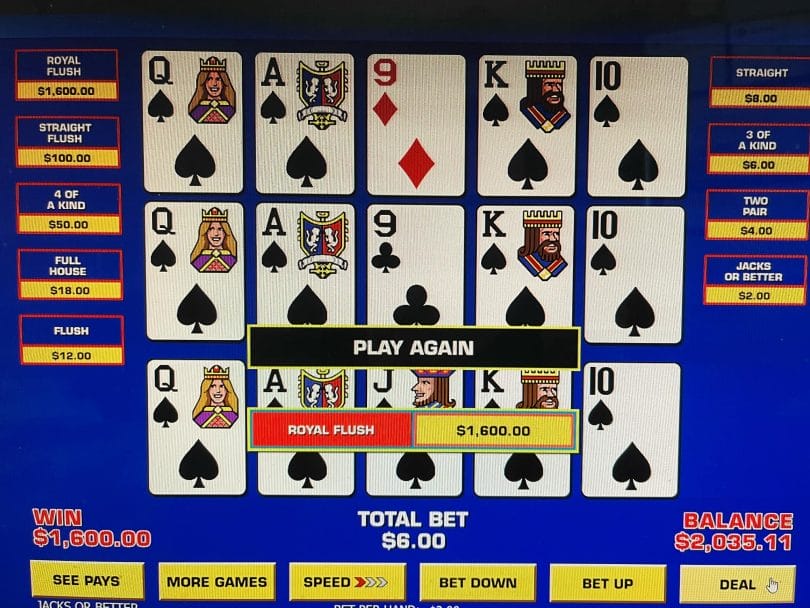 My largest was won in May of 2022 on a legal Connecticut online casino. I was playing a triple play at $2 a hand each. On Connecticut's legal casinos Jacks or Better is full pay at any denomination, so you get more betting options that don't average out to five coins of any obvious denomination. I had been playing $1 per hand, had been seeing good results, and decided to press my bets, to success in this case.
The next biggest was a royal flush on quarters on a machine with a set of royal flush progressives in a triple hand format.
The progressive put it at more than $1,046, which was enough to eke it out to second place on this list over my other royal flushes, even if by just a few dollars.
I hit this at Mohegan Sun in October of 2018, and this machine isn't there anymore as many of the video poker machines have been replaced in recent years.
It was my first royal flush at quarters, so it was an exciting accomplishment for me.
My remaining royal flushes at quarters is a tie, understandably, and amazingly the second came less than two months later, at MGM Springfield in December of 2018, after I had played through my free play and decided to play on just a bit more. This was also my only single line royal.
In July of 2021 I managed another single-line royal flush at MGM Springfield, while still playing through free play that time. Clubs seem to be my suit at that casino.
The other tying win for video poker was on a 50 hand game. I've written about my love of these games, and this win probably solidified it. This was at Harrah's in Atlantic City in September of 2017, where I put $300 in, never hit $0 but came close, built back up and hit this just as I was wrapping up. I was aiming for 2,500 tier credits to get the 5,000 tier credit bonus and finish up Diamond, and I did it profitably!
Slots
My first physical casino handpay was won in July of 2021 at MGM Springfield, the same day I got my royal flush. This was on Gold Stacks 88 Turtle Kingdom, and I had sat down because the machine had a large mini. I played for the mini, won the major, kept playing and got the mini too.
My first online handpay was in October of 2021, on a $2.25 bet on the Everi game Blue Ribbon. You always think those Double symbols won't line up, but this time they managed to do so!
My other online slot handpay was also in October 2021, on another Everi game, Fire Buffalo. This one was on a $5 bet, and occurred not long after the Blue Ribbon win.
I seem to do well on slots on days I hit royal flushes. This $1,000 hit was secured the same day I got my $1,600 royal flush handpay online. This was actually one of three solid hits on the game I got, leading to my biggest online daily win since they launched here.
I was playing the Da Ji Da Li game at Rocky Gap Casino in December 2021 when I got a progressive pick. I picked so fast the game struggled to keep up, I heard the bell and the Major popped up, which I was not expecting at all. This was good for fifth place not only over the last 12 months, but for my all time wins on slots!
My biggest slot win until 2021 was a nearly 1000x win thanks to an $839.96 Major on Dancing Drums. I hit it at Foxwoods at 3:30 in the morning in October of 2017, half awake and stunned beyond belief. I did not even hesitate on the picking, just swiped my hand and got it. I almost did not play it, but decided to play one more game before bed.
This win hapepned on a Las Vegas trip in September of 2020; a friend had just played it at Treasure Island, and I asked if I could take a swing at it since I had it on my lists of slots to eventually write about. She said it would be amazing to see someone hit the Grand spins, and maybe two spins later I did. I had guessed the bonus would fall in the $300 range but I was happy to be very wrong.
This mechanical reels slot win game on the same September 2020 Las Vegas trip, playing 75 cent spins on Quack Shot, an old school IGT/Barcrest game over at The Plaza. It took me a moment to do the math with the two 5x multipliers before I realized what I had on my hands. This $750 hit was exactly 1,000x my bet, and was incredibly exciting.
I tried to play down to a round number but the game kept giving me small hits after that; I eventually moved when a smoker sat down next to me and was blowing smoke in my direction.
This win is my oldest on the list, and goes back to July of 2017 at Foxwoods and comes from one of my favorite series of games, Power Spins. I was playing at $2 a spin, built up a 10x bonus Power Spins opportunity which I played, and got the bonus with some solid hits and retriggers to get this win. They unfortunately do not have the game anymore, but I played it quite often when they still had them.
So that covers my biggest slot and video poker wins. But my September 2020 Las Vegas trip put one other item on the map…
Bingo
I played a few sessions of Bingo at the Plaza while there, and during one session I won a blackout bingo early enough to justify a bonus wheel spin that paid be between $300 and $3,000 for my Bingo – I ultimately won $600.
And my biggest gambling win ever took place outside the casino…
Scratch Card
In October 2015 I bought a $5 Cashword card and scratched it. I remember it was a Sunday night, late enough that some places would have shut down their machines, and I thought I had won $500. As I was sitting at a red light counting the words again, I had the realization it was actually $5,000!
I checked my ticket at a machine, confirmed the win, and redeemed it at a high tier lottery redemption location the next night. It technically counted as $4,995 since I spent $5 to get it, at least according to the lottery paperwork.
What was your biggest win? Share in the comments!