One thing that was well known about WMS in their heyday (and still holds true as an arm of Scientific Games, who bought them a number of years ago) was their attention to detail in designing beautifully illustrated slots.
The company's roots, going back to the Williams video game company, emphasized those visuals. A game like Lucky Lemmings, now quickly approaching 20 years old, continues to hold up in part because of this.
It's a testament to the game's success that it remains in casinos in markets like Las Vegas to this day, despite being on aging equipment that's been likely difficult to service for some time.
It's a lower volatility game, especially considering what we've got out there today, with some decent ability to get line hits in the base game.
The fun really gets going in the bonus, triggered when three or more bonus symbols (wilds match up with them on this game) appear on a line, starting from the left.
You then get a choice of three eggs, each with a number of lemmings inside them. This is your number of lemmings for the bonus round. It's a true pick, showing the other options before advancing to the main event.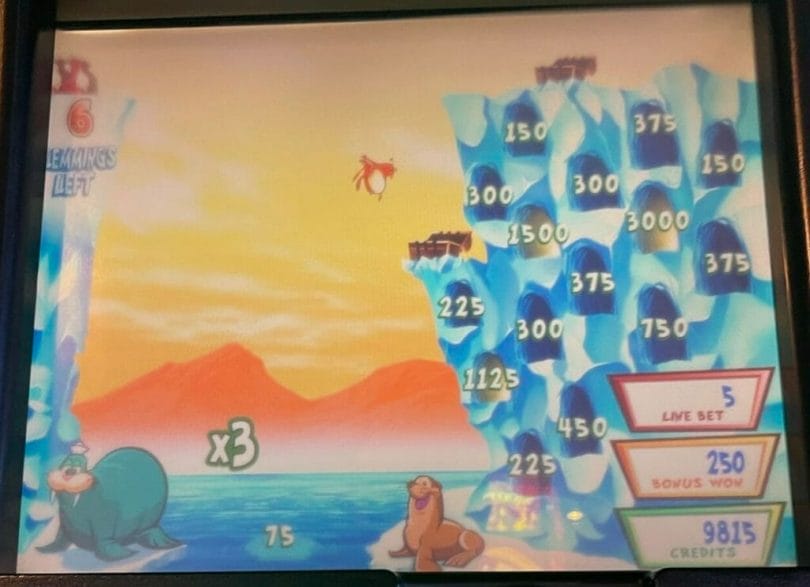 Each lemming takes its turn jumping off the ledge. Most just bounce off the walrus and land in a space, but some fake things out a bit. Others do special things, like falling in the water (or much better, the whale's mouth), fly into the air, jump into a treasure chest, bounce off the seal multiple times (yielding a multiplier), or even a stampede of lemmings that jump off in multiple and into multiple spaes all at once.
This is traditionally not going to be a massive bonus (although there are ways to get there on an occasional basis), but combined with the relatively easy ride of the base game, it's an incredibly fun one full of cure sounds and great animation.
Lucky Lemmings Videos
Here is a Brian Christopher video featuring the game and a bonus:
In this video Slotlady (now All Casino Action) plays the game and has bonuses on a nickel denomination version: