Last week, we began our series of gaming machines and how each works, explaining a Vegas-style slot machine. But there are other common machine types out there.
This week we begin to veer away from a classic slot machine and look at games developed out of a need to work within the legal framework that exists. One of the most common, and in certain areas popular, is the Bingo machine, otherwise known under Native American federal regulations as Class II gaming.
Defining a Bingo (Class II) Machine
Bingo (Class II) machines came out of federal guidelines that made it much easier for tribes to launch Bingo operations. The regulations allowed for the game of Bingo to be played, and also allowed for aids designed to support the game of Bingo. Getting approval to offer Bingo under Class II rules is a much lower bar to clear than a compact with a given state to offer Vegas-style slots that are Class III, even though they are ultimately what most are familiar with, so some decided to see if there was a way to get around the Class II limitations through technology.
The Seminole Tribe in Florida is given a lot of credit for investing a lot of time and resources to develop the technology that still powers a lot of Class II gaming today. VGT, now owned by Aristocrat, also invested a lot of time and energy popularizing Class II options in states like Oklahoma. The goal was to take the popular large bingo halls and bring other casino-style games in while still qualifying as a bingo "aid," and the Bingo (Class II) machine was born.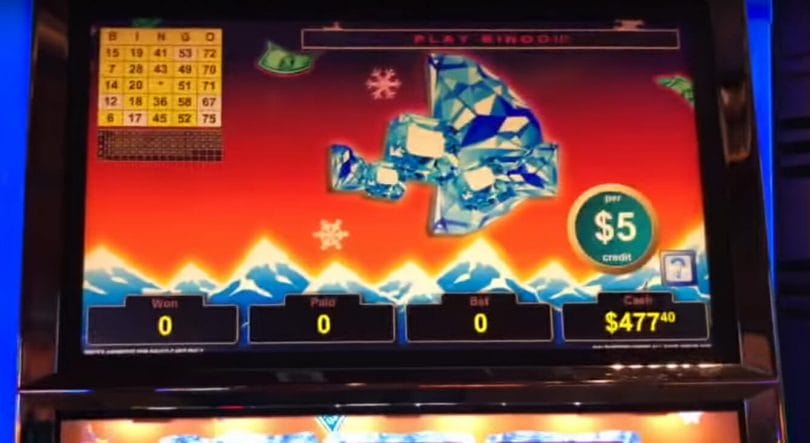 At its core is a machine that looks like any other slot machine, but shows a Bingo card somewhere on the screen. When you make a wager, you're actually joining a Bingo game with others who hit the button within a few milliseconds. Most systems only require at least two players to take part. The game is played out rapidly and in real time, and the machine then renders a game outcome that either shows a winning combination or not, based on the outcome of the game that rendered behind the scenes.
There are interim jackpot combinations that can be hit in some games, just like in actual games of Bingo, which can then contribute to bonus outcomes on the game as well. For instance, many classic VGT games can have a red screen that can trigger and offer bonus spins; these bonus payouts are part of the bingo game and are registered in a fun and entertaining way.
Understanding the Math
Like any Bingo game, the payouts are governed by the prizes offered on the bingo game. With many games taking place in real time as various customers are betting on the various Bingo machines, there's constantly a series of winners and losers being determined.
Since the machines are all tied into the same system, you're effectively playing against other players in the casino, and the prize structure is such to ensure that the house edge is maintained. So like on a Vegas-style (Class III) machine you could have multiple winning spins in a row, or losing spins in a row, that's just because you won a prize in multiple succeeding Bingo games that you bought in to by hitting that bet/spin button.
How Payback Works
In this case, payback is not set by machine and normalized over time by a random number generator and the slot reel positioning, but by the prize structure of the Bingo game itself. Playing one machine over another in a similar bet range is likely not going to have an impact. The slot reels and animations are purely for show – the game is being played in a central hub outside your gaming machine.
Not all games have to be tied to the same Bingo game; just as lower denomination games are going to likely have lower paybacks and higher denominations higher paybacks when talking a Vegas-style slot, higher-bet machines will likely be linked together in Bingo games with higher payback prize structures than those on lower-bet machines, to approximate that same scenario.
Just like the Vegas-style slot machines, the paybacks aren't known, but most casinos tend to work within a similar range, especially when there's more competition. But like tribe-run casinos with Class III machines, in most states Class II properties are not required to report payback information either. As such, there's no real way to know if a Class III game or Class II at any given property will pay better or worse than another.
Watch and Learn
YouTube slotter Brian Christopher visited Oklahoma last year and had a huge victory on a VGT bingo machine. Check out his live stream below!
Have you played Bingo gaming machines? Do you like them or not? Share your thoughts in the comments!