Game: Magic of the Nile
Manufacturer: IGT
Advantage Play Potential: Medium
What Makes it Special: Three obelisks charge up to bonus spins with a special feature. Pure Recharge feature works similarly to other games with the feature.
For those who read my previous review of Electromax, Magic of the Nile is going to feel a bit familiar. That's intentional, given both games leverage IGT's Pure Recharge persistent reel feature.
Understanding the Game
Unlike Electromax, and most of the earlier persistent state games by IGT (but similar to a number of the newer ones), Magic of the Nile is a 5×3 reel set. The bets are 75 cent intervals, higher than Electromax, but both games evaluate 30 lines.
Each bet level has its own set of persistent state obelisks, featured above the reels like Electromax. The bet panel shows you the current state of each bet level's persisistent state feature.
When a special symbol appears one or more gems are sent up to obelisks to fill a section. The game may tease that one is coming through light streaks, as seen above.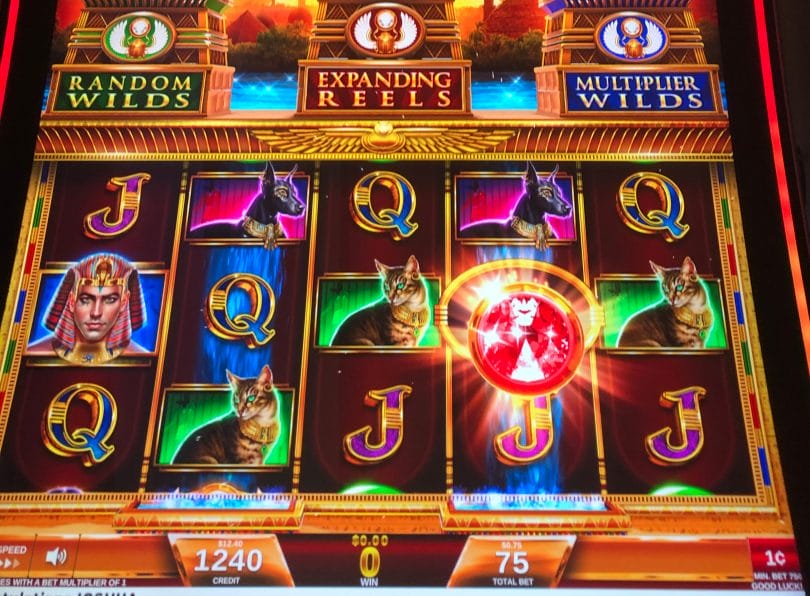 There are three gem colors, each linked to the three persistent state features that existing:
Green Gems: Random Wilds feature
Red Gems: Expanding Reels feature
Blue Gems: Multiplier Wilds feature
We'll explain how each of those works in the next section of this article.
In this case, there's only three levels to fill, unlike the four in Electromax, but there's no respin power-ups that can appear, which in Electromax would offer the chance for multiple spins when topped off.
Although there is the ability to get multiple gems in a single spin to move the meter quickly, that didn't happen for me during a lengthy session on the machine.
Line hits can be solid on this game, especially with the premium symbols and wilds (which are stacked). Earning gems can take awhile but all three features have potential.
Understanding the Features
Each feature has something special to offer, and are awarded immediately after the spin in which the obelisk is filled; no additional wagering is required to receive it, so you won't have a way to leave these behind, like you could wilds on a game like Golden Egypt or Wheel of Fortune 4-D.
Random Wilds Feature (Green Gems)
In this feature, wilds will be placed at random on the reel set before the spin completes. Pays are evaluated accordingly. 5-10 wilds can be awarded in this feature, enough to make the spin pretty solid, but if you can get premium symbols in the right locations it can be pretty awesome.
Expanding Reels Feature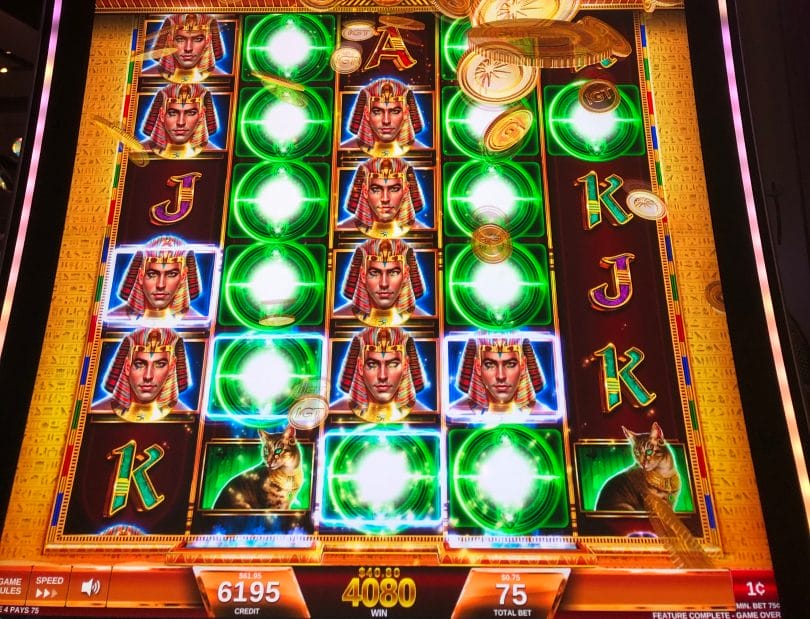 This expands the reel set to 5×6, and ups the line count to 75, a pretty significant transformation. Stacked symbols still pay an important role, and if they line up just right the pays can be really good here too. The game notes it uses different reels, likely to account for the different size of the reels.
EXTRA NOTE: The first two bonuses can combine together, if both obelisks are filled at the same time, for a 6×5 reel set with 10 wild symbols out of 30 spots. This is different than Electromax, where each feature is played out in turn.
Multiplier Wilds Feature
With the Multiplier Wilds feature, no wilds are added, but any that do land are converted to a 2x multiplier. This feels the most volatile, as you need to land the right symbols, but if you do great pays can become outstanding. In my one and only opportunity with this feature, seen above, it was a disappointment.
EXTRA NOTE: This feature, as you can imagine based on my previous extra note, can be combined with one or both the other two – if it were combined with Random Wilds it would likely be very strong, and with Expanding Reels as well. All three together would likely be huge, although very rare to trigger.
Free Spins Bonus
If you land 3 or more bonus symbols, free spins are awarded. The number of games you are awarded are based on the number of symbols you land:
3 bonus symbols: 8 free spins
4 bonus symbols: 10 free spins
5 bonus symbols: 12 free spins
Anytime you earn a gem, the feature immediately triggers, so earning multiple gems will lead to combined features in a bonus spin. You can earn one or two gems off the special symbol. In addition, like Electromax, the special symbol will also award a bonus spin.
Like many of IGT's persistent state games it can be a challenge to get the bonus; I have not landed one thus far during my playing the game.
Understanding the Advantage
The closer a given obelisk is to being full, the better the advantage opportunity. The picture above is as good as it gets for a bet level, since landing the last segment plays if off right after – no additional wagers required.
As I mentioned earlier, landing the special symbol and getting a gem can take awhile, which was the same for Electromax.
They do seem to come unevenly; I got three of the Random Wilds and two of the Expanding Reels while trying to fill the Multiplier Wilds once. I had 2/3 Multiplier Wilds for the second and third Random Wilds, and both Expanding Reels, while trying to get a single blue gem to finish the Multiplier Wilds.
That led to extreme swings on the machine; I had multiple substantial wins with the other features, and a couple of line hits, but the Multiplier Wilds was a dud and I ended up down for the session. You'll have to decide if clearing out all three obelisks are your goal, or if you want to walk while you're ahead if you can clear a couple of them.
As you can see by the various features, it can be a lucrative game but can also be a tough one. That said, it does seem like it's set up to offer at least some decent payouts much of the time when you do land one.
Watch and Learn
Here's IGT's promotional video for the game:
RandomSlots has a good overview of the game as well, along with the usual paytable overview: