An exciting part of just about every slot machine (barring the ones that don't actually have one) is the ability to get a bonus of some sort. Whether it be picking, free spins, spinning a wheel, or so on, bonuses can provide bigger payouts and help revive a difficult slot session.
Some players seek longer bonus potential as an aspect of the games they love to play – long bonuses mean no wagering taking place, and the chances for a lot of line hits and therefore bigger wins.
Some games have bonuses designed to retrigger more often, awarding more free spins to keep a bonus going. Here's some examples of games with retrigger potential.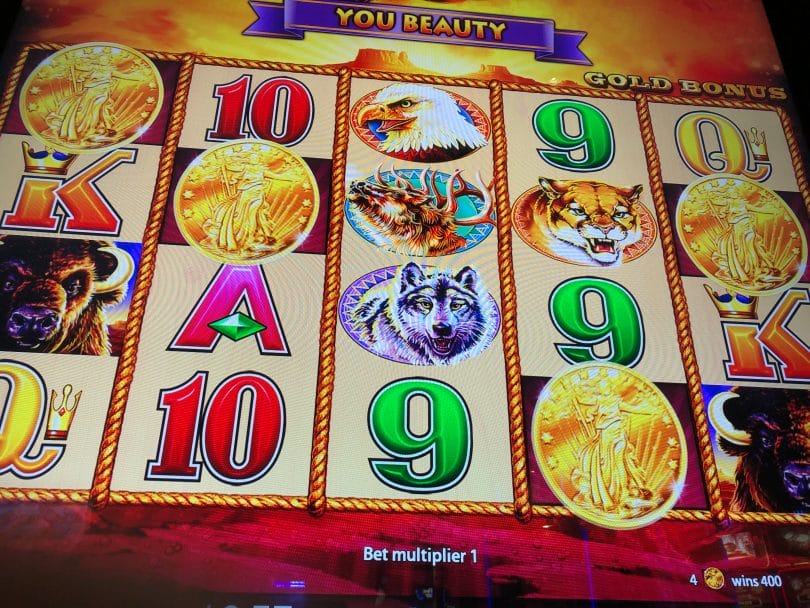 One series that's all about the free spins and retriggers is the Buffalo series. Once in the bonus, even two coins will provide additional spins. Depsite a constant barrage of new games coming out, this portion of the game is always maintained across versions. As such, it's pretty easy to collect more spins, and the game tends to rewards having more spins with bigger wins.
The Buffalo Gold line particularly rewards additional spins, because getting 15 gold buffalo heads is more likely, and with that the increased likelihood of big wins.
It isn't the only game, though, that has the potential for retriggers or long bonuses.
Aruze's The Great Tiki is another example of a game with a frequent retrigger. The game in fact follows the Buffalo model of respins with 2 or more symbols. The video above from Slot Queen shows an example of an 8 spin bonus that quickly grows in spin count. (The portion featuring the bonus starts at 8:15.)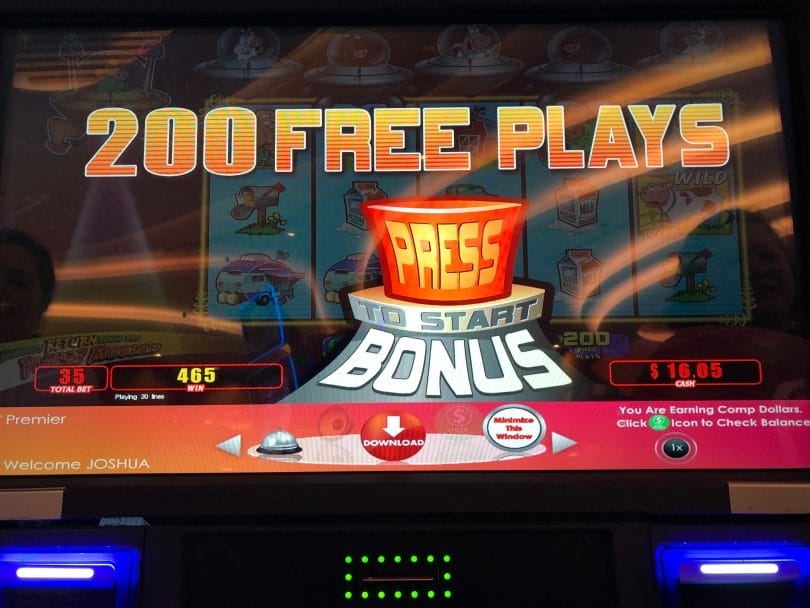 The Planet Moolah series, and in particular the newer games that let you rack up a lot of free games upfront, are prone to frequent retriggers. I recently had a 200 trigger free spins bonus that ended up being approximately 270 thanks to the frequent retriggers.
Above is a video from Alice in Casinoland, who I was on my cruise with last month. We went to Seminole Hard Rock Casino and Hotel in Hollywood the night we disembarked, and she recorded the bonus in progress. Bonus starts around 2:30.
On a similar tack, there are games where the games are set up to deliver a lot of games upfront. Konami has a line of games, like China Mystery, where you can get a lot of spins upfront, or retrigger with a massive amount of games, because of the way the game is set up.
Rhino Charge by Aristocrat is a similar concept with the same idea – you can either trigger, or retrigger, a massive amount of spins. Its a game in some ways modeled after the Konami model. Others include the Bier Haus series of games by WMS, which can trigger hundreds of games in the onset in many instances and retrigger within the games to provide even more.
So how do you know if a game is prone to retrigger? Here are a few signs you can look for:
High spin count potential: Games that let you win a lot of free games upfront, as a lot of free games can open the door to retriggers.
Two bonus symbol retriggers: Games that lower the threshold for retriggers from the initial bonus trigger tend to do so to encourage more retriggers.
Stacked bonus symbols: If you have a game with stacked bonus symbols, its an indication the game has the potential for a high spin count.
Do you have a favorite game that is prone to long bonuses, high free spin counts or big retriggers? Share yours in the comments!