I had the opportunity early this year to check out the upgraded Seminole Hard Rock Hotel & Casino in Hollywood, Florida, while visiting the Fort Lauderdale area. The Seminoles have been investing a lot of money upgrading both this property and their Tampa location in the past couple of years.
I wanted to share my thoughts with you about the property and what to expect if you pay a visit.
Slot Machines
While the Seminole tribe was very early on an investor in improvements in Class II Bingo machines, the modern Hard Rock floor is loaded with Class III (Vegas-style) slot machines, and it's a massive gaming floor.
When I visited their Tampa location last year, there were a ton of 2 cent machines, which made it tough to find lower minimum bets. There were a lot more standard penny machines at the Hollywood location. They had a lot of the newer games, from a variety of game manufacturers.
They had lots of machines that were in the Bombay/Stinkin' Rich format, similar to how they did in Tampa. These games seemed to be pretty popular with players there, so it makes sense – give the players what they want.
On some parts of the casino floor, machines were grouped in batches of the same machine from the same manufacturer, although different games within the cluster. I'm not sure the reason for this (other than perhaps easier maintenance if you're doing something to the same machine type across the board), but it did make it sometimes easier to take an educated guess on where to find a certain game, if you knew what machine the game was released.
For instance, I knew that the Quick Spin game was by Ainsworth appeared on certain of their machines, and I was able to find it easily. Pac-Man Wild Edition, another game I like and on the same cabinet, right next door.
The non-smoking room was nice, but very few penny games resided there – most were higher limit games, so if you're hoping to get out of the smoke and have a solid selection, you'll be disappointed.
Both nights I played I got off to a slow start, but then started picking up wins. I got 100x+ wins both nights I was there, and on games and at times I wasn't necessarily expecting them. The games didn't feel all that tight, although there were certainly droughts I had while playing, just like at any casino. For two nights of play I got a lot of entertainment value for the budget I brought – in fact, I didn't actually exhaust nearly as much of my budget as I was expecting.
Table Games
One thing that was unusual and caught my eye was the table game limits. I walked the casino floor pretty broadly on both days of my visit, which were a Saturday and Sunday. During that time Blackjack had an unusual to me $20 table minimum. Similar to the 2 cent denomination being more common at the Seminole properties, higher minimums elsewhere aren't surprising, but it seemed like that's the only table limit I found during pretty careful walks of their table games.
I found higher table minimums than I would normally see elsewhere on many of the carnival games too. The casino was definitely busy, so I'm sure they're that way because they can get away with it, but it was a bit surprising to me to not find any lower limit options at all during my visit. It's possible I missed it, but I did walk the sections a couple times.
That said, I did see a large variety of different table options, so table games fans will find a solid selection here to choose from.
Comp Program
The Seminole Wild Card program now uses a linked card across all its Florida properties. Comp dollars earned at one property can be redeemed at another. Given their Tampa and Hollywood properties are each so massive now, this is likely a draw for players who gamble regularly. Offers are still tied to each casino, so where you play is where offers will generate.
The Seminole Classic casino is basically right across the street from Hard Rock Hollywood; I didn't get a chance to check it out during my visit in January, but I'm scheduled to go back and I'll be making an attempt to visit then.
Comp dollars are earned pretty regularly; the system is similar to other tribal casinos I've played as, as well as the Hard Rock in Atlantic City. You don't have a countdown to tell you when you earn your next comp dollar, but they do accrue somewhat quickly, definitely faster at many chains like Mlife or Caesars Rewards.
The Property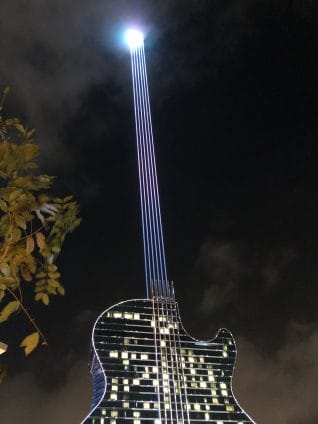 As mentioned in the introduction, the property has been through some major upgrades in recent years. The gaming floor has been expanded, more restaurants and shopping have been added.
The crown jewel of the property is the Guitar Hotel, a first-of-its-kind building that includes six powerful lights that shoot into the sky at night to invoke a guitar neck.
It's a pretty majestic site, and clearly a statement that makes an impression to those coming out to visit. At night there's a light show synced to music that happens using LEDs built into the side of the guitar. For a hotel only a few months old, it was semi-surprising that some of the LEDs were malfunctioning, and the show that we saw was cool for a few minutes but ran more than 10 minutes, probably a few minutes too long.
Inside the property includes a ceiling to floor water fountain that also had shows synced to music. The one I caught was a show set to David Bowie's "Let's Dance," which featured a video wall also showing a video that was linked to the fountain show. Both the fountain show and the guitar show are cool in concept, but are limited in functionality and therefore don't offer a whole lot to entertain. A little goes a long way with these shows, but they're still fun to see.
Inside the decor is beautiful and modern, befitting of the $1.5 billion in expense that they spent to transform and upgrade the property, They clearly invested well in it. Additions such as Daer Nightclub (a brand they also use at Hard Rock in Atlantic City) add some consistency between the various Hard Rock properties, which further can add to the familiarity.
The guitar hotel is at one edge of a large lagoon pool area that is beautiful and a great feature for a Florida hotel. The guitar show is watched from the edge of the lagoon, which provides a good reason for people to visit that area at night, but during the day it's a massive and beautiful pool area as well. Waterfalls line the various points.
Summary
If you're a Wild Card member and/or in the Fort Lauderdale area, it's definitely worth checking out. I will be staying on property for one night the next time I'm in the area, and will either update the review or post a follow-up after that trip, but I recommend checking the property out – they've done a fantastic job with the additions and it's a gorgeous place to visit.