We've reviewed two other apps in the myVEGAS series, MyKONAMI Slots and myVEGAS (the phone app). But if you're more of a table game fan and looking for an opportunity to earn some comps, they've thought of you too.
While myVEGAS Blackjack focuses on Blackjack, it still brings a fun table games experience, complete with side bets, to the phone, while also carrying over some the challenges found in myVEGAS and the array of comps that the games provide, offering another consistently high quality offering in the line-up.
Let's take a look at some of the key aspects of the game and how you can earn comps.
Overview of the App
As mentioned, the app switches things up by focusing on the game of Blackjack, instead of slots. There are four core variants of Blackjack available, including Free Bet Blackjack and Single Deck blackjack. Having a few different choices at least allows for a subtle change-up occasionally.
There are multiple rooms, each named after a Las Vegas Mlife casino. You can unlock more rooms by completing card collections. The higher your bet, the higher your chance of getting a card, which you get to keep if it is assigned to a winning hand.
Side bets are available in many cases to further liven up the proceedings. There are multiple side bet types and depend on the table you're at, which further offers some diversity.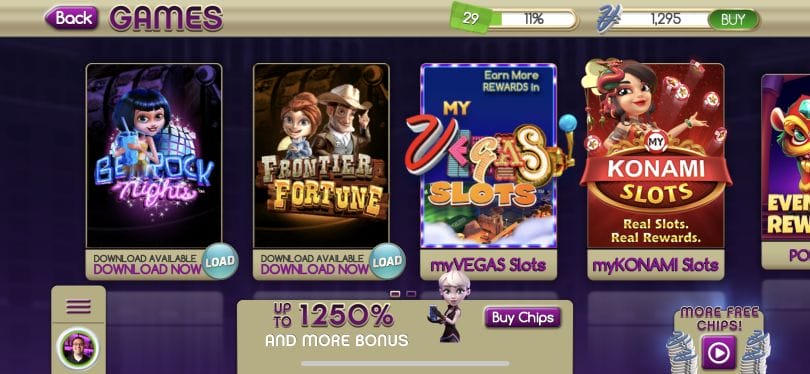 If you'd rather play slots, there's two here. Both are featured in the core myVEGAS app so you can probably just play them there.
Like the myVEGAS app you also have a journey mode, which lets you complete achievements for XP or chips. There are three levels for each journey to complete, each star harder than the last to complete, but also offering a higher reward.
Earning Chip Bonuses
There's a few ways to collect a chip bonus:
Daily bonus: The daily bonus can award XP multipliers, chips or collection cards. Most often I've been winning chips.
Lobby bonus: An hourly timed bonus, but it does not give out a consistent number of chips; sometimes you get bigger rewards than others.
Journey completion: Completing various journeys can win you chips.
Leveling up: Leveling up delivers chip rewards periodically (generally every 5th level).
Buying Chips
The chip store offers a variety of options, and there's usually some sort of special going on. I've had the same bonuses and specials showing up there since I started playing, so I doubt things change all that often. You also have the ability to watch ads to pick up a few thousand coins per video. If you run out of chips and need to double up, it's a great way to get out of trouble without a purchase.
Earning Loyalty Points
Loyalty points are earned based on bets, as well as completing card collections. Any loyalty points earned are linked to the banks of the other myVEGAS games, so you can earn across games to build your balance for the rewards you wish to buy.
Spending Loyalty Points
This, too, is identical to the other apps. Instead of reiterating all the perks and options, we'll refer you to the myKONAMI review we previously completed, but in general you get access to all sorts of opportunities at Mlife properties in Vegas and beyond, as well as a variety of partners, even including cruise lines. Food, shows, rooms, freeplay… there's so much to choose from. You will find it harder to decide what you want to use your coins on.
Summary
myVEGAS Blackjack is another solid entrant in their app set offering a different sort of casino experience with the same comps potential. If you're already a part of the myVEGAS ecosystem this is a good idea to play to add to your LP balance faster.
Do you like MyVegas Blackjack? Have you played the game to earn comps? Share your experiences in the comments below!