Game: Reef of Riches
Manufacturer: IGT
Advantage play potential: Medium
What Makes it Special: Shatter all the Trigger Tiles to get the bonus. Persistent state reels at each bet level offer repeated opportunities to chase a bonus when multiple bet levels have few Trigger Tiles left.
Reef of Riches is another Trigger Tiles persistent state game like its sister Jungle Riches, but being on a premium 3-D cabinet some tweaks were made to the game's structure to reflect its premium status. But for those who have played Jungle Riches, you'll feel right at home here.
Understanding the Game
Reef of Riches features the same 5×4 reel set as many IGT persistent state reels games. The bets here are higher than on Jungle Riches, with 60 cent steps vs. the 50 cents on the other game. There are still five bet levels, each with their own persistent reel states. The game helpfully tells you how many tiles are remaining at each bet level.
Each round starts with a tile break, so you won't ever see 20… but 19 isn't impossible.
The goal to trigger the bonus is the same – to clear the 20 tiles from the board. Tiles can be cleared in one of three ways:
Line hit: If a symbol lines up, and the tile behind it hasn't been shattered, it will break.
Scatters: Scatters pay when you get 2 or more, and they will shatter
Random: Any given spin, a random tile can be shattered.
One major difference for this game vs. the other is that three or more scatter symbols hit at any bet level will trigger a progressive. You could get a handpay off of a scatter win!
Free Spin Bonus
Once the last of the tiles have been shattered, you enter the free spin bonus. Here, another change: You have 7 free games to start instead of the 5 on the Jungle Riches variation.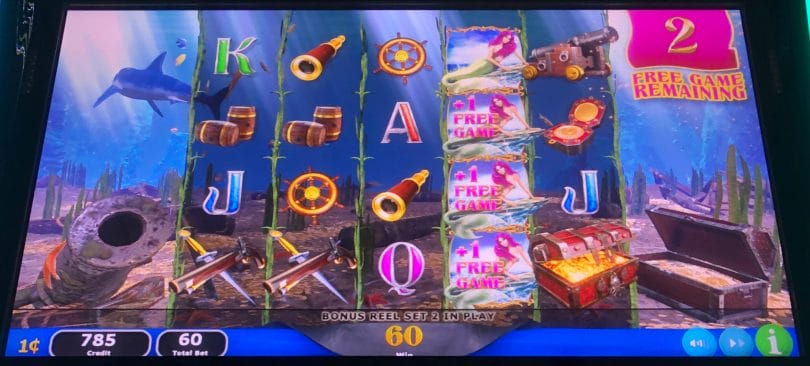 This can be important because, like Jungle Riches, you can land more free games with the nudging wilds feature. When they land, they immediately provide a free spin, and then shift one position each spin until they're off the screen, acting as wilds along the way.
They can appear in clumps, with another free spin being awarded for successive spins until the clump has fully appeared and started shifting off screen.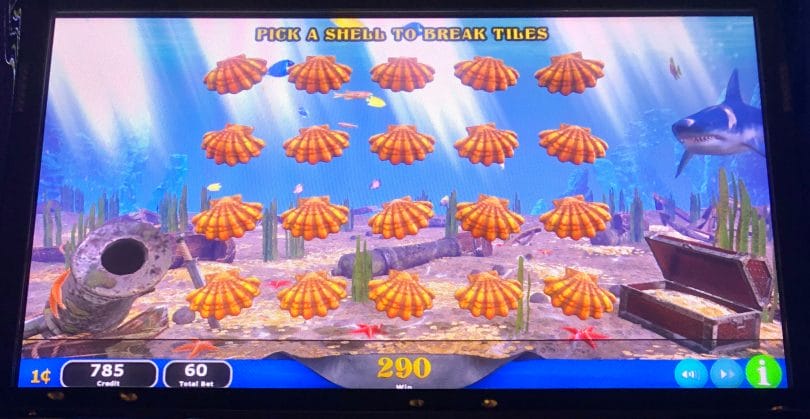 At the completion of the bonus, you pick a shell, and tiles will break to start the new round. There is the possibility for a bonus retrigger, the shattering of a row or section of tiles, or perhaps a single tile.
The bonus then ends, presuming no retrigger, and goes back to regular play.
Understanding the Advantage
Just like Jungle Riches, less tiles left to shatter is good; being more to the left is better (as they are easier to shatter), although the random shattering and the scatters will certainly help to take out the harder ones at some point.
With an only 10 cent bet differential between this and Jungle Riches, but 40% more spins (7 vs. 5) and the progressive chance, this is a more volatile, but still slightly better advantage. If you had to prioritize, give Reef of Riches a look over Jungle Riches first.
But like Jungle Riches, the thing to remember is that the game is pretty volatile – you can have a small bonus after all that effort. But line up the wilds in the right ways and it can be quite rewarding.
Watch and Learn
Slot Queen had a great encounter with Reef of Riches and the progressives – in fact, it was her first ever handpay in Las Vegas! Watch below.
What's your opinion on Reef of Riches? Share in the comments below!