When you have a slam dunk hit like Aristocrat did with Lightning Link, it's natural to begin to look at ways to take the original concept and spin it in various directions.
One such example, which proved popular, is Spin it Grand, which has some Link-like features, such as a Hold and Spin bonus, but definitely moves away from the cash on reels concept into something a bit more unique.
The feature trigger still requires six or more symbols, in this case Spin it Grand symbols, to trigger the Spin it Grand bonus. (Four or five Spin it Grand symbols will increase certain spaces on the wheel above the reels with prizes.)
You start with the standard 3 spins, and 10 spots to collect flames. Getting a flame resets the counter, and when you go three spins without collecting another flame, you move on to the second part of the bonus (unless you get all 10 flames, in which you win the Grand jackpot before moving on).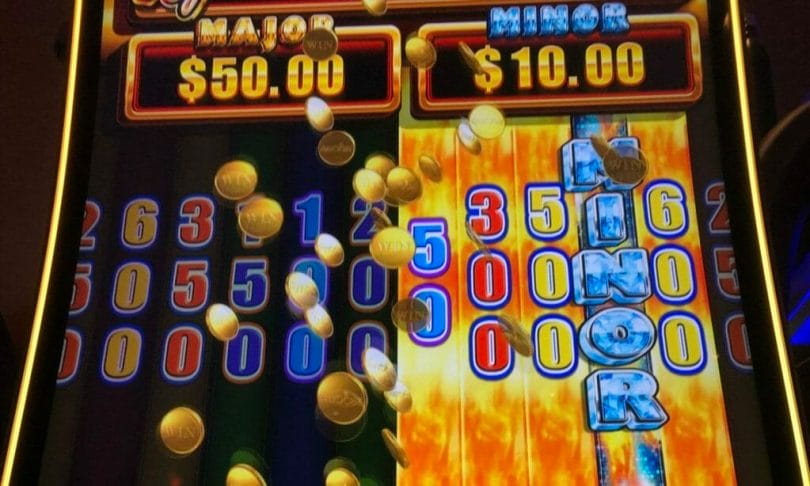 Then, a set of reels spin above the flames until coming to a stop. The values above each flame is what you win. (In the case of filling all 10, you of course win all 10 values above the flames plus the Grand jackpot.)
Jackpots wise there's only three on Spin it Grand versus the four on Lightning Link. Your two flat jackpots are the minor and major, which adjust based on denomination, and the Grand is a progressive jackpot.
Free Games are won by triggering with three or more Free Games symbols. There are two themes and the free spins differ a bit between the two.
The red background version of the game features poker symbols removed, increasing the potential for line hits, and requires three bonus symbols to retrigger. You get 10, 15 or 25 free games based on 3, 4 or 5 free games symbols triggering and can retrigger for the same number.
The purple background version of the game does not remove symbols but will retrigger with just two symbols, increasing the chances for more games and improving the ability to get some pays. 8, 15 or 30 free games are awarded based on 3, 4 or 5 free games symbols triggering and you can retrigger for the same number. However, you can also get 5 free games for a 2 symbol retrigger, which pops up with more frequency, similar to another classic Aristocrat series, Buffalo.
Accordingly the more volatile version will be that red background one, which gives you less chances for bigger hits due to the much lower frequency of retriggers, but it does give you a couple of extra spins to get started if you trigger with three symbols.
Spin it Grand Slot Videos
RandomSlots has the pay tables and a bonus featured here:
Brian Christopher had some beginner's luck on the game in this video:
Here is Slot Queen playing in a recent video with a four symbol trigger:
Here's one more from Slot Queen, starting at the 12:00 mark, with an impressive line hit as well as three majors on one hold and spin: