Game: Star Goddess
Manufacturer: IGT
Advantage play potential: Medium
What Makes it Special: Bordered symbols turn wild when hit with a meteor. Extra bet lets you retain borders until they explode.
Star Goddess: Stars of Wealth is a bit of an odd game in structure, although it has some heritage in other IGT games such as Ocean Magic or Wild Pirates. With persistent state reels that can bring out a cavalcade of wilds, it can be quite lucrative at the right times.
Let's take a look at how this game works, and what to watch for to spot the Advantage Plays.
Understanding the Game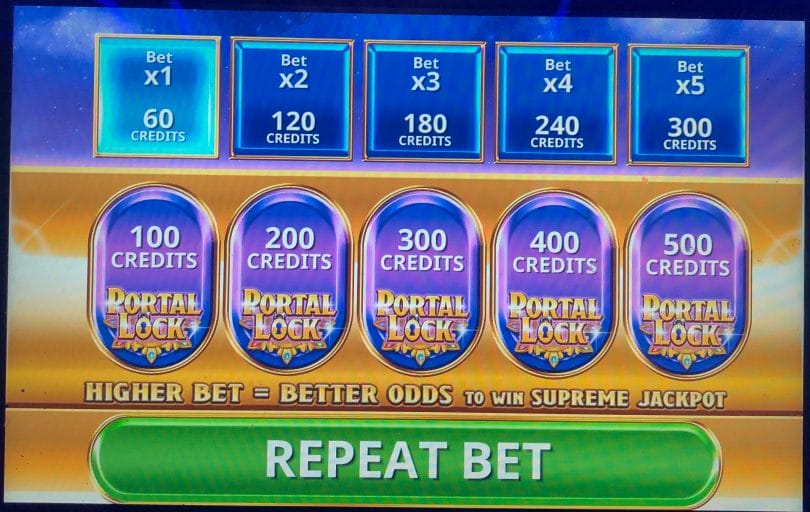 Star Goddess is a game with 26 lines on a 5×4 reel set. (Yes, 26 lines.) It has a 60 cent bet increment for the baseline bet, and a 100 credit bet level for the Portal Lock bet.
In any spin, 1 to 20 meteors can fire down to the reel set, with each space they hitting turning wild. Should it hit a symbol with a gold border, it will turn a 3×3 section wild, comprising of the space it hit and the eight spaces (including diagonal) surrounding it. This may sound quite familiar for players of Ocean Magic, and it's a similar construct.
So the extra feature bet, Portal Lock, works like that game's Bubble Boost in working to increase the frequency and number of wilds. In this case, when a gold bordered symbol lands on the screen, presuming a meteor didn't hit it, it will now lock and stay until a meteor hits it and turns it wild.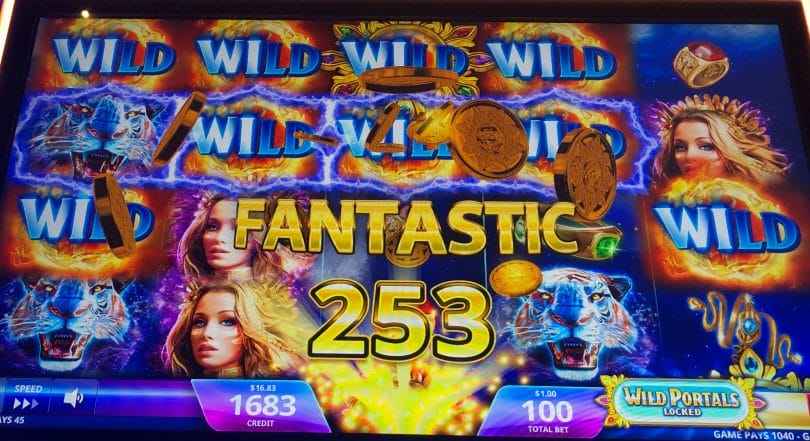 If a bunch of gold locked borders are on the reel set and one of the spaces the meteor hits is one with a gold space, all of the ones that are on the reel set that are locked will turn wild and unlock. In that way it works a bit like Scarab or Wild Pirates.
The gold border Portal Lock feature has persistent state reels that are linked to each bet level, like other IGT games.
There are also two progressive jackpots, Supreme and Mega, which can be awarded on any base spin. The odds of winning the jackpots increase with higher bets.
Free Spins Bonus
Three or more Bonus symbols will give you a free spins bonus. The number of spins is determined by the number of bonus symbols:
3 bonus symbols: 10 free games
4 bonus symbols: 15 free games
5 bonus symbols: 20 free games
The bet level you were betting is maintained in the bonus, including the Portal Lock bet. However, reel 3 is always gold bordered symbols in every spin, to help improve the chances of a meteor hit, bringing wilds (and hopefully line pays) in the bonus.
Understanding the Advantage
The locked borders is the advantage, which are in this game only available on the Portal Lock bet levels. But there's still potentially five bet levels to review for a lot of locked borders left behind, presuming only one denomination (I have not seen this in a multi-denomination format but other IGT games have been set up that way so I presume it's possible).
As with other scenarios, the more locked borders and the more to the left, the better the chances to get a good win when a meteor hits. However, when the meteor hits is a bit more questionable, so it's more open ended than some other game types. But with enough borders on the right bet I presume it can start to work out pretty quickly.
[UPDATE 11/7/20]: Since my publishing of Star Goddess's review, I've been in lengthy communication with a player who's noticed what appears to be a glitch (or feature as it were) on that game. Sometimes the portals disappear for a spin, and you have to effectively do a spin to revive them. This scenario is also present on the Wu Dragon version. So a game may look devoid of opportunities but they are just hiding, effectively.
Watch and Learn
Here is IGT's promotional video:
Here is a good video from RandomSlots which, as always, includes the pay table information:
Here's a video from SlowPokeSlots featuring more game play: