Game: Wild Pirates
Manufacturer: IGT
Advantage play potential: Medium
What Makes it Special: Collect bombs which explode when the time expires; bonus with echoes of Scarab; persistent state reels for each bet level
Wild Pirates claims to be in the Wild Stays, Explodes and Pays model, which has a logo/name like Scarab and Diamond Mania's Wild Stays, Charges and Pays. While it doesn't share the 10 spin cycle in common with those games, the basic mechanic has some similarities. However, it's a bit more complex, and therefore the strategy is not as straightforward.
Today I'll dive in a bit around this game, how it's similar and different, and the Advantage Play model for it.
Understanding the Game
Wild Pirates is a 5×4 reel game with 50 lines and a 75 cent bet step. Persistent state reels exist for each bet level, so they each have their own.
On any given spin, one or more bomb symbols can appear and lock in on the reels. Many will have no numbers on them, but some could have a 2, 3, or 4 on them. This indicates the number of spins before the bombs will explode into wilds. Each spin taken, they will count down. So in the example above, the three connected bombs up right will explode after one more spin.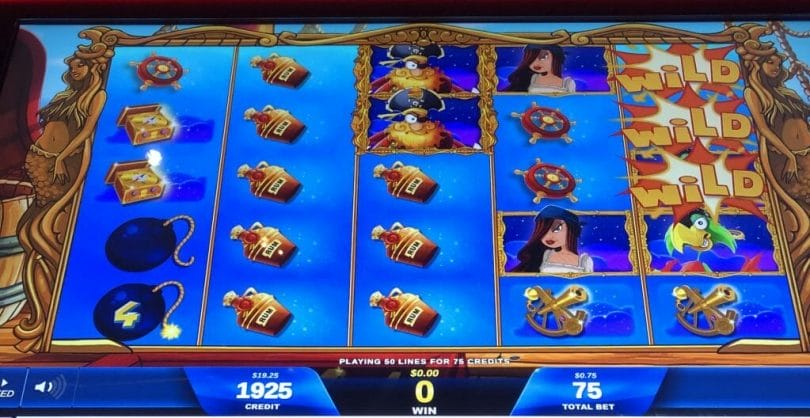 And on the next spin, you can see they exploded, and two new bombs with a 4 spin countdown are now on the first reel.
There can be multiple clusters of bombs with their own countdowns on the reels at the same time. Additional bombs can appear and connect to existing countdowns. All bombs touching each other (including diagonally) are effectively linked together, and will burst all of them at the completion of the countdown. So a cascading explosion of wilds can be possible if a lot of bombs are on the board. And bombs with higher countdowns can explode early if they're touching bombs with a countdown that has expired.
Understanding the Advantage
The bombs are the Advantage Play opportunity. It's more complex because you can have multiple clusters of bombs on the screen that explode at different times, but generally speaking, more bombs, towards the left, with a lower timer is the best advantage. Bet levels with few to no bombs, as you would expect, have little to no advantage.
Remember that even if there's a 2-3 spin left cluster, more can join them to improve the outcome.
Free Spins Bonus
When you get three free spins symbols you trigger the free spins bonus. The free spins bonus has a lot in common with the Scarab model, so fans of that game will likely enjoy the free spins.
During the five free spins, you'll collect bombs, which will be indicated in the upper right corner of the screen, just like in the main game. This time, there's no counters, because it all gets resolved after the final free spin.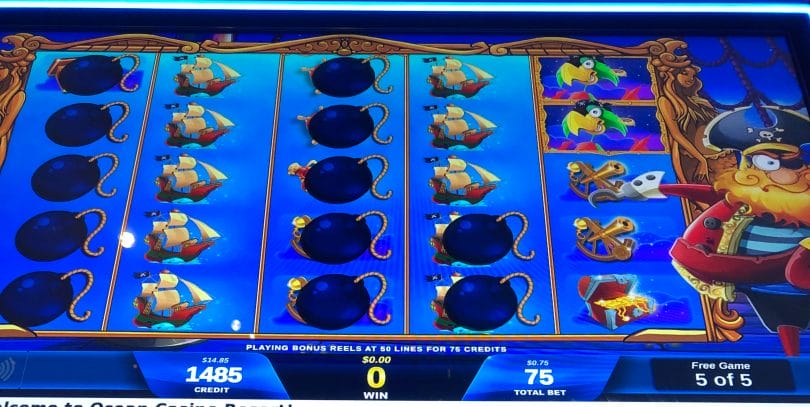 After the five free spins have been taken, all of the bombs collected will fill their spaces and explode, prior to the last spin being evaluated and paid.
This is not unlike Scarab, where all the gold reel borders are turned into wilds on the last spin of the cycle.
Watch and Learn
Here is IGT's promotional video for the game:
Here's a video from Brian Christopher that starts off with the game and has a strong line hit from the bomb wilds, which shows you the game's potential:
RandomSlots also has this recorded play from the game and includes paytable screenshots: