Some links in this article include affiliate links, which provide a commission if a purchase is made. Affiliate links have no impact on our recommendations.
Since I began visiting downtown Las Vegas a few years ago as part of my Las Vegas trips, The D has been one of the casinos I regularly stop. It has evolved pretty rapidly over the few years I've been going, but it's been consistently a fun place to go and visit.
The fact that it's offered some of the more generous offers in the coupon books I use for my coupon runs got me in the door, and their consistently generous offers since have kept me coming back, but I also have had pretty good luck on my visits there.
Here's some thoughts I've compiled from my visits to The D over the years.
Casino Floor
The lower level is much more focused on modern slots, and the upper level does have a good number of older games, but it's more weighted towards video slots now than it used to be, at least from my recollection. The upstairs got a remodel recently, relocating and expanding the high limit slots while adding a sizable sports book.
The casino floor has evolved rapidly during my time there. It used to be that a lot of the vintage coin slots were upstairs, and then more just vintage slots in general, but that's whittled away to just the Sigma Derby running on coins now.
That said, the Sigma Derby is a piece of gambling history, and with the one at The D believed to be the last one standing, it's also a historical game at this point, and they get a lot of credit, rightfully so, for keeping the machine operational.
They do have a good selection of games, lots of popular options and some bleeding edge, brand new games among their selection. They definitely keep themselves forward looking from that standpoint.
Table minimums have steadily risen. My first trip or two I recall seeing $5 craps, but last year I saw $10 craps consistently, matching the $10 Blackjack minimums. Post reopening from COVID they appear to have upped table minimums to $15 to make up for the reduction in players, not unexpected but definitely high given the value generally discussed for table game pricing in downtown Las Vegas.
Sister casino Golden Gate had $10 minimums when I played, so you may want to head there if you're looking for more of a value play.
Video Poker is available, not a whole lot of it and with pay tables that pale compared to some of their downtown competition. As one of the more popular and modern casinos downtown, that's not necessarily surprising.
Hotel Rooms
I've never stayed at The D but I have had a chance to see one of their rooms. Their rooms fit in well with the rest of the property – modern, colorful and well appointed. They are definitely among the better room stock downtown, and will compete with many of the strip properties.
One friend who was staying at The D did note the noise issues being right next to the Fremont Street Experience. My understanding is room placement has a heavy impact on how big an issue this will be. Fremont Street concert many times end after midnight when they're going on (which during more normal times is often), so keep that in mind if that will be an issue for you.
Comp Program
The D is linked to sister property Golden Gate, as well as newly opened property Circa, in sharing a card called The One Card. While each property tracks separately and gets their own offers to some degree, you can earn points, and comps, that can many times be used at either property.
For instance, your comp dollars and food and beverage credits can be used across the properties, as well as at a selection of other options nearby that they're partnered with. Meanwhile, your free play, match play and room offers are issued individually.
I've seen generally quite generous offers from Club One from the play I've given to The D over the years; it's a good way to emphasize coming back and they seem to get it right.
It is harder to earn point play, as it's 5 points per dollar, and 100 points is $1, so like Caesars Rewards it works out to $500 per $1 in point play. However, there's a separate bucket for comp dollars and they accumulate a lot faster for similar play, so that does make up for it. Comp dollars can be used more broadly than the food and beverage credit, and sticks around longer too.
Other Notes
The D Grill was closed on my most recent visit, but I've eaten there a couple of times and it's great sit down, casual fare for those looking for an affordable but tasty meal.
There were a number of games I hadn't seen in many other places at The D, and especially downtown – those who like to play bleeding edge games will find The D a good environment for it.
It tends to be on the loud side, with more of a party atmosphere, dancing girls and so forth. If you're looking for a quieter, more laid back environment this is not the one, but if you're looking for a more upbeat one, this is likely your place.
It can be easy to overlook but there's an extra area of slots as you walk towards the back of the building, by the hotel lobby. I had missed that during my first couple of visits, but a few of my favorite games to play are back that way.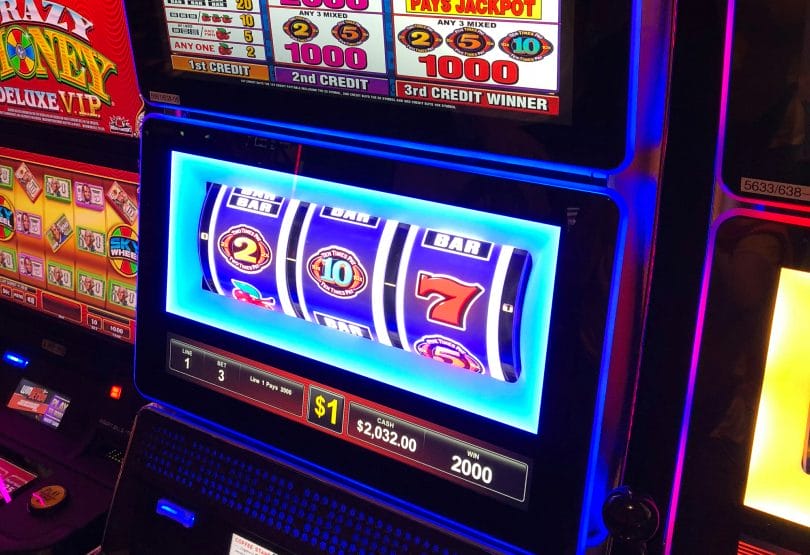 The D is where I got that handpay I've posted about a few times, which I got with a friend in the old high limit room. This, along with other experiences I've had gambling at downtown casinos, have personally reinforced that I think the games are easier downtown than on the strip.
The D has been a fun part of my visits to Fremont Street, and I highly recommend those visiting who haven't been to check it out.
Book Now
You can book rooms at the The D Las Vegas through vegas.com, which offers a Best Price Guarantee. If you find a lower price while booking or within 24 hours, contact them and they'll match it! Vegas.com routinely runs promotions on hotel rooms as well, making them a good place to check.