In previous articles here I've focused on the Hold and Spin features of Aristocrat's Lightning Link and Dragon Link, particularly around the ways the Grand can be won.
Today, I take a look at a different aspect of these series of games: The Free Spin bonuses. Because Lightning Link, Dragon Link and Dollar Storm in many ways work off the same basic math model, and because the games are developed in cloned pairs, there's a lot of commonality around the various bonus rounds.
The bonus rounds come with their own spin counts, special features and so on, and each have an impact on the volatility and ability to get a great bonus. So with today's write-up, it seemed like a good time to tackle the various bonuses you can get, and which games they appear. With 12 Lightning Link games (in six pairs), 10 Dragon Link games (in five pairs), and four Dollar Storm games (in two pairs), there truly is something for everyone.
Since I first published this article, more games have come out, so the article has been expanded to reflect the full set of games available in casinos, and will continue to be updated as more themes or bonus types are introduced.
Thanks once again to Slot Queen for letting me leverage her videos to illustrate this. She's an avid Lightning Link player, and since I'm not the most excited player around these games in terms of my own personal gambling, many of the screenshots and videos featured in this post will come from her, along with some other examples from other channels.
Stacked Premium Symbols
Lightning Link: Best Bet and Moon Race
Dragon Link: Happy & Prosperous and Panda Magic
Dollar Storm: Caribbean Gold and Emperor's Treasure
This one is your baseline bonus. No multipliers, revealers, big reels, etc. You've got stacked symbols (but only the premium symbols and wilds), plus the bonus symbols for a chance to retrigger and that's all she wrote. Consider this your baseline bonus structure for a game like this.
Lightning Link and Dollar Storm diverge a bit from Dragon Link when it comes to spin count. On Lightning Link and Dollar Storm, a bonus trigger with 3 symbols gets you 10 spins (with more spins if you trigger with more symbols) while Dragon Link gives you 6. Retriggers get you 5 on Lightning Link and Dollar Storm, but only 3 on Dragon Link.
Video Examples
Slot Queen has some Moon Race footage in this video starting at 6:47, with a bonus at 8:45:
And here's another video featuring Happy & Prosperous play. First bonus at 1:50:
Multiplier Wilds
Lightning Link: Heart Throb and Tiki Fire
Dragon Link: Genghis Khan and Peace & Long Life
Dollar Storm: Egyptian Jewels and Ninja Moon
In this Free Spin bonus, six spins give you a chance to line up multiplier wilds for an explosive win (in Tiki Fire the pun is intentional). Retriggers are possible.
Multiple wilds with multipliers will multiply the wins, so x2 for one in a line, x4 for two, etc. You can get up to x16 if you line them up on the last four reels (the first reel does not have wilds).
Video Examples
Slot Queen had a strong showing on Tiki Fire in this video:
The Middle Mega-Reel
Lightning Link Games: High Stakes, Magic Pearl
Dragon Link Games: Peacock Princess, Spring Festival
High Stakes and Magic Pearl were among the first four themes of the Lightning Link initial launch in the United States; Peacock Princess and Spring Festival, on the other hand, were the first expansions for Dragon Link.
You initiate with six free spins; the middle three reels transform into one giant symbol. As such, you really need it to match with the first and fifth reels, or hopefully get a wild symbol. Matching the middle reel symbol with at least the first reel guarantees multiple four of a kinds, so the pays reflect that.
If you get a bonus symbol, you retrigger and gain three more spins. If you get a Hold and Spin symbol, you initiate the hold and spin with 9/15 spaces filled given the middle reel is full.
The giant middle reel is the only place you'll find a bonus symbol or Hold and Spin symbol, reducing the symbol count on the first and fifth reels to hopefully improve your chances of lining up a win.
Video Examples
Here is a Magic Pearl game video from Slot Queen with a bonus example.
Here's a video from KURI Slot showing off Peacock Princess in the Dragon Link series. You can see the bonus is identical once it gets going around 1:35.
Mystery Symbol Reveal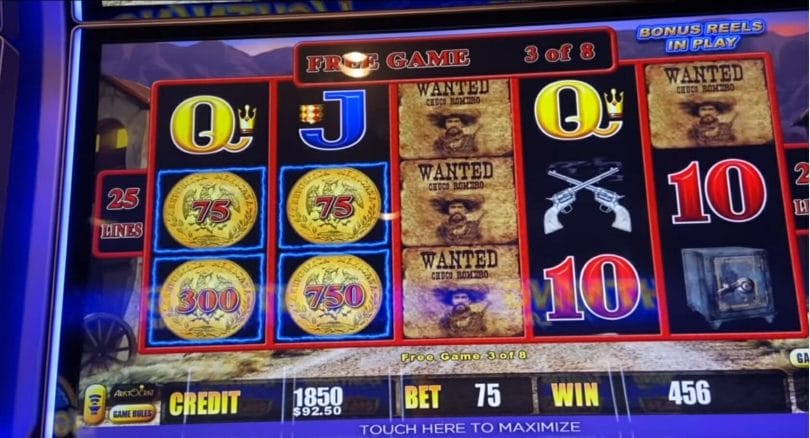 Lightning Link: Wild Chuco and Bengal Treasures
Dragon Link: Golden Century and Autumn Moon
With this free spin bonus, you will find a mystery symbol on the free spin reels. The symbols will reveal either a standard symbol or a Hold and Spin symbol. This can immediately trigger a Hold and Spin bonus within the bonus if six or more are on the screen after the reveal. Bonus retriggers are possible but don't appear in the mystery symbol space.
For this bonus, Lightning Link gives you eight spins, Dragon Link gives you six spins, in the free spins bonus.
Video Examples
Here is a Wild Chuco bonus from Slot Queen, starting at 2:45:
Here is a video from RandomSlots featuring Autumn Moon:
Expanding Wild Symbol
Lightning Link: Eyes of Fortune and Dragon's Riches
Dragon Link: Golden Gong and Silk Road
The latest two entries in the Lightning Link series, and also now the latest entries in the Dragon Link series, give you six free spins. The major feature in the free spins bonus is if you land the wild symbol, it will turn the entire reel wild.
Having more wild spaces can certainly increase the chance for a payout. Six free games are awarded on this bonus.
Video Examples
Brian Christopher got a bonus on Eyes of Fortune at the 6:00 mark of this video:
Here's another video from KURI Slot showing quite a bit of game play from Dragon's Riches. Head to 9:55 for a Free Spins Bonus example:
Mystery Bonus Pick (Predetermined)
Lightning Link: Sahara Gold and Happy Lantern
With this bonus, you may not always get free spins. Two choices appear on the screen, and when you select, it shows you what you win. It could either be a Hold and Spin bonus, or a Free Spins bonus with one of a few options for both spins and number of wilds on a reel.
It's a predetermined pick, because you don't see what's under the other one. Wilds are stacked, so you increase the chances of one (or more) full reel of wilds.
The following options can be found:
Free Spins: 6, 9 or 15
Number of Wilds: 25, 100 or 200
Therefore the worst possibility is 6 spins, 25 wilds. The best possibility is 15 spins, 200 wilds. If you retrigger you get the same number of spins as your initial trigger (so getting 6 upfront gets you 6 more, etc.).
Video Examples
Here's a Sahara Gold video from Slot Queen. Free spins at around 6:55:
Conclusions
If you like the bonuses on Lightning Link you'll probably like Dragon Link and Dollar Storm, and vice versa. Each game has its twin, so if you like one version you'll like the other (which may make it easier to find the one you want when a certain type is all taken up at the casino).
One thing that's remarkable to note, and that I had missed before completing this review, is that certain Lightning Link and Dollar Storm versions can give you 6 spins, while others can give you more (8, 10 or even up to 15). On Dragon Link all the versions released to date give you 6. Perhaps that's to normalize the game out a bit, but it's a key difference between the two versions beyond things like denomination changes between Lightning Link and Dragon Link.
Presumably the bonus math on those Dragon Link has been adjusted to reflect the shorter spin count, but it means more volatility given the less spins to be able to secure a win.
If you like a bonus that gives you more chances to win, Moon Race/Best Bet may be your, well, best bet. If you like multipliers and some real volatility, Tiki Fire/Heart Throb may be for you. And so on. The diversity of bonus designs on these games means you can choose a bonus that gives you the features and volatility you want. And it just underscores another way Aristocrat has cleverly kept this game fresh over the years.
In Australia and some other markets, there are even more Lightning Link games, a total of 16, so we could see more themes and new bonus types to come from here, keeping the game fresh and interesting.